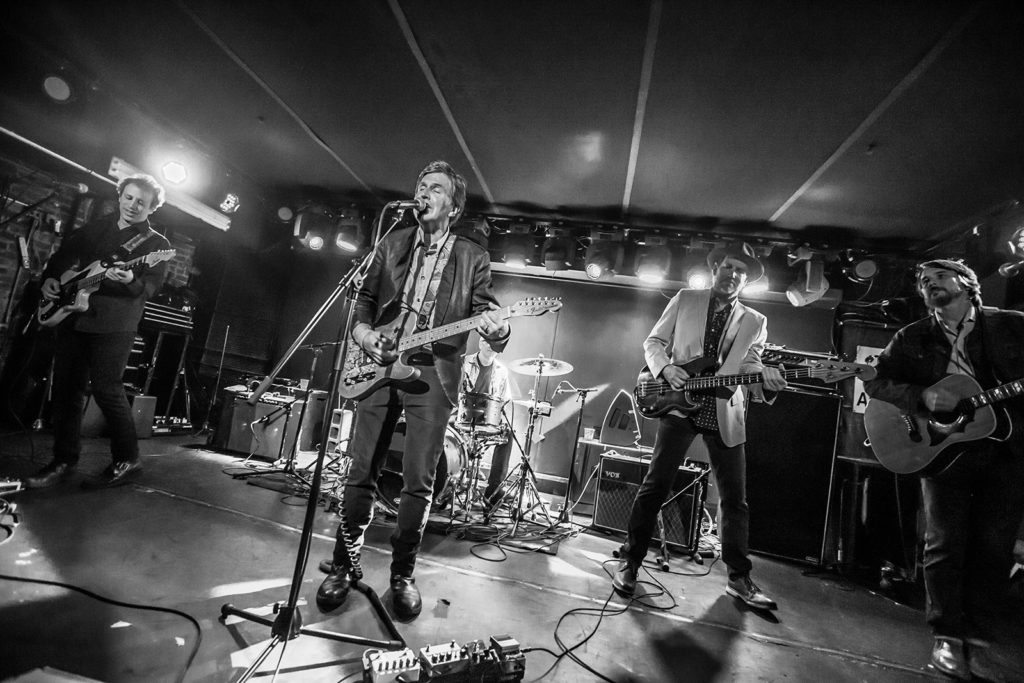 Steve Wynn is universally acknowledged as one of the true good guys in rock music, so its a very rewarding thing to see him and his legendary band The Dream Syndicate receiving a fresh wave of popularity and support. The two sold-out shows at Mercury Lounge were attended by a who's-who of local music luminaries there to both pay tribute but also to celebrate the superb new album by the band, These Times. But if the crowd was expecting a nostalgia set, it got a very different experience. The Dream Syndicate came right out of the gate with raging versions of the new album and kept the pace up for the entire set. Wynn is the charismatic leader center-stage, but these late era DS shows have featured the incendiary guitar work of Jason Victor and on night one his genius was on full display. The band saved some of the older material for late in the set by which time the audience had already received its money's worth.
Dream Syndicate continue this tour with shows in the midwest, including two nights at the Hideout in Chicago on May 31 and June 1, before the band goes to Europe through June, dates here.
I recorded this set with the Schoeps cards set up next to the soundboard cage, and blended with a fine board mixed by the band's FOH Mark. The sound is quite excellent. Enjoy!
Download the Complete show via Archive.org [HERE]
Stream the Complete Show:
Dream Syndicate
2019-05-16
Mercury Lounge
New York NY
Digital Master Recording
Soundboard + Audience Matrix
Soundboard [Engineer: Mark Griffin] + Schoeps CCM4u Cardioids > Sound Devices 744t > 2 x 24bit 48kHz wav files > Soundforge (post-production) > CDWave 1.95 (tracking) > TLH > flac (320 MP3 and tagging via Foobar)
Recorded and Produced by nyctaper
Setlist:
[Total Time 1:21:52]
01 The Way In
02 Put Some Miles On
03 Filter Me Through You
04 Black Light
05 Out of My Head
06 How Did I Find Myself Here
07 [band introductions]
08 Bullet Holes
09 Still Here Now
10 Recovery Mode
11 That's What You Always Say
12 Then She Remembers
13 [thanks]
14 Glide
15 [encore break]
16 Tell Me When It's Over
17 Burn
18 The Days of Wine and Roses
PLEASE SUPPORT Dream Syndicate: website | tour | buy These Times