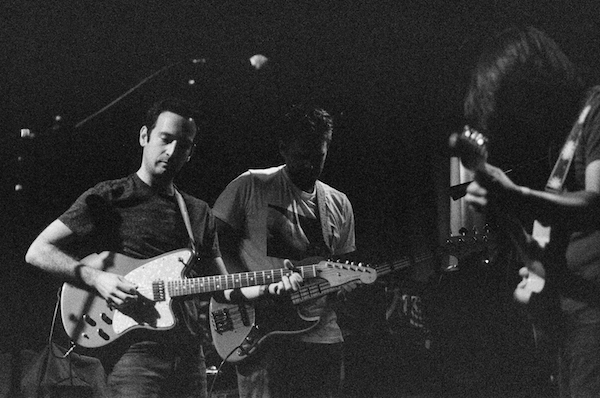 In case you've been hibernating for the summer, you should know that Garcia Peoples have a new album out on October 18, One Step Behind. It's a two song deal, with the title track being a newly-recorded 32-minute version of the song that's been a staple in their live sets for a while now. You can preorder that for October delivery and get an 8-minute radio edit immediately. Can't wait to hear the whole thing! The second song on the record is a new one, "Heart and Soul," that you can preview here from their recent Brooklyn Bowl gig opening up for Howlin' Rain and Ryley Walker. A couple other songs make their first appearance on one of our recordings: "Gliding Through" and "One at a Time," plus a jam I'm pretty sure we've heard before in some form.
Then travel back to July when the Garcias played with Chris Forsyth at Market Hotel. We've already posted their set backing Forsyth, but here finally is the proper Garcia Peoples set. And by the way, you can see the Garcia Peoples backing Chris Forsyth again this Friday September 6 at Nublu. Do not miss that!
For more of that very necessary Garcia Peoples fix they're playing Philadelphia on Sept 14 with Chris Forsyth and Sept 29 in Asbury Park with Real Estate. Then in October, they'll be doing a residency at Nublu every Thursday night. Wow!
I recorded this with a pair of MBHO hypercardioid mics positioned at our usual spot at Brooklyn Bowl. The sound is excellent. Enjoy!
Downloads available at the Live Music Archive:
August 7 Show | July 27 Show
August 7 Brooklyn Bowl stream:
July 27 Market Hotel stream:
Garcia Peoples
2019-08-07
Brooklyn Bowl
Brooklyn, NY
Recorded and produced by Eric PH for nyctaper.com
Photos by Christopher Bruno
MBHO KA500/603A > Naiant PFA >> Sound Devices MixPre-6 > WAV (24/48) > Adobe Audition CC (compression, normalize, fades) + Izotope Ozone 5 (EQ, imaging, compression) > Audacity 2.0.5 (tracking, tagging) > FLAC (24/48, level 8)
Tracks [42:37]
01. Gliding Through
02. The Spiraling
03. Jam
04. Heart and Soul
05. Dishpan Boogie > One at a Time
06. Show Your Troubles Out
---
Garcia Peoples
2019-07-27
Market Hotel
Brooklyn, NY USA
Presented by NYCTaper
Recorded and produced by acidjack
Neumann KM150 + Soundboard (Engineer: RL)>Zoom F8>2x24bit WAV>Adobe Audition CC>Izotope Ozone 5>Audacity 2.3.1>FLAC ( level 8 )
Tracks [Total Time 50:31]
01 Canvas
02 Feel So Great
03 One Step Behind
04 Weathered Mountains
05 Rolling Tides>
06 High Noon Violence
07 Break Me Down