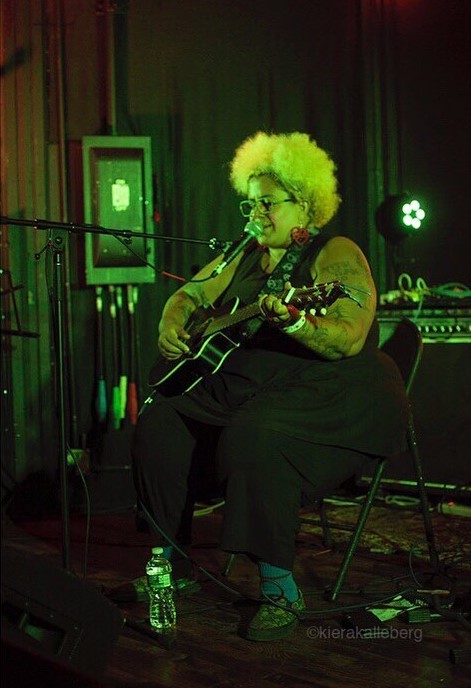 Its hard for me to believe its been almost twelve years since we last saw Kimya Dawson live. Those two shows in 2008 at tiny Southpaw, and then later at a much larger Webster Hall straddled the time period when Kimya's star rose dramatically due to her exposure in the Academy Award nominated film Juno, which included her performance at the Oscars.
We noted back then that fame hadn't at all changed the authenticity of this unique performer and that remains correct today. She remains a person whose observational songwriting skills convey an understanding of the variety of emotions of the human condition — humor, love, anger, sadness, and most importantly a sense of community. This concert at Market Hotel covered much of her classic material and consequently many of those emotions.
This set was recorded by house FOH Joe onto a thumb drive through the soundboard's internal recording device. Except for a low guitar level in the first song, the sound is superb. Enjoy!
Download the Complete Show at Archive.org [HERE].
Stream the Complete Show:
Kimya Dawson
2019-09-18
Market Hotel
Brooklyn NY
Digital Soundboard Master Recording
Soundboard [Engineer: Joseph] + 16bit 48kHz wav file > Soundforge (post-production) > CDWave 1.95 (tracking) > TLH > flac (320 MP3 and tagging via Foobar)
Produced by nyctaper
Setlist:
[Total Time 1:23:48]
01 Tire Swing
02 Solid and Strong
03 [banter – long and slow]
04 Singing Machine
05 It's Been Raining
06 [banter – Facebook Nazi]
07 Fire
08 [banter – Camp John Waters]
09 I Like Bears
10 Alphabutt
11 You Are My Baby
12 Being Cool
13 Alone And Free
14 Will You Be Me
15 Chemistry
16 [banter – theatre camps]
17 I Like Giants
18 [banter – rowdy rounds]
19 Underground
20 [All Star]
21 [Jarrod Bramson tribute]
22 Average Angel [Solute]
23 [banter – business meeting]
24 Anyone Else But You
25 [thanks]
26 Loose Lips
SUPPORT Kimya Dawson: website | official releases