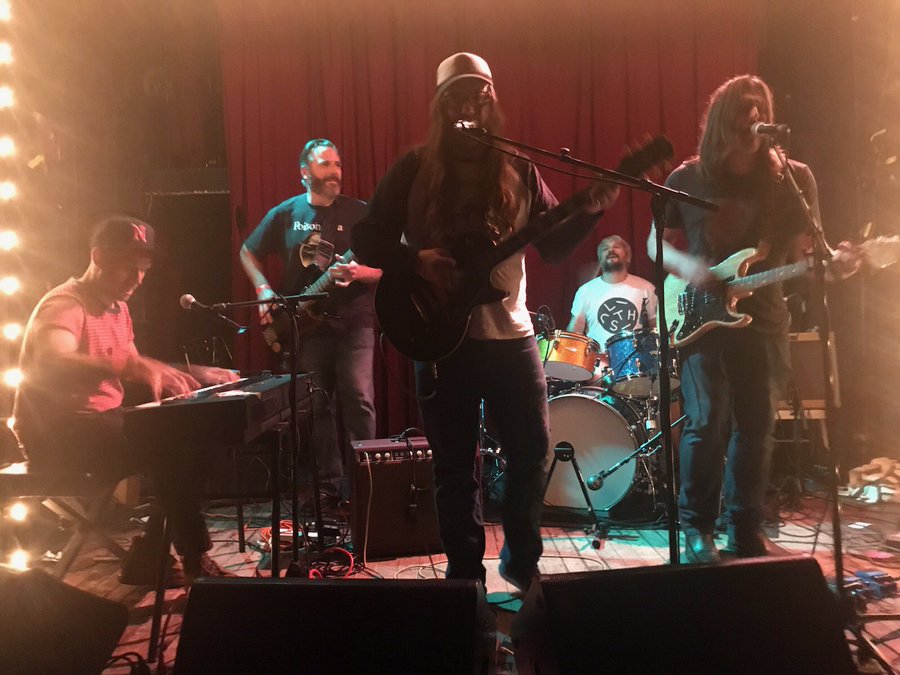 One Eleven Heavy's second LP, Desire Path, doubles down on the seventies boogie rock vibe that made Everything's Better so irresistible. Building on the first record's foundation, though, it ventures further into loose, Dead-inspired jams with songs like "Chickenshit" and "Hot Potato Soup." It's a pure delight for anyone who's ever owned a Dead record or discovered the other side of country music with Numero's Comic American Music compilation.
I was pretty jazzed to finally see One Eleven Heavy—their short tour last year was full of misfortunes including a van accident and a venue closure that preempted their Brooklyn gig. Unthwarted, they've been touring the U.S. this month, beginning with this record-release show at Union Pool and winding up back where they began with a tour-capper this Saturday, September 14th at Trans-Pecos. (Grab your tickets!) For a band so with members so geographically separated, they sound here like they play together every day. I highly recommend you get yourself out to Trans-Pecos this weekend for a surefire good time.
I recorded this from our usual location at Union Pool, with MBHO mics in DIN stereo configuration, combined with a board feed. The sound is excellent. Enjoy!
One Eleven Heavy
2019-09-01
Union Pool
Brooklyn, NY
Recorded and produced by Eric PH for nyctaper.com
Soundboard + MBHO KA200N/603A (DIN) > Naiant PFA >> Sound Devices MixPre-6 > WAV (24/48) > Adobe Audition CC (mixdown, compression, normalize, fades) + Izotope Ozone 5 (EQ, imaging, compression) > Audacity 2.0.5 (tracking, tagging, downsample, dither) > FLAC (16/44.1, level 8)
Tracks [54:54]
01. Old Hope Chest
02. Stir
03. House of Cards
04. Kitty Clyde's Sister
05. Chickenshit
06. Mardi Gras
07. Fickle Wind
08. Valley Bottom Fever
09. Hot Potato Soup
10. Crosses