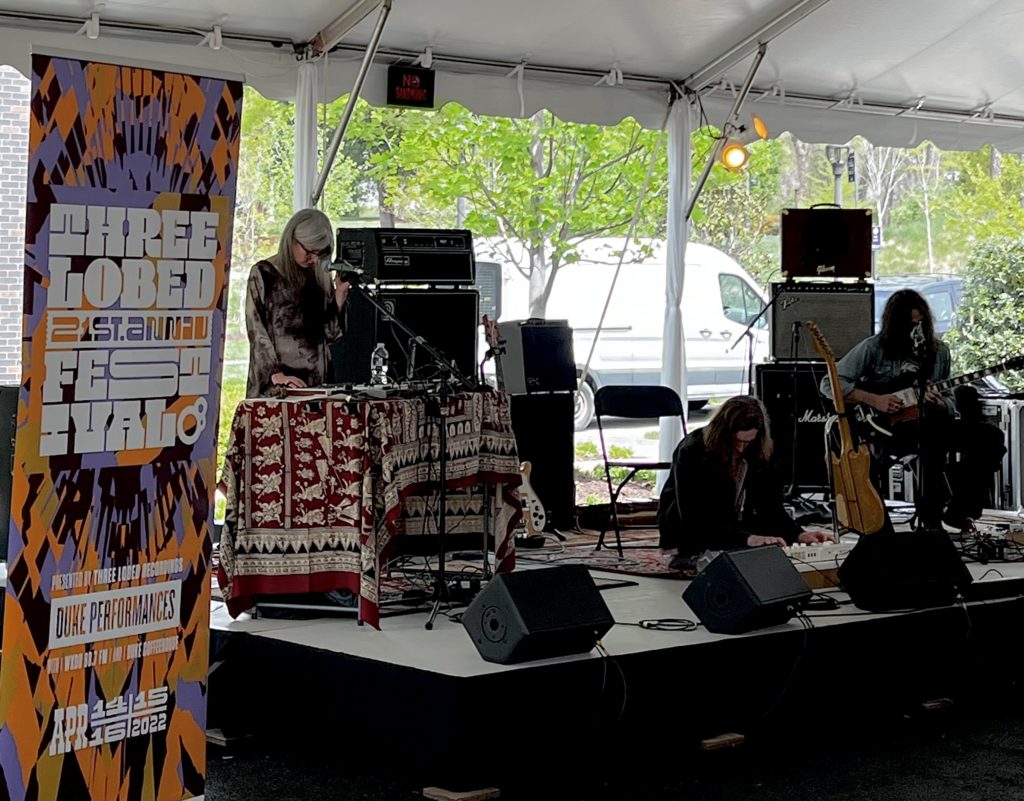 A sunny spring afternoon in North Carolina, with a light breeze in the air, audience members in uncramped splay on the ground, Wet Tuna onstage as a new lineup, here to celebrate the 21st anniversary of a label whose longevity and success both might once have felt improbable, but now seem inevitable. All of this smack in the middle of the lush arboreal campus of an elite American university, one equally improbable as the location of a weird daytime concert and birthplace of said label. Like the first song says, so much vibe in the world. So much right here.
Held on the outdoor grounds of the Karsh Alumni Center at Duke University, Wet Tuna's set kicked off the third and final day of Three Lobed Recordings' 21st anniversary celebration, one of many things postponed by the pandemic. Tuna's third full-length, Warping All By Yourself, was released recently by Three Lobed, and is the band's first that isn't a collab between Matt "MV" Valentine and Pat "PG Six" Gubler. So, for its expanded embrace of funk, we have only Valentine himself to thank — and today's live lineup including MV&EE collaborator and partner Erika "EE" Elder and Jim Bliss for bringing that vibe to the live audience this afternoon.
This set began in the mellow embrace of "So Much Vibe In the World" and ended with the straight up boogie of "Sweet Chump Change," which might be the most "approachable" Tuna jam yet. In between, don't sleep on the band's take on Peter Laughner's "Baudelaire," the new album's centerpiece, "Raw Food" (this being closer to version 1 of the 2 versions offered) and "Cowpath 40" which sets the stage for the segue into "Sweet Chump Change." This day couldn't have opened more smoothly or in any way that felt more right. It was good to be here, in this welcoming space, back in the zone.
I recorded this set with a soundboard feed from longtime area sound engineer Wayne, together with Schoeps MK4V mics. MV's outbound mix to the board did most of the work here; like the day itself, it's right on.
Download the complete show in FLAC, Apple Lossless and MP3 [HERE]
Wet Tuna
2022-04-16
Three Lobed 21st Anniversary
Karsh Alumni Center, Duke University
Durham, NC USA
Recorded and produced by acidjack
Live sound engineer: Wayne
Soundboard + Schoeps MK4V>KC5>CMC6>>Sound Devices MixPre6>24/44.1kHz WAV>Adobe Audition CC>Izotope Ozone 5>Audacity>FLAC ( level 8 )
Tracks [Total Time 56:00]
01 [Rayborn intro]
02 So Much Vibe in the World
03 Baudelaire [Peter Laughner]
04 Raw Food (version 1)
05 Cowpath 40>
06 Sweet Chump Change
Personnel:
Matt Valentine – guitar/vox
Erika Elder – keys, vox
Jim Bliss – bass/synth
PLEASE SUPPORT WET TUNA AT THEIR BANDCAMP