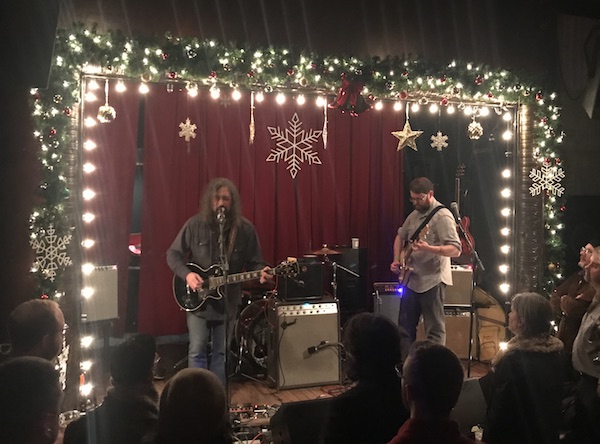 Straight from the ever-expanding Tunaverse, here's a double header of shows from last year. The first finds the duo traveling down to Raleigh, North Carolina for the "Three Lobed / WXDU Annual Ritual of Sommoning," the yearly Hopscotch day party that's become one of the festival's biggest draws. Next is another duo set from last month at Jeff Conklin's birthday party. Fun was had by all and here's the documentation to prove it.
While you're enjoying these live Wet Tuna dispatches, head over to their blog to order Mountain Busted, a 7-CD set of multitracked live shows. I've been lost in these recordings for a couple weeks now and the sound is absolutely phenomenal—more than enough reason to dive in head first. The set gets a little sweeter thanks to a trio of Root Cellar gigs with special guest spots from J Mascis, John Moloney, Jim Bliss, and more, that hail from another plane of existence.
I recorded the Union Pool gig from our usual spot at the soundboard, combined with a feed courtesy of Jase Hottenroth. Acidjack recorded the Raleigh show with his usual six track rig at King's. Both sound excellent. Enjoy!
Union Pool Download: [FLAC/MP3]
Three Lobed / WXDU Annual Ritual of Summoning Download: [FLAC/MP3]
Wet Tuna
2018-12-22
Union Pool
Brooklyn, NY
Recorded and produced by Eric PH for nyctaper.com
Soundboard (engineer: Jase Hottenroth) + MBHO KA200N/603A (DIN) > Naiant PFA >> Sound Devices MixPre-6 > WAV (24/48) > Adobe Audition CC (mixdown, compression, normalize, fades) + Izotope Ozone 5 (EQ) > Audacity 2.0.5 (tracking, tagging) > FLAC (24/48, level 8)
Tracks: [40:56]
01. I'd Rather Be Hayin' > Hay Space
02. Roomtone
03. I Know You Rider
04. Roomtone
05. New York Street
MV/PG Six/Coot Moon
---
Wet Tuna
2018-09-07
Three Lobed / WXDU Annual Ritual of Summoning
King's
Raleigh, NC USA
Recorded and produced by acidjack
Soundboard + Schoeps MK4V (onstage, DFC)>KC5>CMC6 + Behringer C2>>Zoom F8>24/48 WAVs>Adobe Audition CC (align, mix down, limiter)>Izotope Ozone 5 (effects, EQ)>Audacity 2.2.2 (track, amplify)>FLAC ( level 8 )
Tracks
01 I Know You Rider
02 Water Train
03 New York Street