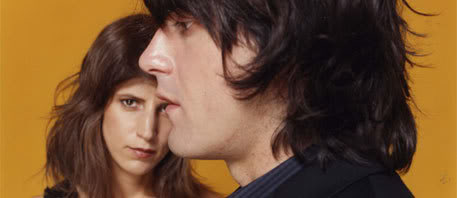 The new Fiery Furnaces CD Widow City
is due for general release on October 9. Sound Fix Records in Brooklyn offered it for sale exclusively on Saturday night, and the Fiery Furnaces were there to celebrate and performed a 35-minute live set featuring 9 of the Widow City songs.
The band is rehearsing for their upcoming tour, and the new material has already taken a life of its own. In particular, the 3-song medley of Duplexes>Husband>Ex-Guru was tight and focused, with "Ex-Guru" having already morphed into a power-pop number.
The experienced readers of this site have had the opportunity to witness the evolution of my interest in the Fiery Furnaces, from a curiosity to rabid fan. In June, when Morrissey canceled, I took advantage of an open night and recorded (here) a band I had only experienced through an Of Montreal cover of one Fiery Furnaces song. Thereafter, thoroughly impressed with the band, I bought Bitter Tea
, recorded them again in August (here), and have not looked back.
Last night I had the pleasure of chatting with Matt after the performance. He was pleasant, showed appreciation for my recordings and my site, and thanked me for coming to the shows. When an artist of this talent proves to be modest and appreciative, it becomes truly a pleasure to thank and support them at my site.
The recording offered for download below was captured from 10 feet in front of the PA, and is crystal clear. Although the crowd was packed into the small cafe in the rear of Sound Fix, it was a group of true fans who were respectful of the performance. There's no chatter on this recording, only support. Enjoy!
Download the complete show in FLAC [HERE].
Fiery Furnaces
2007-10-06
Sound Fix Records
Brooklyn, NY USA
Digital Master Recording
Recorded from Dead Center
Approximately 10 feet from PA
DPA 4021's > Marantz PMD-660 (Oade BCM) > 16bit 44.1 wav > Soundforge (set fades, level boost, slight eq) > CDWave 1.95 (tracking) > Flac Frontend (level 7, align sector boundaries) > flac
Recorded and Produced by
nyctaper
2007-10-07
Setlist:
[Total Time 33:46]
01 The Philadelphia Grand Jury
02 Navy Nurse
03 My Egyptian Grammar
04 Evergreen
05 Duplexes of the Dead
06 More Automatic Husband
07 Ex-Guru
08 Japanese Slippers
09 Restorative Beer
10 Right by Conquest
As with all artists featured at this site, if you download this recording PLEASE SUPPORT The Fiery Furnaces, visit their site, and purchase Widow City: