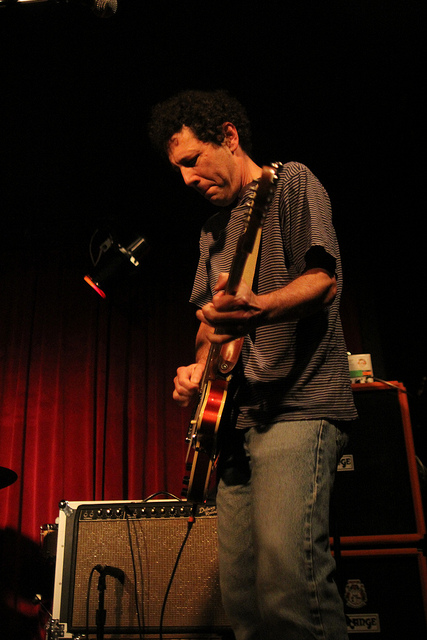 [photos by PSquared Photography – courtesy of brooklynvegan]
When I first began going to Maxwell's back some 25 years ago, it was to me just another of the excellent NYC-area clubs that hosted the bands I preferred. Its been the last decade where the club began to mean much more to me. While I was somewhat late to the Maxwell's admiration party, it still hit me like a punch to the stomach when the news broke that the club would be closing for good at the end of July. In recent years as is well documented on the pages of this site, we've taken many trips over to Hoboken for some of the best shows I've seen in my entire life. The club became a home away from home — when I came in through the side door often much earlier than the time for doors, I was certain that I had a night of great music, good food, fine beer and welcome company ahead of me. Going to Maxwell's was an escape of sorts, but more importantly it was about people — those that make a night of entertainment enjoyable in all aspects. The refreshing thing about Maxwell's was that it was entirely free of the venue politics that plague many local venues. When I came in the door, I was welcome. And since I came so often, the staff were all familiar and friendly faces. I didn't know all of their names, but every server, bartender, and bouncer were all the kind of people that you'd hope would run a music venue. Of particular note for me was Mike the ticket/door man who often allowed me to enter the venue early to set up equipment, and of course Carson Kopp, the venue's head sound technician whose sound talents are well documented on this site but whose generosity, patience and sense of humor were always second to none. I expect that all of the people involved in this special place with land on their feet wherever they go, but somehow it will never be the same.
A large reason why Maxwell's was the locale for so many of the special nights we've experienced was the "house band" — Yo La Tengo. We've seen them at times other than Hanukkah, but the vast majority of our YLT shows were during the eight day holiday. Due to some unforseen circumstances, on Saturday night a show originally billed as "Condo Fucks" in an opening slot became a two-set Yo La Tengo Maxwell's show, and will be the final show of the band at its home venue. With that knowledge, the band's entrance on stage in front of the red velvet curtain was instantly emotional. It was both hard to fathom and hard to accept that the band's familiar position was its final night on this stage. Yo La Tengo has always had a keen awareness of its circumstances and its surroundings, and the setlist seemed uniquely fashioned for this night. Indeed, as "Mr. Tough" was dedicated to venue manager Todd Abramson, it occurred to me that the lyrics "we'll forget about our problems / Ignore them for a little while / And leave our worries in the corner" quite well summarized the feeling of entering Maxwell's for a night of music. While the weird sense of current enjoyment and the dread of the ending of something magical permeated my feelings throughout the set, it wasn't until a beautiful quiet version of "Tom Courtenay" that the lump in my throat evolved into real tears. Its hard to lose something this special, but Yo La Tengo's quiet first set was the cathartic remedy that we needed to help us accept our fate. After a break, the band returned with a full electric "Condo Fucks" set of garage-rock covers. It was exactly what was necessary at the exact right time — the chance to celebrate what Maxwell's was really all about, no frills and unpretentious rock and roll simply for its own sake. The band's final song, a super quiet and oh so appropriate cover of the Kinks' "This Is Where I Belong" wasn't so much a crying song as it was a wave goodbye. Ira Kaplan introduced the song by humbly noting that "this band does not exist without this club." Indeed, much of the most important alternative rock of the last 30 years doesn't either, and for that we can always thank and remember fondly Maxwell's in Hoboken.
I recorded this set in the manner we've always been lucky to be permitted to record in this venue, and the sound is excellent. Enjoy!
Yo La Tengo is going to be on tour for the next several months and the dates are [HERE].
Stream "Tom Courtenay":

Download the Complete show [MP3] / [FLAC]
Note: All of the material on this site is offered with artist permission, free to fans, at our expense. The only thing we ask is that you download the material directly from this site, rather than re-posting the direct links or the files on other sites without our permission. Please respect our request.
Yo La Tengo
2013-06-15
Maxwells
Hoboken NJ
Digital Master Recording
Soundboard + Audience Matrix
Soundboard + Neumann TLM-102s > Edirol R-44 (Oade Concert Mod) > 2 x 24bit 48kHz wav files > Soundforge (level adjustments, mixdown, set fades) > CDWave 1.95 (tracking) > TLH > flac (320 MP3 and tagging via Foobar)
Recorded and Produced
by nyctaper 2013-06-19
Setlist:
[Total Time 1:35:17]
Set One [Acoustic YLT]
01 [introduction]
02 Big Day Coming
03 The Point Of It
04 [3 Blocks intro]
05 Three Blocks From Groove Street
06 [banter – libretto]
07 Mr. Tough
08 Swing For Life
09 Speeding Motorcycle [Daniel Johnston]
10 I'll Be Around
11 Tom Courtenay
12 Ohm
Set Two [Condo Fucks]
13 [introduction set two]
14 Outrage [Booker T]
15 The Last Time [Rolling Stones]
16 Last Time Around [The Del-Vetts]
17 Frenzy [The Fugs]
18 Mystery Action [The Rezillos]
19 Whatcha Gonna Do About It [Small Faces]
20 Right Side of My Mind [Angry Samoans]
21 I Want You To Be My Boy [The Exciters]
22 I'm Your Man [Richard Hell]
23 Accident [Electric Eels]
24 With A Girl Like You [The Troggs]
25 Tiger In Your Tank [Muddy Waters]
26 Dog Meat [Flamin Groovies]
27 Get Down [Half Life]
28 Come On Up [Young Rascals]
29 Gudbuy T'Jane [Slade]
30 [encore break]
31 This Is Where I Belong [The Kinks]
If you download this recording from NYCTaper, we expect that you will PLEASE SUPPORT Yo La Tengo, visit their website, and purchase their latest album Fade from Matador Records [HERE].