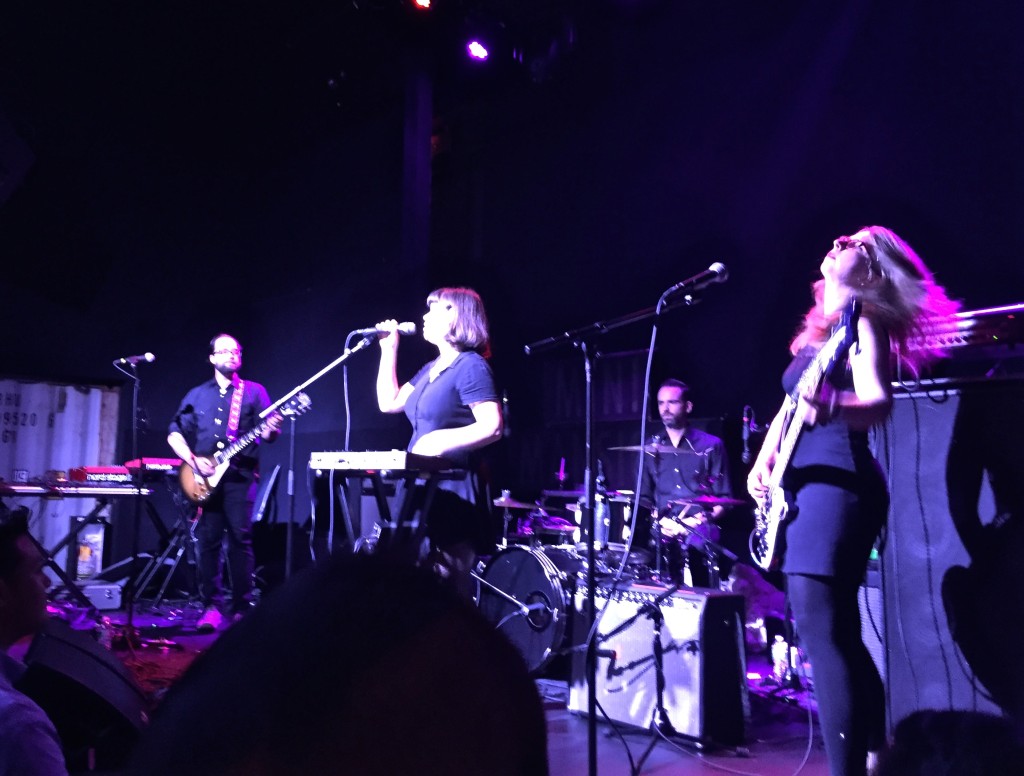 Brooklyn's The Space Merchants gathered us together a couple Mondays ago at Rough Trade to celebrate the release of their stellar self-titled debut album on the tiny imprint Aqualamb Records. The band's sound boasts a cohesive but diverse set of rock influences, from the Velvet Underground to Black Sabbath to Bobbie Gentry (per a recent profile), and you feel the weight of those influences equally in a number of songs (take, for example, the stellar "One Cut Like the Moon"). Onstage, the Merchants are a cohesive unit both when they're playing and not — I laughed at guitarist/singer Michael Guggino and keyboardist/singer Ani Monteleone bantering about who, exactly, the band's rather novel release format (a 100-page book of custom images, with a download code at the back) was intended for. Guggino comes to the Merchants from beloved Brooklyn "stoner punk boogie metal" band Mount Olympus, which didn't take itself very seriously (songs like "Get Yer Ass to Mars"), but musically was no joke, and we recently caught drummer Carter Logan playing with his other band, Jim Jarmusch and Jozef Van Wissim's SQÜRL, at this very venue. Keyboardist/vocalist Monteleone and bassist Aileen Brophy have popped up in a variety of local bands and music-related ventures as well, making it a bit less surprising that The Space Merchants would be so dialed-in at a relatively early point in their cycle (not that they haven't already opened for Acid Mothers Temple, among others).
Though they lead off the night, the Merchants played a tight set to a full floor, launching straight away into the stoner-metal crunch of "Kiss The Sky," which gave Guggino a chance at some guitar pyrotechnics that would've made Mount Olympus proud. After the almost comically upbeat "Beatniks" the band took us back to earth with the sludgy "1000 Years of Boredom." Then we got a non-album track, "Transcendental Superconscious State," which with any luck will end up on official release somewhere. For my money, the deep groove of "One Cut Like the Moon" makes it my favorite of the band's songs, but it's hard to argue with "Evil Itch," the song that they chose to close with, and the album's lead single. Monteleone's lead vocal, the mid-song tempo downshift, and the surge that follows sound exactly like Magnet described it — "the emerging days of California's acid-rock scene and the final days of Woodstock." With many positive mentions coming in for the record, and with a live show like this, The Space Merchants should be a don't-miss on your Brooklyn concert schedule.
Download the complete show: [MP3] | [FLAC]
Stream the complete show:

The Space Merchants
2015-06-08
Rough Trade NYC
Brooklyn, NY USA
Exclusive download hosted at nyctaper.com
Recorded and produced by acidjack
Schoeps MK4V (PAS)>KCY>Z-PFA + Soundboard (engineer: Nic Cameron)>>Roland R-26>24bit/44.1kHz WAV>Adobe Audition CS 5.5 (mix down, fades, limit peaks)>Izotope Ozone 5 (EQ, effects)>Audacity 2.0.5 (track, amplify, balance, dither)>FLAC ( level 8 )
Tracks [Total Time 34:07]
01 Kiss the Sky
02 Beatniks
03 1000 Years of Boredom
04 Transcendental Superconscious State
05 One Cut Like the Moon
06 Mainline the Sun
07 Evil Itch
If you enjoyed this recording, PLEASE SUPPORT The Space Merchants, visit their facebook page, and buy their album from Aqualamb Records.