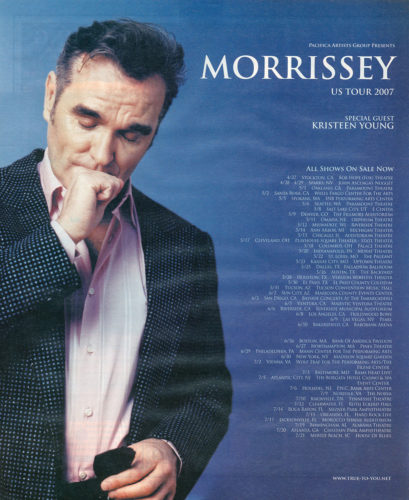 Morrissey became ill during his Boston concert earlier this week. Northhampton and Philadelphia concerts were postponed that evening, with the expectation that Moz would return to the stage for New York City.
A short time ago, it was announced that Madison Square Garden has now also been postponed.
Here is the Pollstar Report.
nyctaper will attend and record on the new date (probably September). But at this point, I have an open taping night on Saturday June 30, and no plans. If any readers have NYC recording suggestions, requests, or ideas … Email nyctaper
Got an extra ticket, I'll tape the show for you!
[EDIT]
Thanks for all the suggestions in email.  I will be attending and recording the Fiery Furnaces concert at Maxwell's in Hoboken.