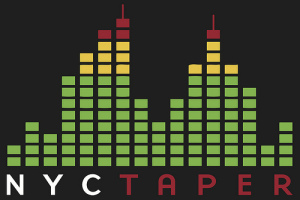 After a heavy month of January which saw our continued capture of some excellent concerts, we ended the month with our first live streaming show — hopefully the first of many to come. Recently there have been a bulk of new announced shows, so its time to update the schedule. What a list. I hope we can do it all!
[Below is the updated schedule. We expect to attend and record these events. However, circumstances will prevent some of these from being done, and others will be added in the meantime.]
If you want nyctaper to record your band, a band you represent, a show you're promoting, or even your favorite band in the world, get me on the list and make sure everyone who needs to approve of the recording gives permission. Also, remember I'm doing this all for free — the recordings, the post-production, the reviews, the links, etc. — so treat me fairly.
Schedule:
Screaming Females:
February 12, 2011 Music Hall of Williamsburg (permission pending)
Drive-By Truckers:
February 15, 2011 Bowery Ballroom NYC
Akron/Family:
February 17, 2011 Knitting Factory, Brooklyn
Yellow Ostrich:
February 24, 2011 Pianos NYC
Tennis:
March 3, 2011 Bell House Brooklyn
Middle Brother / Dawes / Deer Tick:
March 4, 2011 Bowery Ballroom NYC
Akron/Family:
March 5, 2011 Bowery Ballroom NYC
Parts and Labor:
March 8, 2011 Monster Island Basement Brooklyn
Crass (Steve Ignorant):
March 10, 2011 Santos Party House NYC
Nicole Atkins:
March 11, 2011 Maxwell's Hoboken NJ
Rural Alberta Advantage / The Loom:
March 12, 2011 Knitting Factory Brooklyn
Godspeed You! Black Emperor:
March 14, 2011 Terminal 5 NYC
Harvey Milk:
March 13, 14 or 15 2011 Union Pool Brooklyn
Godspeed You! Black Emperor:
March 16, 2011 Masonic Temple NYC
Godspeed You! Black Emperor:
March 17, 2011 St. Paul's Church NYC
British Sea Power:
March 21, 2011 Maxwell's Hoboken NJ
Elephant 6 Tour:
March 22, 2011 Knitting Factory Brooklyn
J Mascis:
March 25, 2011 Bowery Ballroom NYC
The Mountain Goats:
March 28, 29 and 30, 2011 Bowery Ballroom NYC
Jessica Lea Mayfield:
April 1, 2011 Bowery Ballroom NYC
Obits:
April 2, 2011 Bell House Brooklyn
Destroyer / The War On Drugs:
April 3, 2011 Webster Hall NYC
Black Angels:
April 8, 2011 Bowery Ballroom NYC
Sebadoh:
April 9 and 10, 2011 Bowery Ballroom NYC
Acid Mothers Temple:
April 12, 2011 Knitting Factory Brooklyn
Wye Oak:
April 14, 2011 Bowery Ballroom NYC
O'Death:
April 15, 2011 Knitting Factory Brooklyn
Sharon Van Etten:
April 16, 2011 Music Hall of Williamsburg
Mogwai:
April 21 and 22, 2011 Webster Hall NYC
Jason Isbell:
April 22, 2011 Bowery Ballroom NYC
Buffalo Tom:
April 28, 2011 Bowery Ballroom NYC
Joy Formidable:
April 29, 2011 Webster Hall NYC
Of Montreal:
April 30, 2011 Webster Hall NYC
The Feelies:
May 12, 2011 Bell House Brooklyn
John Vanderslice:
May 13, 2011 The Rock Shop Brooklyn
Tune-Yards:
May 21, 2011 Music Hall of Williamsburg
NYCTaper 4th Anniversary Show (bands TBA):
May 26, 2011 Knitting Factory Brooklyn
Northside Festival:
June 16, 17, 18 and 19, 2011 Various Venues TBA