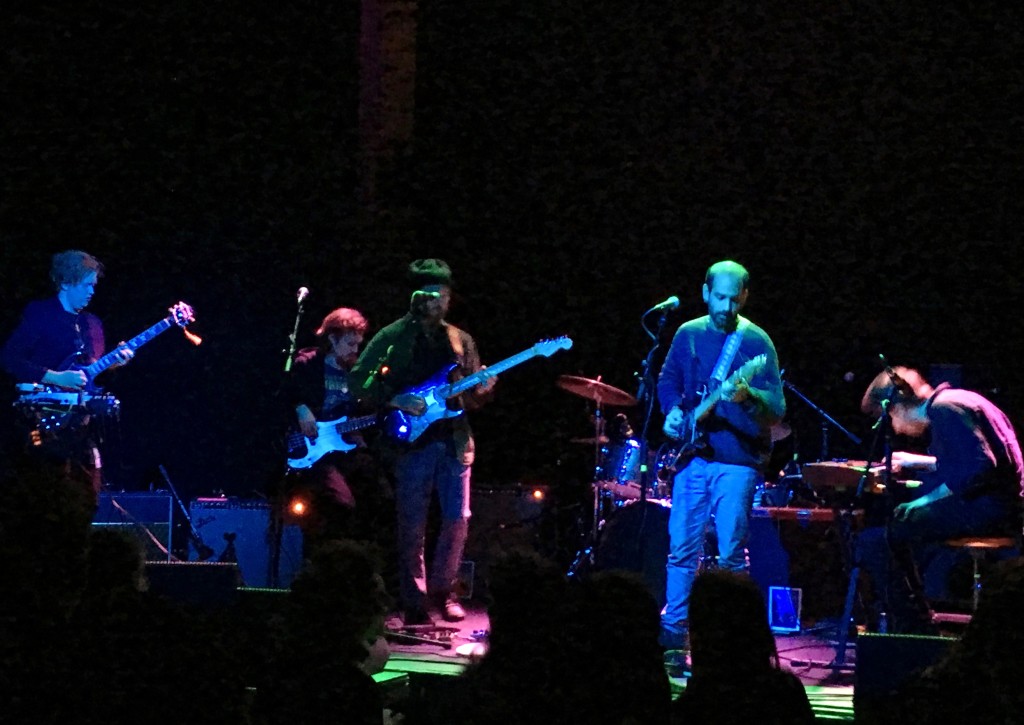 If you were a fan of the Grateful Dead, and you saw the actual band live, then you've probably got more than your share of opinions about the various combinations of the remaining parts of it who've tried to transact on the original's greatness. As someone who never saw the actual band (but has seen some successful and less-than-successful related projects), I'm not here to convince you. But for my money, there's something rewarding, something essential, about watching much-younger musicians, with full careers filled with their own original material in front of them, paying tribute to one of rock music's foundational bands.
I  loved the Brooklyn Bowl show that we posted by Alex Bleeker and The Freaks — that one a combo run through their new album and some other originals, followed by a "Play Dead" set that's become a staple of many of their live shows. This one flipped that script, with Bleeker and pals offering up a 100-minute set consisting almost entirely of Dead covers. This — my final show of the year — was billed as the afterparty to Phish's 12/30 Madison Square Garden show, and the celebratory air from that event (an especially strong performance from this year's MSG run) carried over into the more intimate confines of Rough Trade NYC.
Overall, this "Play Dead" was a looser, better and arguably truer performance to the spirit of the original band. While the Brooklyn Bowl set consisted mainly of discrete run-throughs of each song, you'll notice that this set was filled with segues, kicking off with "China Cat Sunflower" into a surging "I Know You Rider" before venturing into  cosmic territory with "Eyes to the World" into "He's Gone" into "The Other One," taking a short detour through "Dark Star" and ending up, improbably, with a Bleeker original, "Sealong Hair," from their latest record, Country Agenda. After that came three more non-Dead tunes (two more originals, plus their regular-rotation cover of Mountain Man's "Animal Tracks," a fierce jam in its own right. Where Bleeker was joined last time by Real Estate's Martin Courtney, here we had another cameo by one of his Ridgewood, NJ pals, Julian Lynch and multi-talented Dave Harrington (of many bands, but perhaps best-known for his work in Darkside). The band managed to deliver a little birthday salutation to Harringon in between "Tennessee Jed" and "St. Stephen," which closed the set. By that point it was 2 a.m. and the club's neighbors weren't going to tolerate any more. For those of us inside, though, this was an afterparty that we'd have been happy to continue all night.
I recorded this set with a soundboard feed from Rough Trade engineer Leah, together with Schoeps MK4V microphones. The sound quality is outstanding. Enjoy!
Download the complete set: [FLAC] | [MP3]
Stream the complete set: 

Alex Bleeker & The Freaks "Play Dead"
2015-12-30
Rough Trade NYC
Brooklyn, NY USA
Exclusive download hosted at nyctaper.com
Recorded and produced by acidjack
Soundboard [engineer: Leah] + Schoeps MK4V (PAS)>KC5>CMC6>>Zoom F8>2x24bit/48kHz WAV>Adobe Audition CS 5.5 (align, mix down, fades)>Izotope Ozone 5 (effects)>Audacity 2.0.5 (track, amplify, balance, downsample)>FLAC ( level 8 )
Tracks [Total Time: 1:43:00]
All songs by the Grateful Dead unless noted
01 tuning>China Cat Sunflower>
02 I Know You Rider
03 Eyes of the World>
04 He's Gone>
05 The Other One>
06 Dark Star Jam>
07 Sealong Hair [Alex Bleeker & the Freaks]
08 Downright Stinson [Alex Bleeker & the Freaks]
09 Animal Tracks [Mountain Man]
10 U.H.M. [Alex Bleeker & the Freaks]
11 Shakedown Street>
12 The Wheel>
13 Tennessee Jed>
14 [Happy bday to Dave]>
15 St. Stephen
16 [outro]
If you download this recording from NYCTaper, PLEASE SUPPORT Alex Bleeker & the Freaks, visit their Facebook page, and purchase their new album Country Agenda from Sinderlyn Records [HERE].