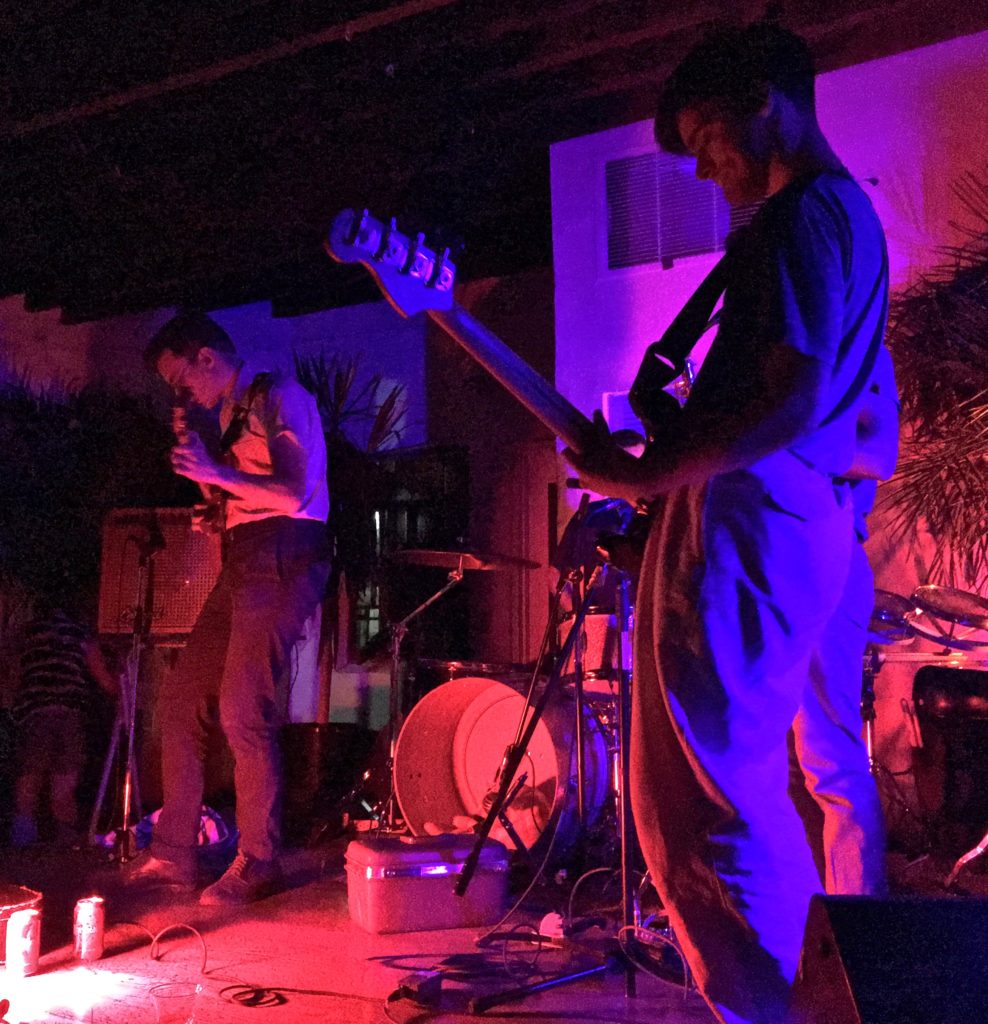 For most of its nearly ten-year history, this website has been a collaboration, reflecting the individual tastes and contributions of those who contribute to it. In the past two years, it's hard to overstate the contribution that Eric PH has made to the team, introducing not only a number of great recordings, but a slew of new bands to the mix. Horse Lords, of Baltimore, are one of his very best finds, and since he first saw them in 2015, we've been hoping to do something with them directly. The band headlined a stacked bill this past Saturday at Trans-Pecos, which felt like a welcome, air-conditioned respite from the steaming heat outside. But more important than the change in temperature was the change in perspective, as each of the forward-thinking acts on the bill reminded us of how powerful experimental music can be. While too many bands of their ilk toil in obscurity, Horse Lords have received their due of late, in the form of stellar reviews for their latest album, Interventions (released by NYC label Northern Spy). 
The band's heady combination of guitar, bass, drums, and at-times keys, sax, and second percussion isn't the easiest to describe; it has a tinge of desert blues to it, the controlled chaos of free jazz, the music-school time shifts of math rock and the propulsiveness of, well, rock. The band brought all of that complexity to the stage and didn't miss a beat, holding our attention through the latest album's first single, "Truthers" straight through to the album's centerpiece, "Toward the Omega Point," at the end. As Eric PH pointed out in his review of the 2015 show, the band members know how to fill the spaces in the music when they need to, but also know when to leave some open air. We were floored by the band's musicianship, their control, and their ability to craft a setlist that hung together through a diverse range of sounds. For anyone who cares about where music is going next, be sure to put Horse Lords on your list of things to see.
I recorded this set with a set of Schoeps MK22 open cardioids near the front of the room, a pair of Naiant X-X omnis split onstage, and a soundboard feed from the night's engineer. The sound quality is phenomenal. Enjoy!
Download the complete show: [MP3/FLAC/ALAC]
Stream the complete show:

Horse Lords
2016-07-23
Trans-Pecos
Queens, NY
Exclusive download hosted at nyctaper.com
Recorded and produced by acidjack
Schoeps MK22 (FOB, ROC)>KCY>Z-PFA + Soundboard + Naiant X-X (3' split, onstage)>>Zoom F8>3x24bit/48kHz WAV>Adobe Audition CS 5.5 (align, mix down, fades, compression)>Izotope Ozone 5 (image, EQ, exciter)>Audacity 2.0.3 (track, amplify, balance, downsample, dither)>FLAC ( level 8 )
Tracks
01 Truthers
02 Intervention III
03 Bending to the Lash
04 Untitled
05 Toward the Omega Point