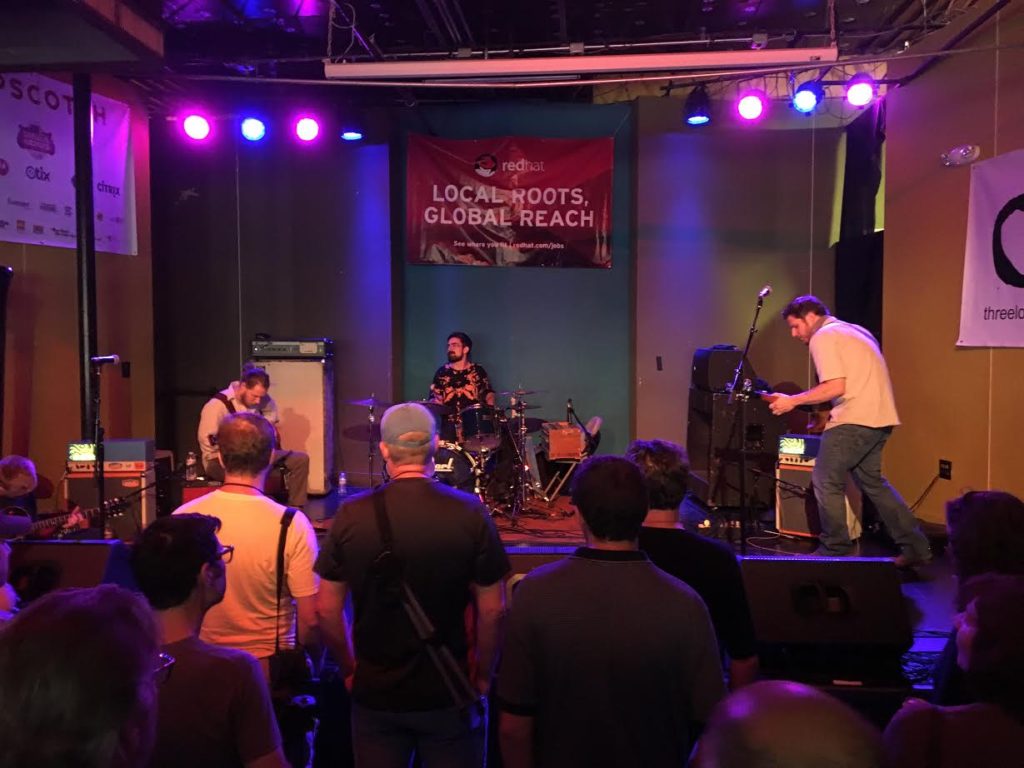 [photo courtesy of David Schwentker]
If the Watery Love set was the volume plateau of the Three Lobed / WXDU Day Show at King's during Hopscotch Music Festival, the joint appearance by longtime site faves James Toth aka Wooden Wand and Daniel Bachman was undoubtedly its whimsical peak. This day happened to not only be one of the consistent musical highlights of the year, but also it was Toth's birthday, so he and Bachman were probably in a celebratory mood. Whatever the reason, reality was that this combination of players had never existed before — Bachman, Toth, Forrest Marquisee on guitar, and Ian McColm on drums — and they hadn't even soundchecked. What would happen was a mystery to everyone, even to some degree the people on the stage.
However much the 20+-minute drone-ified version of Black Sabbath's "War Pigs" that emerged was or wasn't planned, the outcome felt like more than a mere lark. As with everything these players do, this was done with spirit, turning this into one of those off-the-cuff, daring improvisational moments that have come to define what is always the highlight of this music festival. There's not much more to say about it than that — listen to it and you'll understand.
I recorded this set with Brad Womack's soundboard feed and Schoeps MK4V microphones onstage. The sound quality is outstanding. Enjoy!
Download the complete set: [MP3/FLAC/ALAC] [Note: the files need to be re-tagged with the correct band name]
Stream the complete set:

Bachman-Toth Band 
2016-09-09
Three Lobed / WXDU Day Show
King's
Raleigh, NC USA
Exclusive download hosted at nyctaper.com
Recorded and produced by acidjack
Soundboard (engineer: Brad Womack) + Schoeps MK4V (stage lip, DFC, PAS)>KC5>CMC6>Zoom F8>3x24bit/48kHz WAV>Adobe Audition CS 5.5 (compression, fades)>Izotope Ozone 5 (EQ, effects)>Audacity 2.0.3 (track, amplify, downsample, dither)>FLAC ( level 8 )
Tracks
01 [intro]
02 War Pigs [Black Sabbath]
Support these artists: Daniel Bachman website / facebook | Wooden Wand website / bandcamp