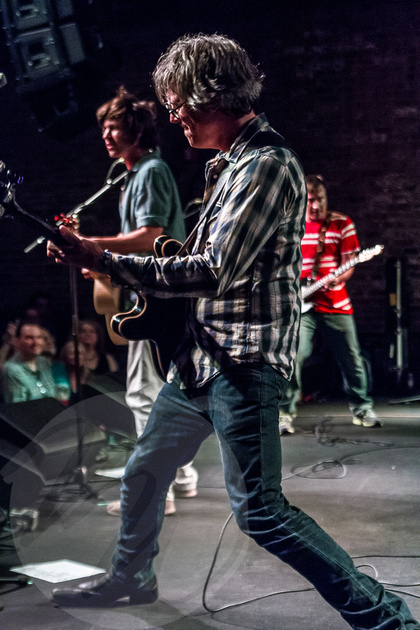 [photo courtesy of Vernon Webb Photography]
In March, we reconnected with the Old 97s at their highly enjoyable set at the Capital Theatre in Portchester. So I guess it was only natural that we would attend their next NYC show, this time as a play-a-full-album three night run at Brooklyn Bowl — one of our old favorites at one of our current favorite venues. The first night album was appropriately the band's first album Hitchhike to Rhome played from start to finish, including a bonus track, a hidden track, and even an outtake from the album's sessions. At the conclusion of Rhome, the Old 97s played another dozen tracks, making this both an lengthy and highly entertaining set. The band's performance was both inspired and tight — clearly a band comfortable with their past and their present.
I recorded this set with the Sennheiser MKH-8040 cards pointed at the right stack midway on the right side of the floor. The ambient noise (bowling and chatter) is greatly reduced with the addition of a board feed, synced in at about 40% of the overall mix. The result is a superb recording. Enjoy!
Stream "Four Leaf Clover":

Download the Complete show [MP3] / [FLAC]
Note: All of the material on this site is offered with artist permission, free to fans, at our expense. The only thing we ask is that you download the material directly from this site, rather than re-posting the direct links or the files on other sites without our permission. Please respect our request.
Old 97s
2013-06-27
Brooklyn Bowl
Brooklyn, NY USA
Digital Master Recording
Soundboard + Audience Matrix
Soundboard + Sennheiser MKH-8040s > Edirol R-44 (Oade Concert Mod) > 2 x 24bit 48kHz wav files > Soundforge (level adjustments, mixdown, set fades, EQ) > CDWave 1.95 (tracking) > TLH > flac (320 MP3 and tagging via Foobar)
Recorded and Produced
by nyctaper 2013-07-02
Setlist:
[Total Time 1:41:52]
01 [intro]
02 St. Ignatius
03 504
04 Drowning in the Days
05 Miss Molly
06 Dancing With Tears in My Eyes
07 Four Leaf Clover
08 Wish The Worst
09 Old 97s Theme
10 Doreen
11 [banter – twenty years]
12 Hands Off
13 Mama Tried
14 Stoned
15 If My Heart Was a Car
16 Desperate Times
17 Ken's Polka Thing
18 Tupelo County Jail
19 West Texas Teardrops
20 Lonely Holiday
21 Champaign Illinois
22 Rollerskate Skinny
23 Let The Whiskey Take The Reins
24 Can't Get a Line
25 Every Night Is Friday Night
26 Big Brown Eyes
27 [encore break]
28 Making Love With You
29 Dance With Me
30 Timebomb
If you download this recording from NYCTaper, we expect that you will PLEASE SUPPORT Old 97s, visit their website, purchase their official releases from the Store at their website [HERE].