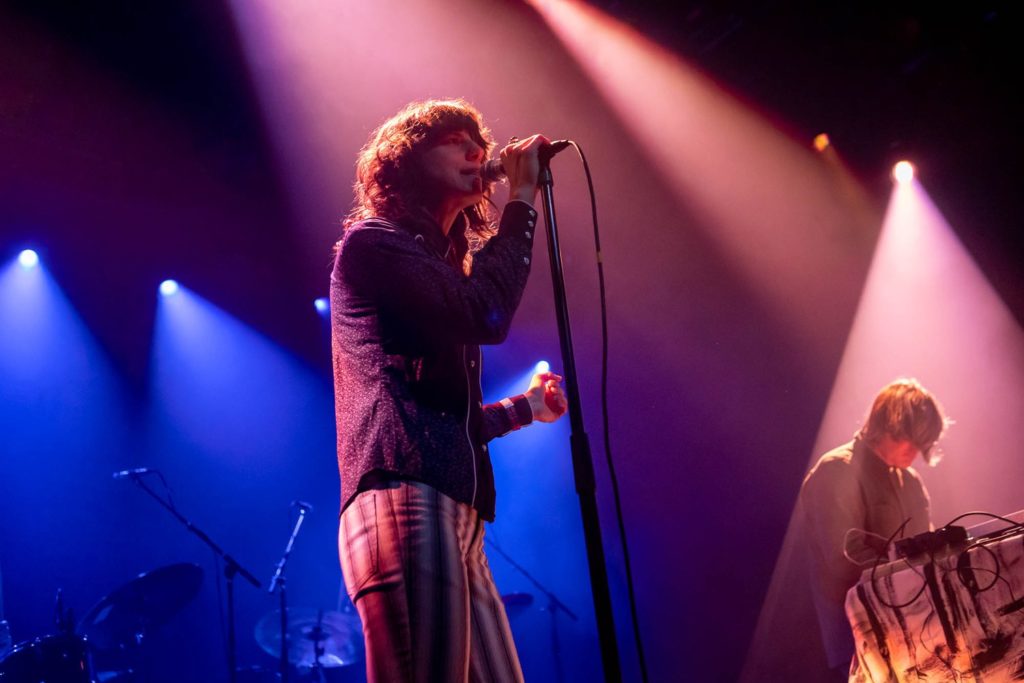 Our live experiences with the Fiery Furnaces date back to the earliest days of this website. It would be fair to say that this band was in part responsible for the growth of the site circa 2007-2008, as we recorded them all around the area, from multiple times at Maxwell's, Mercury, Bowery, and Music Hall, to singular shows at Sound Fix Records on Bedford (RIP), Socrates Sculpture Park in Queens, LPR, Southpaw (RIP), East River Park Bandshell (RIP), and Hiro Ballroom (RIP). We recorded them so often that we ended up getting credited as an "engineer" for the Fiery Furnaces live album Remember, which used some of our recordings. The attraction was natural for we live music fans — the band never played any of their shows or songs the same way twice, they consistently invited superb musicians to join them on tours, and the music was always challenging and cerebral. We couldn't get enough of them.
But in 2011, the band's core siblings Eleanor and Matt Friedberger decided to take a hiatus. I expected a few years of time away, a solo album or two and then a return. I didn't expect the break to take a decade, but in 2020 the reunion was finally announced and well, you know what happened then.
Last November at Brooklyn Steel, the wait was over. Fiery Furnaces were back for a "hometown" show at long last. To be honest, I didn't really know what entirely to expect. The two stalwarts of the band from last decade (Jason Loewenstein and Bob D'Amico) were not joining in the reunion, and of the new band members, we only were familiar with the most excellent Emily Lee (Shearwater, and others). But what I did expect was a new take on classic material, and likely the new single from 2020 ("Down At The So And So And Somewhere"). And in that respect, this show was entirely what I had hoped to see. The setlist contained a healthy dose from all of the band's releases, of course segued with unexpected twists and turns — but always anchored by Eleanor's meticulously delivered tongue-twisters and turns of phrase. Matt's keyboard rack was liberally employed throughout and jibed perfectly with Emily electric piano — check out the interplay in a tasty "Benton Harbor Blues", and the rocking "Ex-Guru". The entire ninety-minute set worked like that, with no lulls, plenty of highlights, and no dip in energy throughout. It was great to have Fiery Furnaces back, even if for just one night. We hope it isn't another decade before they return.
I recorded this set with the Neumann hypers set up at the Soundboard and mixed with a board feed. We are extremely happy with the results, and are pleased to offer this high quality download. Enjoy!
Download the Complete Show [MP3] / [FLAC]
Stream the Complete Show:
Fiery Furnaces
2021-11-13
Brooklyn Steel
Brooklyn NY
Digital Master Recording
Soundboard + Audience Matrix
Soundboard + Neumann KM-150s > Sound Devices 744t > 2 x 24bit 48kHz wav files > Soundforge (post-production) > CDWave 1.95 (tracking) > TLH > flac (320 MP3 and tagging via Foobar)
Recorded and Produced by nyctaper
Setlist:
[Total Time 1:22:52]
01 Leaky Tunnel
02 Single Again
03 Two Fat Feet
04 I'm Going Away
05 Benton Harbor Blues
06 [checklist]
07 My Dog Was Lost but Now He's Found
08 The Garfield El
09 Chief Inspector Blancheflower
10 I'm in No Mood
11 Don't Dance Her Down
12 The Vietnamese Telephone Ministry
13 Down At The So And So And Somewhere
14 Duplexes of the Dead
15 Automatic Husband
16 Ex-Guru
17 Quay Cur
18 Tropical Ice-Land
19 [encore break]
20 Here Comes the Summer
21 My Egyptian Grammar
22 Chris Michaels
SUPPORT Fiery Furnaces: Bandcamp / Thrill Jockey page / Third Man Records page