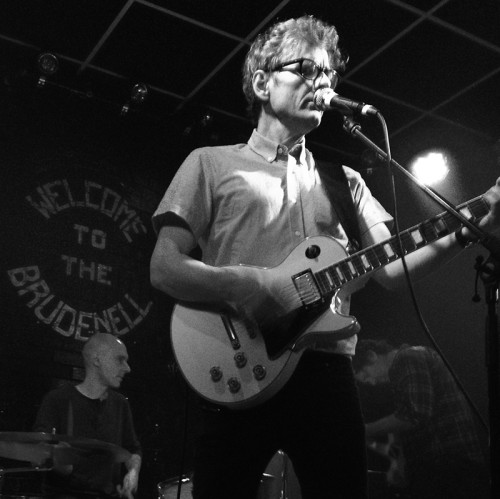 [photo courtesy of A Head Full of Wishes fan site]
The Luna performance from June at McCarren Park is perhaps my favorite show of this entire year. The recording has been on constant rotation on my playlist. That special night was Luna's first show in NYC in ten years and it occurred on Britta Phillips' birthday. As it happens, this show last month in the British Northlands city Leeds took place on Dean Wareham's birthday. After the previous night in London (recording coming soon), the band settled into the more intimate venue in front of an engaged crowd, with a show that started out strong and quite literally never let up. There are many highlights and we are streaming two of them, including the second call for an encore that led to an excellent version of "Tiger Lily". There is an outstanding first person account of this show (and other dates on the UK tour) at the excellent fan site A Head Full of Wishes (here).
Luna will of course be back in town in NYC next month. The band plays two shows at Bowery Ballroom (October 7 and 8) and Music Hall of Williamsburg on October 9. Those shows are currently sold out, but the nights will all be Events so its suggested that our local readers get tickets by hook or crook.
Kubacheck recorded this show with his trusty MBHO cards from a very advantageous position in this small-ish club and the sound quality is outstanding. Enjoy!
Download the Complete Show [MP3] / [FLAC]
Stream "Bonnie and Clyde":

Stream "Tiger Lily":

Note: All of the material on this site is offered with artist permission, free to fans, at our expense. The only thing we ask is that you download the material directly from this site, rather than re-posting the direct links or the files on other sites without our permission. Please respect our request, and feel free to repost the Soundcloud links.
Luna
2015-08-01
Brudenell Social Club
Leeds UK
Digital Master Audience Recording
Recorded from FOB
MBHO 603a – KA-500 > Naiant Tinybox > Roland R-05 > 24bit 48kHz wav file > Soundforge (level adjustments, EQ, set fades) > CDWave 1.95 (tracking) > TLH > flac (320 MP3 and tagging via Foobar)
Recorded by Kubacheck
Produced by nyctaper
Setlist:
[Total Time 1:31:35]
01 Chinatown
02 Malibu Love Nest
03 Sideshow By The Seashore
04 Still At Home
05 Friendly Advice
06 Speedbumps
07 [banter – Dean's birthday]
08 Tracy I Love You
09 Bewitched
10 Bonnie And Clyde
11 Moon Palace
12 Fuzzy Wuzzy
13 [banter – website]
14 Time To Quit
15 Twenty-Three Minutes In Brussels
16 [encore break]
17 Tugboat
18 Indian Summer
19 [second encore break]
20 Tiger Lily
If you Download this recording from nyctaper, we expect that you will PLEASE SUPPORT Luna, visit their website, and purchase their official releases from the links at their website, from Bandcamp and the Long Players Box Set from Captured Tracks Records [HERE].