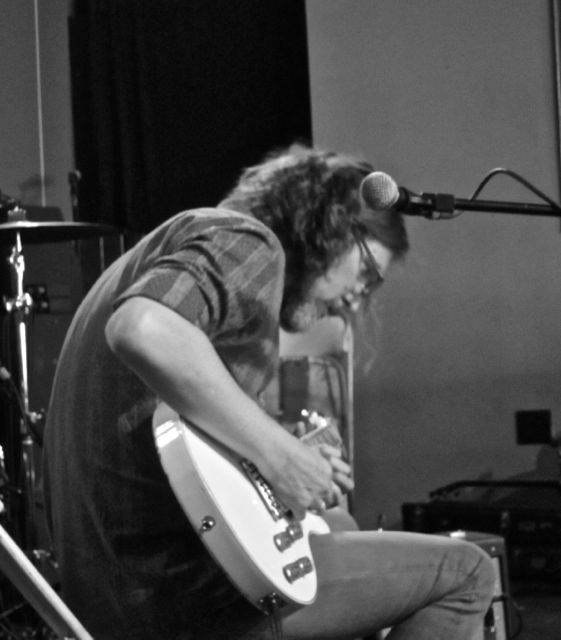 [Photos by acidjack]
About two or three minutes into "Beauty Draws the Seed", one of three compositions Tom Carter played at this year's Three Lobed Recordings / WXDU Day Show during Hopscotch Music Festival, it was clear that this would be a session that would be unforgettable. I have seen Tom play several times, but this afternoon show was special — a day that every artist invited showed up with their absolute best.
Carter's layered, carefully rendered guitar compositions start to resemble living organisms, expanding and contracting. They exist beyond words, beyond simple emotions. This was a set of profound beauty, Carter's first solo set in North Carolina. He made it one for the ages.
These songs will be available in 2014 on releases from Three Lobed Recordings as well as an Italian label so new it doesn't have a name yet. We are not only thankful for what Carter has accomplished to date, but what lies in front of him.
I recorded this set with a soundboard feed customized for this recording and Schoeps MK4V microphones. The sound quality is outstanding. Enjoy!
Stream "Beauty Draws the Seed"

Download the complete show: [MP3] | [FLAC]
Note: All of the material on this site is offered with artist permission, free to fans, at our expense. The only thing we ask is that you download the material directly from this site, rather than re-posting the direct links or the files on other sites without our permission. Please respect our request.
Tom Carter
2013-09-06
Three Lobed / WXDU Day Show
King's
Raleigh, NC USA
Schoeps MK4V (onstage)>KC5>CMC6 + Soundboard (custom stereo mix)>Edirol R-44 [Oade Concert Mod]>2x24bit/48kHz WAV>Adobe Audition CS 5.5 (mix down, adjustments)>Izotope Ozone 5 (tube effect, EQ)>Audacity 2.03 (tracking, fades, amplify, balance, downsample)>FLAC ( level 8 )
01 [intro]
02 Beauty Draws the Seed
03 August Is All
04 Numinous
If you enjoyed these recordings, PLEASE SUPPORT Tom Carter by buying his music from Wholly Other, keeping an eye out for the forthcoming Three Lobed release in 2014, visiting the "Buy Music" links at the Tom Carter page and visiting the Tom Carter page maintained by Kranky.