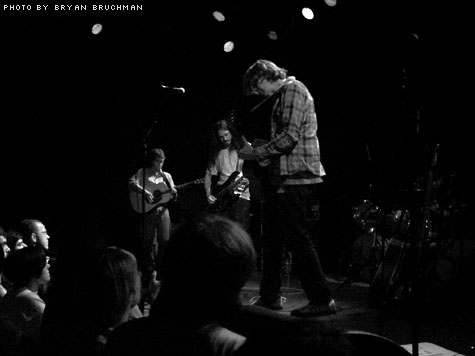 [photo by Bryan Bruchman]
Thurston Moore has a sweeping, almost uncontainable musical vision. He is an artist who I have personally seen, just in the past year, perform everything from a chaotic, sprawling noise collage to Sonic Youth's classic postpunk to these, his somnolent, captivating acoustic meditations. He is in many ways the archetype of the modern New York musician to which almost anyone, in any genre, aspires, and he and his bandmates in Sonic Youth almost single-handedly revitalized and redefined the scene in the 80s and 90s. If you are trying to describe, using one person, everything that is honest and right and excellent and so very New York about modern New York rock musicians, look no further than Thurston Moore.
This Friday night show at Music Hall of Williamsburg celebrated the release of Moore's most recent solo record, the Beck-produced Demolished Thoughts, which picks up on the quieter end of where his 2007 solo release Trees Outside the Academy left off. The set concentrated heavily on that record, as well as some songs from Trees Outside the Academy, and finished with the title track from Moore's first proper solo outing, Psychic Hearts. While the songs in this set fall within the more conventional range of Moore's spectrum, there was nothing banal about them, as each track demonstrated his virtuosity on the guitar – witness the back end of "Orchard Street" and his amazing consistency at writing catchy, interesting songs ("In Silver Rain With A Paper Key" being one). Moore was backed by a crack band of hyper-cool indie luminaries that included Keith Wood from Hush Arbors on guitar and John Moloney of Sunburned Hand of the Man, and they did the songs ample justice. Unlike most gigs Thurston Moore is involved in, this one never required earplugs – but it didn't need the noise to be noticed.
I recorded this set from the left balcony of the venue with the Schoeps microphones on an extension arm pointed directly at the stacks, with tiny DPA omnidirectional microphones providing the room warmth and ambiance that usually lack from up-close recordings of this type. Both mics ran through quiet preamps that minimized hiss from this more quiet show. The results are excellent. Enjoy!
Stream "In Silver Rain With A Paper Key":
Audio clip: Adobe Flash Player (version 9 or above) is required to play this audio clip. Download the latest version here. You also need to have JavaScript enabled in your browser.
Stream "Orchard Street":

Audio clip: Adobe Flash Player (version 9 or above) is required to play this audio clip. Download the latest version here. You also need to have JavaScript enabled in your browser.
Direct download of MP3 files [HERE]
Direct download of lossless FLAC files [HERE]
PLEASE DO NOT REPOST THE DIRECT LINKS TO THESE FILES. IF YOU DO, WE WILL HAVE TO CHANGE THE LINKS, AND THEY WILL BE DEAD FOR  A PERIOD OF TIME.
Follow acidjack on Twitter
Thurston Moore
2011-05-20
Music Hall of Williamsburg
Brooklyn, NY  USA
An acidjack master recording
Recorded and produced by acidjack for nyctaper.com
Equipment: Schoeps Mk41>CMC6>Sound Devices USBpre2 + DPA 4061>Church Audio CA9200 >> Edirol R-44 [Oade Concert Mod] (24/48)
Position: Left balcony, about 15′ from stack, mics on extension arm split A/B
Mastering: 2x24bit/48kHz WAV>Audacity (smooth peaks, hard limit and de-amplify applause, mixdown, downsample to 44.1kHz, set fades, tracking, amplify and balance, downsample to 16bit)>FLAC ( level 8 )
Tracks
01 intro
02 Mina Loy
03 Blood Never Lies
04 Never Day
05 [banter]
06 January
07 Space
08 Orchard Street
09 [banter]
10 Benediction
11 Illuminine
12 [banter]
13 In Silver Rain With A Paper Key
14 Circulation
15 [encore break]
16 Psychic Hearts
If you download this recording from NYCTaper, we expect that you will PLEASE SUPPORT Thurston Moore, visit his MySpace page, and purchase his official releases directly from his label, Ecstatic Peace, [HERE]