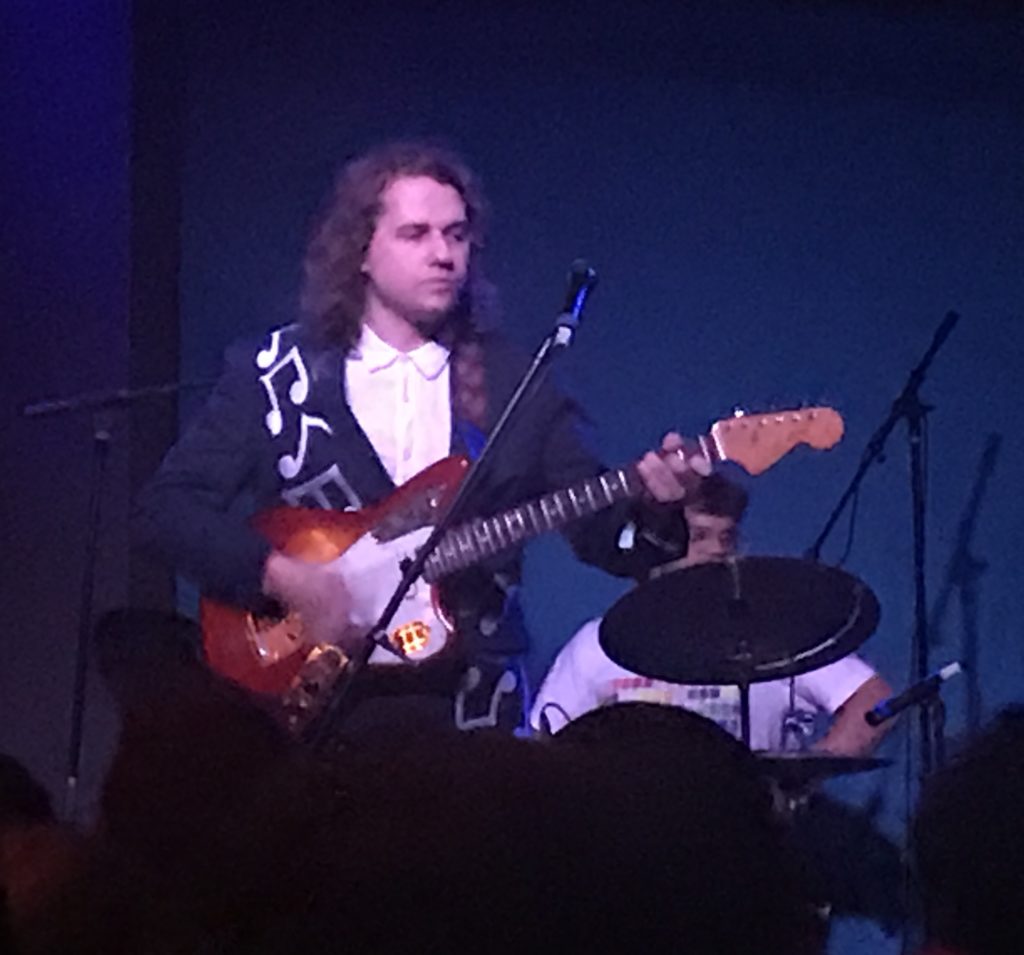 Kevin Morby's star continues to rise, and deservedly so, with his latest album City Music continuing the confident vein of his previous work. Like most of Kevin's recent shows that I've attended, this headlining night at King's during Hopscotch Music Festival was packed. I'm not sure how much of a contribution the Volvo commercial has made to Kevin's popularity, but anything that gets more people in the door for him, I'll take it. Certainly, Morby is now far beyond the "formerly of Woods" label; he's a big deal in his own right.
This being the end of the night, the crowd was fired up and rowdy, and Morby and his band handled that gamely, putting on a loose-but-rocking set to go with the overall mood. Morby kept the set focused on the new record, while sprinkling it with some of his best-loved songs, including "Harlem River" from Kevin's first album, of the same name, plus "I Have Been to the Mountain," "Dorothy," and "Destroyer" from Singing Saw. But it was the "encore" portion of this show that will probably be best remembered, as Morby took us through his version of reggae-rockers Sublime's mid-90s classic, "What I Got," followed by his special version of the Velvet Underground's "Rock & Roll." It was the perfect kind of end-of-festival show, with a meeting of the minds between performer and audience that benefited both.
I recorded this set with our friend Randy's installed AKG 460 microphones in the "FOB/DFC" position, plus a feed of Evan Lamb's house mix. The sound quality is excellent. Enjoy!
You can catch Kevin on his fall tour of Europe right now. See the dates on his website here.
Download the complete show: [MP3/FLAC/ALAC]
Kevin Morby
2017-09-09
Hopscotch Music Festival
King's
Raleigh, NC USA
Recorded and produced by acidjack for nyctaper.com
Soundboard (engineer: Evan Lamb) + AKG 460/CK61>Zoom F8>24bit/48kHz WAVs>Adobe Audition CC (align, mix down, compression, fades)>Izotope Ozone 5 (effects, EQ)>Audacity 2.0.5 (track, amplify, balance, dither)>FLAC ( level 8 )
Tracks [Total Time 1:01:00]
01 intro>City Music
02 Crybaby
03 [banter1]
04 Aboard My Train
05 Harlem River
06 Destroyer
07 I Have Been to the Mountain
08 [banter2]
09 Dry Your Eyes
10 Dorothy
11 What I Got [Sublime]
12 Rock & Roll [Velvet Underground]