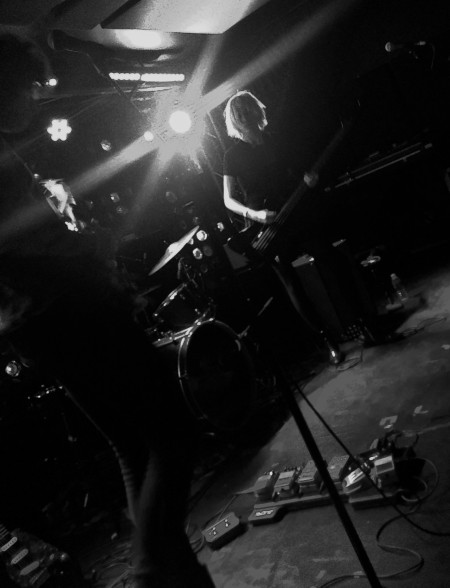 [photo by nyctaper]
Sometimes youth is not wasted on the youth. Sunflower Bean is a band consisting of three people barely scratching the age of 20, but their grasp of neo-psych rock influences and their tightness as a unit belies their age. This is a band that looks, acts, and performs as if they were a veteran unit in their thirties. Perhaps this is because Sunflower Bean is also relentless in playing live — according to Oh My Rockness, they are statistically the hardest working band in NYC in 2014 having played the highest number of live gigs. We caught one of those gigs back in November when they opened for Dream Syndicate and really knocked it out of the park in a pretty sizeable venue and a notable gig. Fortunately, it wasn't too long before they showed up on this excellent bill at Baby's All Right, opening for Fat White Family and PC Worship (both coming soon). I decided it was a good idea to check them out from up close at the stage lip and see if my first instincts were correct — and yes, they were. Julia Cumming and Nick Kliven share the vocals and each delivers a different but effective edge to the material. Kliven's tasty multi-pedaled guitar work is supplemented with Cumming's powerful bass and anchored by Jacob Farber's meticulous percussion. Sunflower Bean is just a damned good band and there's really no telling how far they can go. They will release their debut EP Show Me Your Seven Secrets in January and the EP release show will be at Baby's All Right on January 31st. In the mean time, Sunflower Bean will play two shows this week — also both at Baby's, as a headliner tonight December 30 and as part of the New Year's Festivities on December 31. While our being out of town prevents our attendance this week, we'll certainly be there on January 31st to catch this excellent band again.
This set was recorded by House FOH Devin, who provided a superb live mix of the multitrack. There are also cardioid microphones installed on the lighting rig about 15 feet in front of the stage. In post-production, I mixed the two sources and the results are quite excellent. Enjoy!
Stream "Tarot Card":

Download the Complete Show [MP3] / [FLAC]
Note: All of the material on this site is offered with artist permission, free to fans, at our expense. The only thing we ask is that you download the material directly from this site, rather than re-posting the direct links or the files on other sites without our permission. Please respect our request, and feel free to repost the Soundcloud links.
Sunflower Bean
2014-12-20
Babys All Right
Brooklyn, NY USA
Digital Soundboard + Audience
Multitrack Recording
Multitrack Soundboard (engineered and recorded by Devin Foley) > Devin mix Wav files + Room mic wav files > Soundforge (level adjustments, setfades) > CDWave 1.95 (tracking) > TLH > flac (320 MP3 and Tagging via Foobar)
Produced by nyctaper
Setlist:
[Total Time 31:20]
01 [new song]
02 Tame Impala
03 I'm A Ghost
04 Call The Doctor
05 Wall Watcher
06 Rock and Roll Heathen
07 Tarot Card
If you download this recording from NYCTaper, we expect that you will PLEASE SUPPORT Sunflower Bean, visit their bandcamp page, visit their Facebook page, purchase their debut EP when it released on their bandcamp page [HERE].