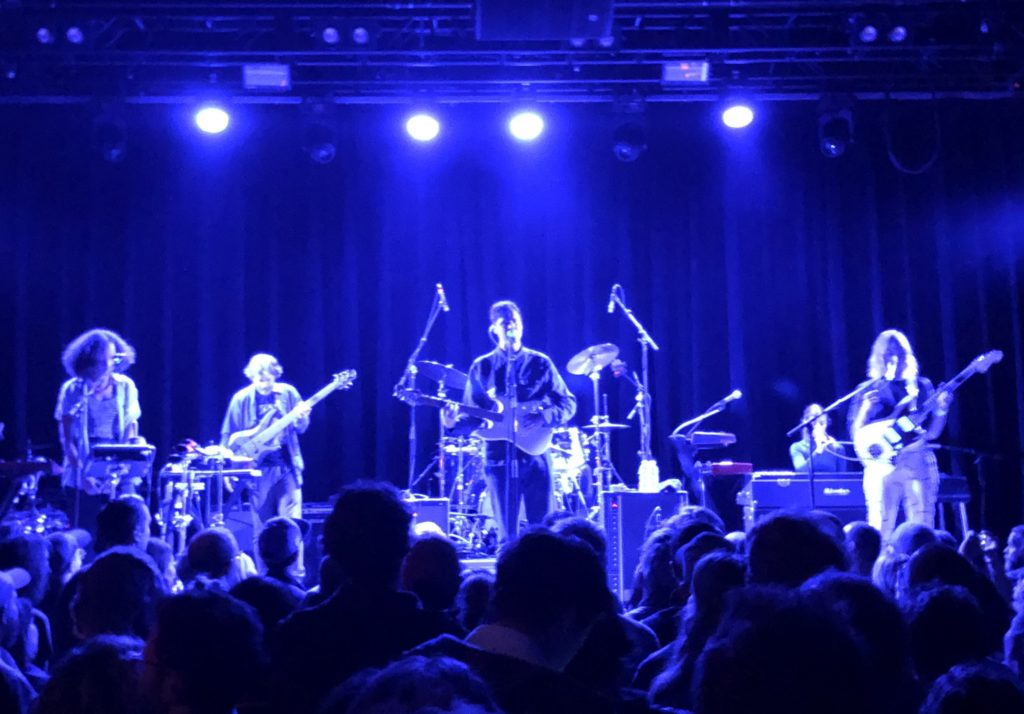 If you ever doubt the reason to see live music, I'd refer you to the experience of watching Dave Longstreth on stage for eighty minutes with Dirty Projectors. There's a particular joy to watching such complex, intellectual "rock" music brought to life by players of such immense talent, up close enough to see Longstreth's fingers work the fretboard. If it's at Elsewhere — a phenomenal-sounding club — and on a rather convenient late Sunday afternoon, all the better.
Among the waves of NYC/Brooklyn rock music in the first decade of this century, the Dirty Projectors always existed at some remove from even their mid-latter-decade contemporaries. Dirty Projectors is an unapologetically smart band, the work of a highly educated musician's musician. It's fitting that I last saw this band at Carnegie Hall in early 2013; if any "indie rock" band belongs there, it's this one.
This set, the first of two the band performed at Elsewhere on Sunday, spanned the band's five most recent albums (with Rise Above represented by the particularly affecting "Police Story" that led off the show), as well as two nuggets from the band's Mount Wittenberg Orca collaboration with Björk. Likewise, this set represented a reasonable facsimile of Longstreth's emotional states during the recent past, with songs like the joyous "I Found It In U" and "I Feel Energy" offset by the political rumination "It's A Lifestyle" and the wistful "Little Bubble." Longstreth has described Lamp Lit Prose and Dirty Projectors as a yin and yang album cycle, and that was evident here. But, while Lamp Lit is stylistically closer to the rest of the band's recent material, there's been a darkness in many of Longstreth's songs before Dirty Projectors, and those, like "Gun Has No Trigger," were well-represented here also.
To call the current band "new" is a bit of a stretch at this point; they've been touring this album as a unit for a while now, and it showed in their formidably well-rehearsed state. Give a quick listen to the soaring harmonies on "Cannibal Resource", Kristin Slipp's lead vocal on "The Socialites" or the incredible vocal precision on "When the World Comes To An End" (incidentally, the Mount Wittenberg songs strike me as particularly difficult musically) and you'll be relieved of any concern that this band isn't every bit the equal of the one that came before it. It wasn't just because of Longstreth's talent that I spent a good bit of these 80 minutes on a Sunday afternoon mouthing the word "wow." It was hard to tell how serious Longstreth was about engaging a call-and-response situation during the final encore ("Right Now" from Lamp Lit Prose) but it soon became clear that even figuring out how to chant "right now" back at a Dirty Projectors song is a little tougher than usual singalong fare ("it loops unevenly…. that's as well as I've figured out how to do it" a sheepish Longstreth said). "Right Now" proved a fitting end, encapsulating the yin and yang of the show in a single, dark but ultimately uplifting song (which Longstreth also identified as the most difficult to play in the set). The only part that wasn't perfectly dialed in was the crowd singing "right now" — but that was kind of perfect, too.
I recorded this set with a feed of the house mix together with Schoeps MK4V microphones inside the soundboard cage. All credit for the sound of this belongs to the production team, both Dirty Projectors' touring engineer, Teresa Murray, and the house team at Elsewhere. I hope you're as impressed with it as I am — enjoy!
Thanks to Domino Records and Dirty Projectors for giving us permission to record the performance, along with the outstanding Elsewhere production crew.
Download the complete show: [MP3/FLAC/Apple Lossless]
Dirty Projectors
2018-11-18 (early show)
Elsewhere
Brooklyn, NY USA
Recorded and produced by acidjack for nyctaper.com
Soundboard (engineer: Teresa Murray + Tyler (house)) + Schoeps MK4V (FOB, DFC)>KC5>CMC6>>Sound Devices
MixPre6>24/48 polyWAV>Adobe Audition CC (align, mix down, fades, compression)>Izotope Ozone 5 (effects)>Audacity 2.1.0 (track, amplify,
balance)>FLAC ( level 8 )
Tracks [Total Time: 1:20:15]
01 Police Story
02 I Found It In U
03 Break-Thru
04 What Is the Time
05 Cannibal Resource
06 Temecula Sunrise
07 That's a Lifestyle
08 The Socialites
09 Gun Has No Trigger
10 When the World Comes to an End
11 I Feel Energy
12 Cool Your Heart
13 Useful Chamber
14 [encore break]
15 Beautiful Mother
16 Little Bubble
17 [explanatory banter]
18 Right Now
Band:
Dave Longstreth
Matt Baldwin – bass, bass synth
Mike Johnson – drums
Felicia Douglass – vocals, keyboard, electronic percussion
Kristin Slipp – vocals, Wurlitzer, additional keys
Maia Friedman – guitar, vocals
PLEASE SUPPORT Dirty Projectors: web | facebook | buy Lamp Lit Prose