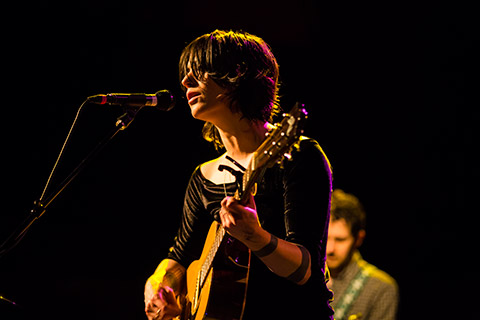 [photos by PSquared Photography]
It is possible to virtually follow the evolution of the career of Sharon Van Etten by reading the the pages of this site. Our first experience with Sharon was over six years ago, during the period when it was just her, one guitar and a small amp. The Van Etten catalog from that period consisted primarily of folk songs about real pain and heartache and the singer's live shows were excruciatingly raw and tender explications of that pain in small venues throughout Manhattan and Brooklyn. I found myself literally brought to tears several times during this period by the sheer beauty of the songcraft and its brutally honest expression. We were also there during the period when her solo star shone bright enough to land her an opening gig at Bowery Ballroom, and headlining gigs at larger venues. The natural growth of Sharon's music was to add a band, and we also captured her her first full band show, her first Bowery headline show, and the Bowery show on the Tramp tour. These days, Sharon still writes about the pain of love but from the perspective of the natural difficulties of a mature relationship. While I certainly miss the intimacy of the early years, its both comforting and rewarding to realize that the performer herself is in a much better place personally. Its also a relief as a fan to see that her own personal happiness has not compromised her ability to write beautifully honest music about human relationships. Sharon's new album Are We There is her most accomplished work and is the natural next step for a performer who is constitutionally incapable of writing music that is not inherently honest. In the case of Are We There, its the complications in relationships that result from the baggage that we all bring to them. In the live setting, Sharon's music is performed these days with a band of ultra-talented friends. The current live band includes Heather Woods Broderick, Doug Keith and new additions Brad Cook (Megafaun) and Darren Jessee (Ben Folds Five, Hotel Lights). At Bowery Ballroom on Friday night, the band's recent run through Europe tightened the sound and we were treated to most of the new album and a few old songs. We are streaming "Tarifa", which begins with the classic Van Etten solo folk style before the full band joins and it becomes a contemporary piece. Sharon's current tour continues throughout much of the US and Canada before returning to Europe this Summer — dates here.
I recorded this show from our usual balcony rail position with the Sennheiser cards. Since the feed was not available to us on this night, this is a straight two channel audience recording. Nevertheless, the mix by Sharon's current FOH Martin Gonzalez was outstanding and this is a superb recording. Enjoy!
Stream "Tarifa":

This Show is now Available for Download in FLAC and MP3 and to Stream at Archive.org [HERE].
Note: All of the material on this site is offered with artist permission, free to fans, at our expense. The only thing we ask is that you download the material directly from this site, rather than re-posting the direct links or the files on other sites without our permission. Please respect our request.
Sharon Van Etten
2014-06-13
Bowery Ballroom
New York NY
Digital Master Audience Recording
Sennheiser MKH-8040s > Edirol R-44 (Oade Concert Mod) > 24bit 48kHz wav file > Soundforge (level adjustments, mixdown, set fades) > CDWave 1.95 (tracking) > TLH > flac (320 MP3 and tagging via Foobar)
Recorded and Produced
by nyctaper
Setlist:
[Total Time 1:11:01]
01 Afraid of Nothing
02 Taking Chances
03 Tarifa
04 [banter – talking shop]
05 Nothing Will Change
06 Break Me
07 Don't Do It
08 [banter – whistling]
09 Give Out
10 You Know Me Well
11 [band introductions]
12 Serpents
13 Your Love Is Killing Me
14 [encore break]
15 I Know
16 I Love You But I'm Lost
17 Every Time The Sun Comes Up
If you download this recording from NYCTaper, we expect that you will PLEASE SUPPORT Sharon Van Etten, visit her website, and purchase Are We There from the Jagjaguwar Records website [HERE].