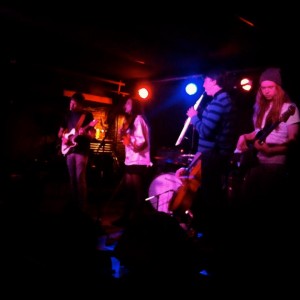 [photo by acidjack]
Friend Roulette are one of those complex, artsy, hard-to-categorize bands that prove their mettle live. This set is now a couple of months old, but on repeat listens, I kept coming back to it as something people needed to hear. At times, what comes off as lush, whimsical chamber pop on their available bandcamp releases comes across as a different animal live; songs like "I'm Sorry You Hit Your Head" come across heavy and dark, as frantic strings alternate with downbeat guitar riffs. Other concoctions like "Hi, Hello" – available (along with "I'm Sorry You Hit Your Head") on a lovely 10″ vinyl EP from Goodnight Records – maintain more of their album sound, their many layers rendered expertly. As with a lot of bands with a more technical aspect to their sound, Friend Roulette rewards the dedicated listener. These songs ask you to dig deep, to pay attention.
As far as live shows in New York are concerned, a dedicated listener in this city can't do much better than an early-side show at Mercury Lounge on a Sunday – the sound is always flawless, and the crowds are – well, let's face it, they're less drunk than average. Friend Roulette took the stage with absolute confidence and shined on both newer and older material from their catalog. With the band in the studio working on a full-length LP, we expect to see great things from them in the future. They have a number of other local shows on tap next month, including August 4 at Rippers (Rockaway Beach), August 5 at Cake Shop, and August 12 at Piano's.
I recorded this set with Schoeps MK5 microphones, the classic EAA PSP2 preamp on loan from hi and lo, and a soundboard feed from the Mercury staff.  The results are excellent. Enjoy!
Stream "I'm Sorry You Hit Your Head"
Audio clip: Adobe Flash Player (version 9 or above) is required to play this audio clip. Download the latest version here. You also need to have JavaScript enabled in your browser.
Stream "Hi, Hello"
Audio clip: Adobe Flash Player (version 9 or above) is required to play this audio clip. Download the latest version here. You also need to have JavaScript enabled in your browser.
Direct download of MP3 files [HERE] | Direct Download of the FLAC files [HERE]
Note: All of the material on this site is offered with artist permission, free to fans, at our expense. The only thing we ask is that you download the material directly from this site, rather than re-posting the direct links or the files on other sites without our permission. Please respect our request.
Friend Roulette
2012-05-06
Mercury Lounge
New York, NY USA
Exclusive download hosted at nyctaper.com
Recorded and produced by acidjack
Schoeps MK41>CMC6>EAA PSP-2 + Soundboard >> Edirol R-44 [Oade Concert Mod]>2x24bit/48kHz WAV>Audition (mixdown)>Izotope Ozone 5 (EQ)>Audacity (adjust levels, set fades, tracking, amplify, downsample)>FLAC ( level 8 )
Tracks
01 Fucked Up [omitted at artist request]
02 On Her Own Tonight [omitted at artist request]
03 Golden
04 I'm Sorry You Hit Your Head
05 Or, Berlin
06 Hi, Hello
07 Lie
If you enjoyed this recording, PLEASE SUPPORT Friend Roulette, like them on Facebook, and buy/download their official releases from bandcamp and Goodnight Records.