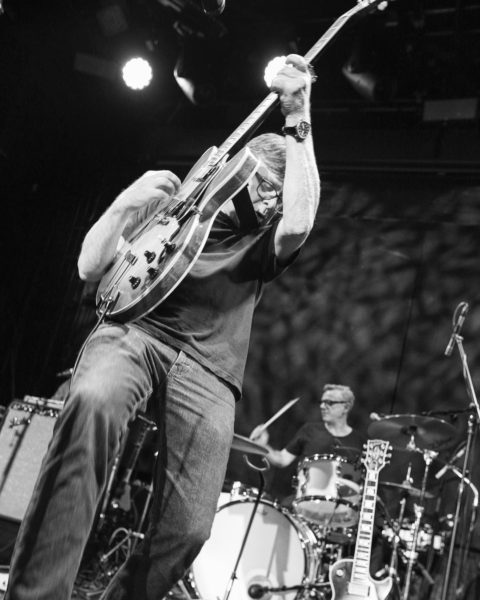 [photos by PSquared Photography]
The legend goes that in 1991, SPIN Magazine selected Teenage Fanclub's album Bandwagonesque as its record of the year ahead of such luminaries as REM's Out of Time, Nirvana's Nevermind and My Bloody Valentine's Loveless. Over the years, that choice has been ridiculed in certain circles, but twenty-five years later the selection is rather prescient. My Bloody Valentine didn't make another album after Loveless until twenty-two years later, REM never made another album that approached the quality of Out of Time, and of course Nirvana was over less than three years later. As careers go, Teenage Fanclub has been the most consistent of the four bands and produced the largest quality catalog in the years since SPIN took heat for them.
This year Teenage Fanclub released their eleventh album and first since 2010. Here (Merge Records) is a record of significant maturity and focus — the band is producing songs as strong as ever and the group harmonies are as sweet as ever. The band has now embarked on a US tour in support of the album and NYC enjoyed two shows this weekend, including Brooklyn last night and the Bowery Ballroom show we caught on Saturday night. Teenage Fanclub live was as compelling and impressive as the new album. This is a band that is both fully committed and comfortable and the show was just one peak after another. The setlist drew fairly democratically from the band's full catalog and with just five songs from Here, was not overly weighted to push new material. And twenty-five years on, the only two tracks from Bandwagonesque played were given center stage, with a perfect version of the classic "The Concept" closing the main set.
Teenage Fanclub plays Boston tonight and the tour continues through six more October US dates before the band returns to Europe in November, all dates here.
I recorded this set in our usual manner in this venue, with the Schoeps mounted at the balcony rail mixed with a fine feed from the band's touring FOH. The sound quality is superb. Enjoy!
Download the Complete Show [MP3] / [FLAC]
Stream the Complete Set:

Teenage Fanclub
2016-10-15
Bowery Ballroom
New York NY
Digital Master Recording
Soundboard + Audience Matrix
Soundboard + Schoeps CCM4u Cardioids > Sound Devices 744t > 2 x 24bit 48kHz wav files > Soundforge (post-production) > CDWave 1.95 (tracking) > TLH > flac (320 MP3 and tagging via Foobar)
Recorded and Produced by nyctaper
Setlist:
[Total Time 1:30:23]
01 Start Again
02 I Need Direction
03 Verisimilitude
04 I Don't Want Control of You
05 [tuning music]
06 Sometimes I Don't Need to Believe in Anything
07 Hold On
08 It's All in My Mind
09 Thin Air
10 About You
11 The Darkest Part of the Night
12 Don't Look Back
13 Can't Feel My Soul
14 I Have Nothing More to Say
15 I'm In Love
16 Star Sign
17 [banter – thanks]
18 The Concept
19 [encore break]
20 Did I Say
21 Radio
22 Your Love Is the Place Where I Come From
23 Everything Flows
SUPPORT Teenage Fanclub: Website | Facebook | Purchase Here from Merge Records