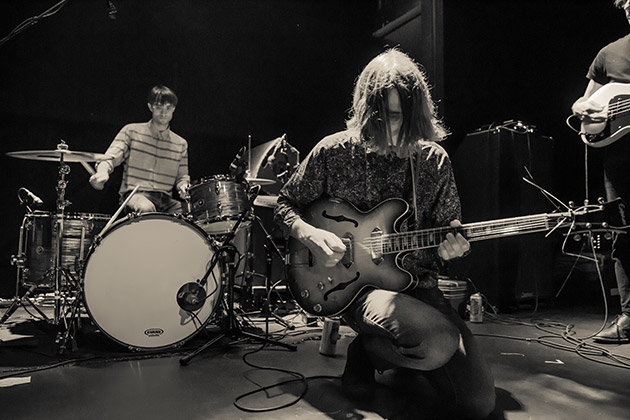 [photos courtesy of P Squared Photography]
I'll give myself a pat on the back for being ahead of the curve on Ultimate Painting, who we caught almost a full year ago at CMJ. The band was so happy with that recording that they offered a few of the tracks from the show alongside some others on a "live tour bootleg" cassette. After last year's excellent self-titled debut, they went right ahead this year and dropped Green Lanes, which is one of those follow-ups that doesn't change trajectory, but adds another dozen really good songs to already-strong repertoire.
New and old were on display side-by-side at this show at Rough Trade NYC, where the band took the stage and launched promptly into "Ultimate Painting," "Rolling In the Deep End" and "Riverside" from their first album before the new "(I've Got The) Sanctioned Blues" came in for a visit. The band's love of classic English rock is obvious, and they honor their musical taste with some of the best and most approachable new writing in the genre among just about anyone from their native UK. Of the new material, the band's strongest entrant might well be the album's first song, "Kodiak," a sunny jaunt that shows off the band's trademark skill at making rock hooks. To wind things up, the band played "Ten Street" from the first album, turning it into a 13-minute guitar centerpiece. When their 50 minutes were up, the band didn't tease us with a will-they-or-won't-they encore situation. They had said what they were going to say, and informed us that we could meet them at the merch booth. Anything else would be un-Britishly improper.
hi and lo recorded this set with a soundboard feed from Rough Trade engineer Dustin, together with Schoeps MK4 microphones from our usual "FOB" location. The sound quality is outstanding. Enjoy!
Download the complete show: [MP3] | [FLAC]
Stream the complete show:

Ultimate Painting
2015-09-18
Rough Trade NYC
Brooklyn, NY USA
Exclusive download hosted at nyctaper.com
Recorded by hi and lo
Produced by acidjack
Soundboard (engineer: Dustin) + Schoeps MK4 (FOB, PAS)>Custom Cables>PFA>>Sound Devices 744t>4x24bit/48kHz WAV>Adobe Audition CS 5.5 (mix down)>Izotope Ozone 5 (EQ, effects)>Audacity 2.0.3 (track, amplify, balance, downsample, dither)>FLAC ( level 8 )
Tracks [Total Time 51:39]
01 Ultimate Painting
02 Rolling In the Deep End
03 Riverside
04 (I've Got the) Sanctioned Blues
05 Break the Chain
06 Central Park Blues
07 The Ocean
08 Kodiak
09 Out In the Cold
10 Ten Street
If you enjoyed this recording, PLEASE SUPPORT Ultimate Painting, visit their website, and buy their albums from Trouble In Mind Records.