New Haven-based funkmeisters Kung Fu co-headlined a mammoth show last week at the Highline Ballroom with up-and-coming jam band heroes Dopapod, with a set that proved the classic can be made new again. With both feet planted firmly in 70s funk-jazz fusion, Kung Fu's high-energy, virtuosic set made us wonder how this music ever went out of style in the first place. Though still new on the scene as a band (their debut CD came out in 2011, the same year the band formed), the members of Kung Fu have a well-pedigreed history in jam circles with acts like The Breakfast, RAQ, Deep Banana Blackout and Jazz is Dead. As such, Kung Fu has already scored some high-profile opening act and festival gigs, including an appearance at this year's Mountain Jam.  Their modernized version of jazz funk has an eye toward today's dance-friendly audiences; indeed, the glowstick twirlers seemed to dig this set without pining for Dopapod's upcoming EDM flourishes. Kung Fu should have staying power in the scene for a long time.
I recorded this set with Schoeps microphones in a mid-side configuration from the center of the balcony. After a good bit of editing – much more than usual – I am finally happy with the sound of this, but still note that the crowd on the balcony can heard at points, along with the general level of audience noise in the room. With that caveat, enjoy!
This NYCTaper recording is being hosted on the Live Music Archive.  You can stream the entire show by clicking the song titles below.
To download, MP3s are [HERE], FLACs are [HERE] and FLACs via BitTorrent (faster) are [HERE]

Note: All of the material on this site is offered with artist permission, free to fans, at our expense. The only thing we ask is that you download the material directly from the original source, rather than re-posting the direct links or the files on other sites without our permission. Please respect our request.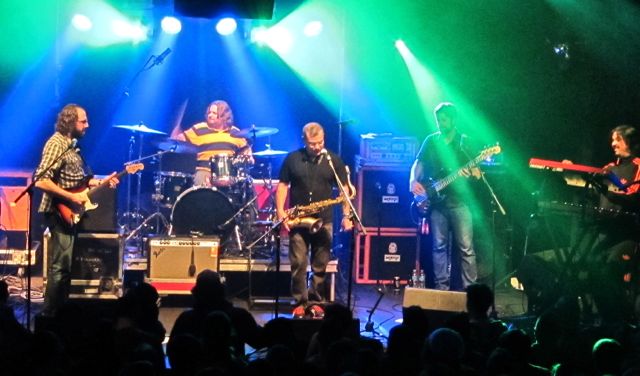 Kung Fu
2013-02-21
Highline Ballroom
New York, NY USA
Hosted at nyctaper.com
Recorded and produced by acidjack
Schoeps MK41+MK8 (balcony, DFC, M-S)>2x24bit/48kHz WAV>Izotope Ozone 5 (EQ side)>Voxengo MSED (decode)>Adobe Audition CS 5.5 (adjust levels)>Izotope Ozone 5 (EQ, exciter for "tube")>Audacity 3.0 (set fades, tracking, amplify, balance, downsample)>FLAC ( level 8 )
Thanks to Dave Pecoraro for the setlist
Tracks [Total Time 1:55:14]
01 The Hammer
02 Steppin' In It
03 Chakrabarty Overdrive
04 Bopcorn
05 God Made Me Funky
06 Barometric Weather
07 Standing On the Verge of Getting It On
08 Do The Right Thing
09 S'All Good
10 Gung Ho
11 Hollywood Kisses
12 Bringin' Up the Rear
Personnel:
Todd Stoops – keyboards
Rob Somerville – saxaphone
Tim Palmieri – guitar
Adrian Tramontano – drums
Chris DeAngelis – bass
If you enjoyed this recording, PLEASE SUPPORT Kung Fu, visit their website, and purchase their debut record from Amazon or your favorite retailer.