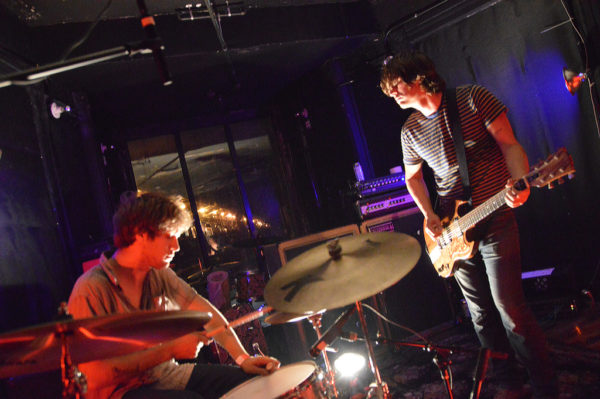 [photos by Dean Keim]
In 2016, JEFF The Brotherhood is the perfect band to play Market Hotel. Both the band and the venue are survivors of the early years of NYC DIY and after JEFF spent some time in major label land and Market reconstructed after a 2010 closure, both are back this year better than ever. JEFF's new album Zone harkens back to their earlier work — 70s-influenced party/stoner rock with songs that are about carefree days of youth.
This Market Hotel show took place last month on a Tuesday night — the first of three consecutive mid-week nights on the venue's schedule in the final week before the ramp up to a full liquor license and a full calendar. JEFF's draw in Brooklyn was strong enough to fill the place on a school night and the band was thankful in acknowledging the crowd size and its participation level. The band played a heavy dose of Zone material, but also relied on a nice mix of older songs including an epic nine-minute version of "Whatever I Want" to close the night. With the frenetic crowd, the M Train passing by the panorama windows, and the Orrall brother ripping through this classic number, all seemed perfect for a moment in Bushwick. We're hoping their are many more nights like this with JEFF gigs at Market.
JEFF The Brotherhood just returned from a tour of Europe and will have selected shows in the South through November and December, dates HERE.
I recorded this set with the mounted AT mics mixed with John's excellent feed. The room sounded really excellent and the crowd level of excitement led me to favor the room mics in this mix. The sound quality is superb. Enjoy!
Download the Complete Show [MP3] / [FLAC]
Stream the Complete Show:

JEFF The Brotherhood
2016-09-27
Market Hotel
Brooklyn NY
Digital Master Recording
Soundboard + Upfront Audience
Soundboard [John Rau] + Audio Technica 4051 > Sound Devices 744t > 2 x 24bit 48kHz wav files > Soundforge (level adjustments, mixdown, set fades) > CDWave 1.95 (tracking) > TLH > flac (320 MP3 and tagging via Foobar)
Recorded and Produced
by nyctaper
Setlist:
[Total Time 1:06:53]
01 Roachin
02 Melting Place
03 [banter – great venue]
04 Stay Up Late
05 Bad
06 Hey Friend
07 Zone
08 The Diamond Way
09 [banter – Market Hotel]
10 Idiot
11 Punishment
12 [banter – Zone]
13 Toasted
14 You
15 Portugal
16 Whatever I Want
SUPPORT JEFF The Brotherhood: Website | Facebook | Buy Zone from Infinity Cat Recordings HERE