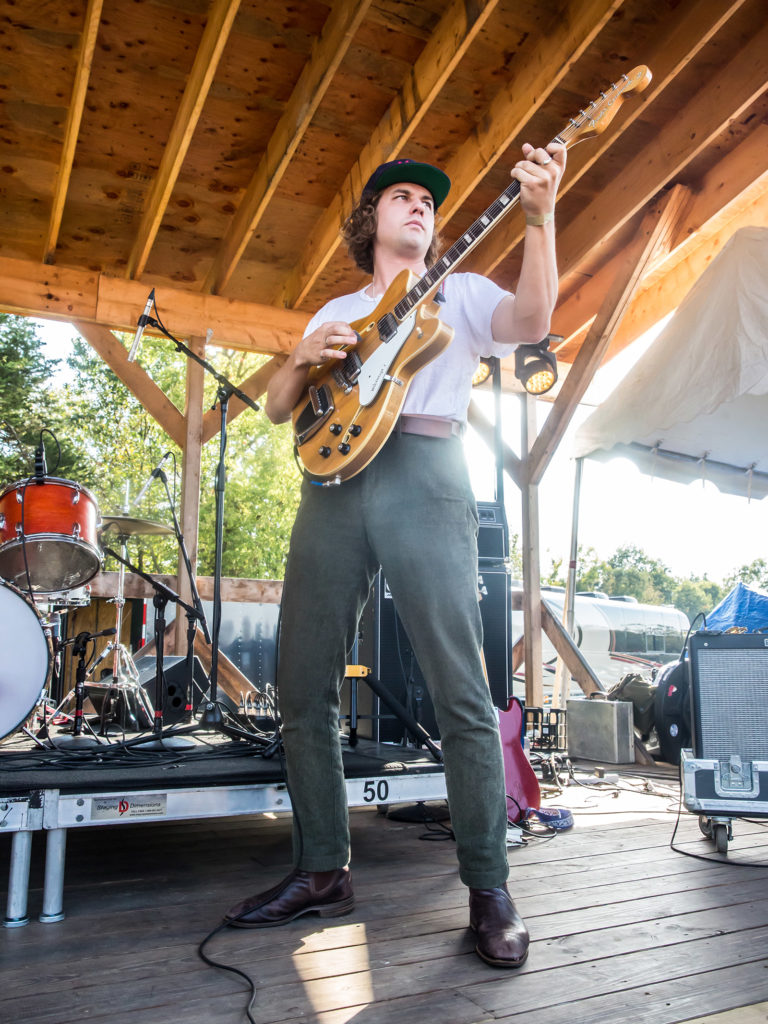 The tenth annual Woodsist Festival not only found Kevin Morby reprising his role as bassist in Woods during their set, but it highlighted Morby's continued growth as an artist (and in popularity) since those days.
This stripped down set, featuring Morby with saxophonist Cheme Gastelum, focused on material from this year's Oh My God, a record that, as its name suggests, focuses more heavily on spiritual and religious issues than Morby has in the past. Those songs were joined by "Harlem River" (of course), featuring Jarvis Taveniere, Meg Duffy and Jeremy Earl (on drums) to make it a full-band effort. But Morby saved his most impactful number for last: "Beautiful Strangers," Morby's 2016 tribute to the Pulse Nightclub shooting victims in Orlando, joined by Katie Crutchfield on vocals. It felt like a fitting tribute to people whose lives had ended at an event and a place not so dissimilar from this: one of community, positivity, and love.
I recorded this set with Evan's soundboard feed, combined with a little bit of Schoeps MK5 microphones back at the board for ambiance. The sound is excellent. Enjoy!
Thanks to Kevin Morby for granting permission to post the set, and Woodsist for letting us record the festival.
Download the complete show: [MP3/FLAC/ALAC]
Kevin Morby
2019-09-28
Woodsist Festival
Arrowood Farm-Brewery
Accord, NY USA
Recorded and produced by acidjack
Soundboard + Schoeps MK5c (at SBD, PAS)>KC5>CMC6>>Sound Devices MixPre6>24/48 polyWAV>Adobe Audition CC>Izotope Ozone 5>Audacity 2.3.0>FLAC ( level 8 )
Tracks
01 Congratulations
02 Hail Mary
03 Piss River
04 No Halo
05 Parade
06 Crybaby
07 Aboard My Train
08 Harlem River*
09 Beautiful Strangers^
Kevin Morby – guitar, vocals
Cheme Gastelum – saxophone

*w/ Jarvis Taveniere, Meg Duffy, and Jeremy Earl
^ w/ Katie Crutchfield