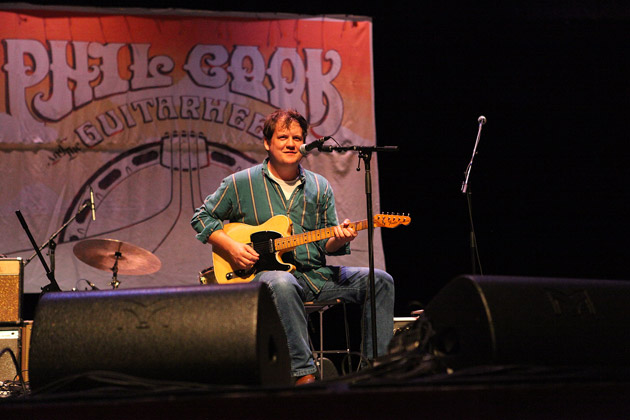 [photos courtesy of Kenneth Bachor for BrooklynVegan]
Jake Xerxes Fussell occupies a slightly different niche among his contemporary folk counterparts. Rather than reinterpreting old traditions into new sounds,  Fussell is more of an archivist and explorer, one who gives listeners a window into the original experience of the tunes being played. The Durham, NC-based singer appeared on the very Durham-friendly bill on the first night of Hopscotch Music Festival at the Fletcher Opera Theater, one slot before Phil Cook took the stage (that recording here). Fussell isn't some latecomer or dilettante to the Southern material that's on his mind; much like Alan Lomax followed in the footsteps of his father John, Fussell grew up with Fred C. Fussell, a folklorist whose work took him, and often young Jake, across the South, bringing them into contact with many traditional musicians in the process.
Paradise of Bachelors just releases Fussell's debut record this year, produced by William Tyler, and as you'd expect, this set paid some attention to it. But there was more than that, too, owing to Fussell's encyclopedic knowledge of the pool from which he draws, which one album can hardly contain. So we got versions of "Man At the Mill" and "Push Boat" from the album, we we also heard some classic Pete Seeger, in the form of "The Bells of Rhymney" and Virginian folk singer Helen Cockram's "Pinnacle Mountain Silver Mine." Fussell didn't need much in the way of flash to get his point across, as he sat along on the broad semicircular stage in front of Cook's ample stage set. It felt more like a fireside sing-a-long, as given by the kind of music professor you always wished you could've had.
Our friend Larry Tucker recorded this set with a soundboard feed together with Peluso subcardiod microphones. The sound quality is excellent. Enjoy!
Download the complete set: [MP3] | [FLAC]
Stream the complete set: 

Jake Xerxes Fussell
2015-09-10
Hopscotch Music Festival
Fletcher Opera Theater
Raleigh, NC USA
Exclusive download hosted at nyctaper.com
Recorded by Larry Tucker
Produced by acidjack
Soundboard>PCM-M10 + Peluso CEMC6-CK21 (subcardiod) (Room center hung from balcony rail)>Fostex FR2-LE>24bit/48kHz WAV>Izotope Ozone 5 (EQ, effects)>Audacity 2.0.5 (track, amplify, balance, downsample, dither)>FLAC ( level 8 )
Tracks
01 If I Lose Let Me Loose [John Lee Ziegler] (cuts in)
02 The Bells of Rhymney [Pete Seeger]
03 Pinnacle Mountain Silver Mine [Helen Cockram]
04 Man At the Mill [traditional]
05 Push Boat [traditional]
06 Jump For Joy [Duke Ellington]
07 Raggy Levy [Georgia Sea Island Singers]
08 Copper Kettle [Albert Frank Beddoe]
09 Pork and Beans [Rosa Lee Hill]
If you enjoyed this recording, PLEASE SUPPORT Jake Xerxes Fussell, like him on Facebook, and buy his debut album from Paradise of Bachelors.