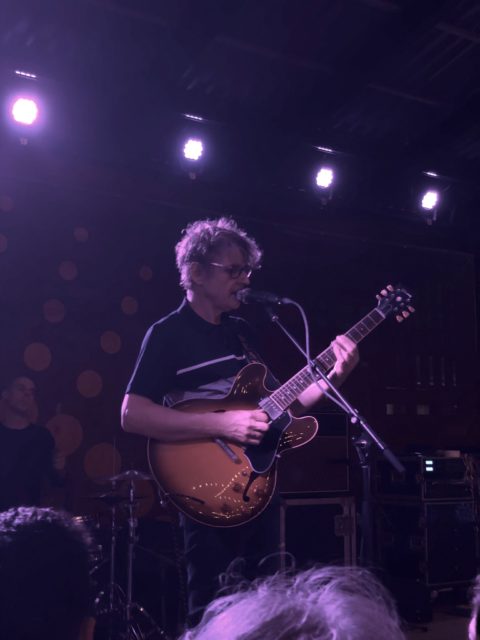 [photo from Frank]
In the evolving story of Luna v2.0, the band continues to entertain in new ways. While last year it was the eclectic and meticulously curated covers album A Sentimental Education, this year's tour seems to be an exercise in finding the deep cuts that haven't been performed in more a decade. Its been three years now and as we've chronicled umpteen shows, but at this Industry City show in August we saw Luna perform four songs for the first time — "Math Wiz", "I Can't Wait", "Broken Chair" and the Galaxie 500 number "Strange". Overall, this show was one of the stronger performances we've seen from Luna, and it wasn't just the ambitious selist. The band seems in particularly good form, tight, focused, and in great spirits. These days Luna shows are must see and we're luck the band continues to faithfully play NYC shows when they do their mini tours.
While Luna currently does not have any shows scheduled (they just finished a tour of Europe), Dean Wareham has a new collaboration with Cheval Sombre and they will play NYC at Le Poisson Rouge on December 7. Tickets here.
I recorded this set with the outdoor-friendly Neumann large diaphragm cards blended with soundboard feed mixed with precision by Evan Player. Despite some minor noise from the windy evening, the mix worked quite well and the sound quality is superb. Enjoy!
Download the Complete Show [MP3] / [FLAC]
Stream the Complete Show:

Luna
2018-08-24
Industry City
Brooklyn NY
Digital Master Recording
Soundboard Audience Matrix
Soundboard [Engineer Evan Player] > Neumann TLM 102s > Sound Devices 744t > 24bit 48kHz wav > Soundforge (post-production) > CDWave 1.95 (tracking) > TLH > flac (320 MP3 and tagging via Foobar)
Recorded and Produced by nyctaper
Setlist:
[Total Time 1:30:48]
01 Twenty-Three Minutes in Brussels
02 Slide
03 Fire in Cairo [Cure]
04 Math Wiz
05 Sweetness [Yes]
06 I Can't Wait
07 Lost in Space
08 Broken Chair
09 Chinatown
10 Malibu Love Nest
11 [banter]
12 Kalamazoo
13 Bewitched
14 Friendly Advice
15 [encore break]
16 Strange [Galaxie 500]
17 Lonesome Cowboy Bill [Velvets]
18 Indian Summer [Beat Happening]
19 [second encore break]
20 Car Wash Hair [Mercury Rev]
SUPPORT Luna:  Website | Bandcamp | Buy A Sentimental Education