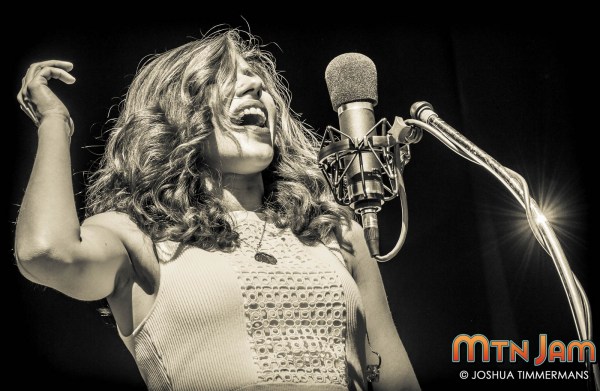 [Photo by Joshua Timmermans from the Mountain Jam website]
Much has changed since we saw Lake Street Dive open for the Infamous Stringdusters three years ago. Mainly, they're a much, much more popular band. You won't see this band, whose 2014 album Bad Self Portraits has proven to be their breakout, opening for acts at 500-capacity venues anymore, or playing "I Want You Back" to street corner passersby, as they did way back in the beginning. As is refreshingly the case from time to time, the band's success seems to be rooted in talent — even at that show in 2012, the unit's professionalism was clear. Though at the time I compared them to Alabama Shakes, Lake Street Dive's south-meets-Motown style leans to the shinier, more theatrical side of things, mostly free of grit. "Theatrical" is the word that comes to mind most often with this band, who perform with both a Broadway-like precision and take advantage of Rachael Price's similarly trained-sounding voice. Unsurprising detail: the band met at the New England Conservatory. This is what happens when a bunch of serious players and students of jazz decide to take on pop music: It's a bit like an NFL quarterback deciding to go throw some passes with his old high school team.
That made it almost funny to hear Lake Street Dive playing to a muddy Mountain Jam field in the Catskills, delivering effortless vocal harmonies such as on "Look At What Mistake." If the traditional "jam band" festivals revel to a degree in unpredictability, well, that's one of many reasons this "Jam" isn't really a jam-band festival anymore. This was Lake Street Dive's last show of the tour, as they told us, but you'd have been hard pressed to hear a hint of weariness anywhere from the band. Price did, of course, point out that they try to "eat their vegetables" and treat themselves right on tour, and that I'd believe. She followed that statement, ironically, with the song "I Deserve To Do Something Wrong," with its distinct Jackson 5 vibe. That was a new song written by the band's bass player, Bridget Kearney, and it was followed by another new one, "I Don't Care About You," from drummer Michael Calabrese. Another plus for this band — they're as collaborative and consistent in songwriting duties as they are in musical ones.
It wouldn't be a Mountain Jam set without some choice covers, and Lake Street Dive chose wisely, serving up a version of Annie Lennox's "Walking On Broken Glass" that Price knocked out of the park, as well as jamming into Van Halen's "Jump" out of the Bad Self Portraits favorite "Bobby Tanqueray," which itself is one of the band's harder-rocking numbers. The band closed the set with "You Go Down Smooth," and those words are as true of the band itself as of the lover described in the song. This is a positive, grateful group of pros who know where they came from. It's not hard to guess where they're headed.
hi and lo and I recorded this set with Schoeps MK4V microphones and a high-end EAA PSP-2 analog preamp. Given the outdoor setting  and distance from the PA, the sound quality is excellent. Enjoy!
Download the complete show: [MP3] | [FLAC]
Stream the complete show:

Lake Street Dive
2015-06-07
Mountain Jam, East Stage
Hunter, NY USA
Hosted at nyctaper.com
Recorded by hi and lo and acidjack
Produced by acidjack
Schoeps MK4V (PAS)>custom cables>PFA>EAA PSP-2>Roland R-26>24bit/44.1kHz WAV>Adobe Audition CS 5.5 (fades, limit peaks)>Izotope Ozone 5 (EQ, effects)>Audacity 2.0.5 (track, amplify, balance, dither)>FLAC ( level 8 )
Tracks
01 Bad Self Portraits
02 Stop Your Crying
03 Clear a Space
04 Look At What Mistake
05 I Deserve To Do Something Wrong
06 I Don't Care About You
07 Use Me Up
08 Spectacular Failure
09 Elijah
10 What I'm Doing Here
11 Wedding Band
12 Walking on Broken Glass [Annie Lennox]
13 Bobby Tanqueray / Jump [Van Halen]
14 Close To Me
15 Seventeen
16 Hello? Goodbye!
17 Rabid Animal
18 You Go Down Smooth
If you enjoyed this recording, PLEASE SUPPORT Lake Street Dive, visit their website, and buy Bad Self Portraits here.