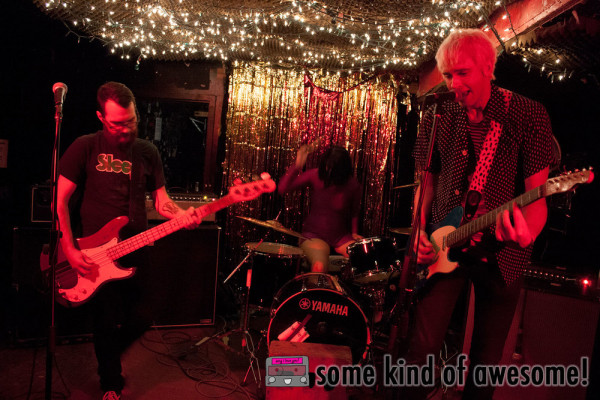 [photo courtesy of Some Kind of Awesome]
A band that calls itself Vomitface faces some challenges. The band likely has to answer persistent questions about the name and get people to concentrate on the music. They were invited to play our CMJ show because we did just that. We listened to the music and saw what is there, a talented band with a wry sense of humor and a palpable energy. But we didn't learn until later that there's way more here than meets the eye. The band's drummer Preetma Singh is a former attorney who left the law to pursue a career as a fashion editor, and has become renowned in certain circles for her "street style". The band's lead singer Jared Micah is also a prolific music writer with the legendary online zine Tiny Mixed Tapes. Together with a revolving cast of bassist friends, they produce a kind of early-80s styled agit-punk similar to early Sonic Youth, Naked Raygun or Mission of Burma. Vomitface was up second on this day show and they had the room pretty snug early in the set with an eight-song show that included only one song from their 2015 EP Another Bad Year, and what appears to be several new songs. We were all set to catch Vomitface at Pianos last night but an illness caused a cancellation, but the band will play Don Pedro's on November 21.
Acidjack recorded this show in the same manner as the other sets from the day and the sound is equally superb. Enjoy!
Download the Complete Show [MP3] / [FLAC]
Stream the Complete Show:

Note: All of the material on this site is offered with artist permission, free to fans, at our expense. The only thing we ask is that you download the material directly from this site, rather than re-posting the direct links or the files on other sites without our permission. Please respect our request, and feel free to repost the Soundcloud links.
Vomitface
2015-10-15
NYCTaper CMJ Day Party
Cake Shop
New York, NY
Digital Master Recording
Soundboard + On Stage Audience Matrix
Schoeps MK4V (onstage) > KC5 > CMC6 + Soundboard (engineer: Jeff) > Edirol R-44 [OCM] > 2x24bit/48kHz WAV > Adobe Audition (mix) > Soundforge (post production) > CDWave 1.95 (tracking) > TLH > flac (320 MP3 and tagging via Foobar)
Recorded by acidjack
Produced by nyctaper
Setlist:
[Total Time 20:21]
01 If Then
02 Its Me
03 Did She Come Alone
04 Bruise
05 Fat Witch
06 Dramamine
07 PS I Hate You
If you Download this recording from NYCTaper, we expect that you will PLEASE SUPPORT Vomitface, visit their website, and purchase their new EP Another Bad Year from Boxing Clever Records [HERE].