We were treated to a lot of amazing music this year, and the site has continued to grow. This year, we reached our 600th recording posted since 2007 – a pretty incredible number considering that this is only the fourth year of the site.  As a final New Year's treat to our readers, we thought we would share a "mixtape" with you of some of our favorite concert moments of 2010.
Out of the two hundred-plus shows that we saw, we selected 25 moments that we thought were particularly memorable (among the shows we recorded, at least). There is a wide range of music, styles and artists represented: folk, rock, Scandinavian pop, punk and much more. There are new bands who are just breaking into the mainstream, as well as mainstream acts continuing to perform at a high level. The only consistent theme is that these artists all touched us in some way, giving performances that stayed with us long after the last notes were played.
The following list is in no particular order. Links to download the entire compilation, as well as selected numbers streaming, are below.
Want to keep up with the latest concert updates and recordings on the site? Follow @nyctaper and @acidjacknyc on Twitter.
Download the entire mixtape [HERE]
1. Built to Spill – "Carry The Zero" – September 20, 2010 Rocks Off Concert Cruise. This show was nuts – on a boat, with a tiny main floor, with a crowd that was loud, drunken and rowdy, and a veteran band doing what they do best. We saw Built to Spill a ton of times over the past two years, but this show was the clear standout.
Audio clip: Adobe Flash Player (version 9 or above) is required to play this audio clip. Download the latest version here. You also need to have JavaScript enabled in your browser.
2. Oh Land – "Lean On Me" – November 8, 2010 Brooklyn Bowl. We first saw this young Danish artist play Brooklyn Bowl back in July. Although she was still getting comfortable with her new material, her talent and unique stage presence were already on display. After seeing her again at the Backyard Brunch Sessions, we caught her again a month later at Brooklyn Bowl. Her evolution blew us away – displaying newfound poise and confidence, designer clothing and a new percussionist, Nanna dominated the stage. Though many of her songs lend themselves to dancing, I have always been partial to this more precious number. She may now be the face of Missoni, but Oh Land is far, far more than a pretty face.
Audio clip: Adobe Flash Player (version 9 or above) is required to play this audio clip. Download the latest version here. You also need to have JavaScript enabled in your browser.
3. John Vanderslice – "The Parade" – October 21, 2010 Mercury Lounge. On the night after our Unofficial CMJ Day Party at Cake Shop, we caught one of our favorite acts, the inimitable songwriter John Vanderslice at Mercury Lounge. John has always been a supporter and friend of the site, but we were especially gratified by his heartfelt intro to this song when he thanked nyctaper from the stage.
Audio clip: Adobe Flash Player (version 9 or above) is required to play this audio clip. Download the latest version here. You also need to have JavaScript enabled in your browser.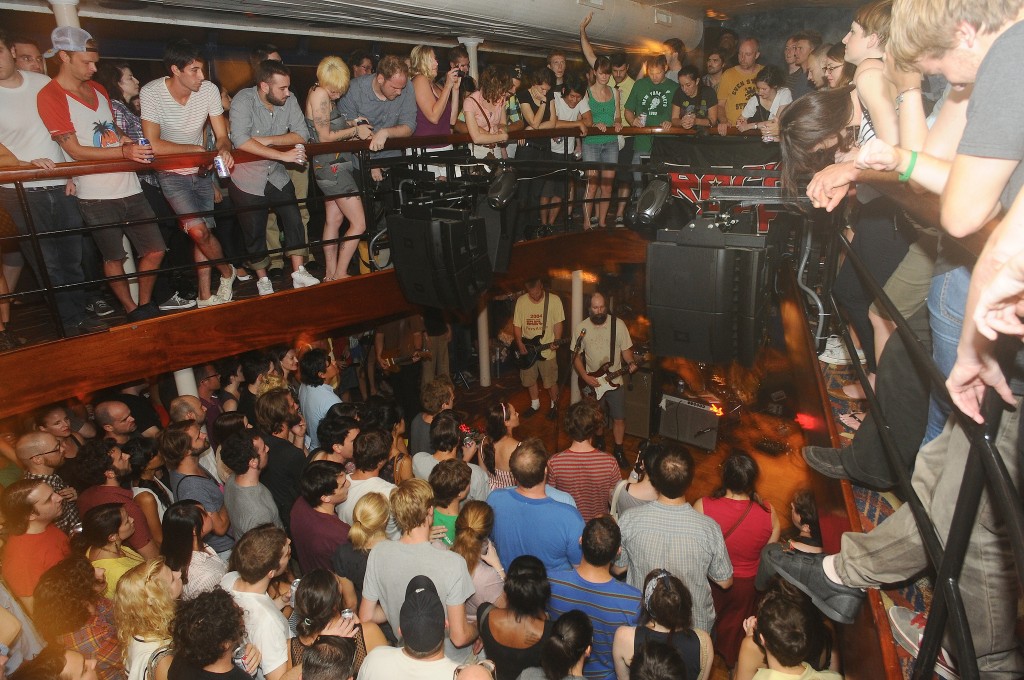 4. The Dirty Projectors – "As I Went Out One Morning [Bob Dylan]" – September 11, 2010 Terminal 5. After this band blew us away at the tail end of 2009, we were thrilled that Johnny Fried Chicken Boy was able to catch their show at the massive Terminal 5. This Dylan cover was among many special songs played during another show that wowed us with its musical skill.
Audio clip: Adobe Flash Player (version 9 or above) is required to play this audio clip. Download the latest version here. You also need to have JavaScript enabled in your browser.
5. Pavement – "Fight this Generation" – September 19, 2010 Williamsburg Waterfront. Pavement's return was probably my personal musical highlight of the year – nobody ever thought it would happen, and when it did, they were exactly as nonchalant about the whole thing as you would expect. Everything went right at their first NYC show in ten years, and the irony of Pavement – an iconic band for Generation X – playing "Fight This Generation" on the Williamsburg waterfront to an entirely new generation of fans was perfect. This loose, jammy rendition killed, too.
Audio clip: Adobe Flash Player (version 9 or above) is required to play this audio clip. Download the latest version here. You also need to have JavaScript enabled in your browser.
6. Superchunk – "Digging For Something" – September 19, 2010 Music Hall of Williamsburg. While I was checking out Pavement, nyctaper was down the street taking in an equally amazing performance from another 90s indie darling, Superchunk. Supporting their first new album in almost a decade, Superchunk gave us even more than we could have imagined when special guest John Darnielle joined them for this number.
Audio clip: Adobe Flash Player (version 9 or above) is required to play this audio clip. Download the latest version here. You also need to have JavaScript enabled in your browser.
7. John Roderick w/ Nada Surf – "The Commander Thinks Aloud" – March 26, 2010 Bell House. Nada Surf's multi-night series of full album performances had many memorable moments, but my favorite of all came from John Roderick of The Long Winters, the opening act at the Bell House/The Weight Is A Gift show. With Nada Surf as his backing band, Roderick capped off his acoustic set by tearing through a fully electric version of this big number that showcases Roderick's unique voice. You can stream and download this song, and the entire show, on the Live Music Archive [HERE].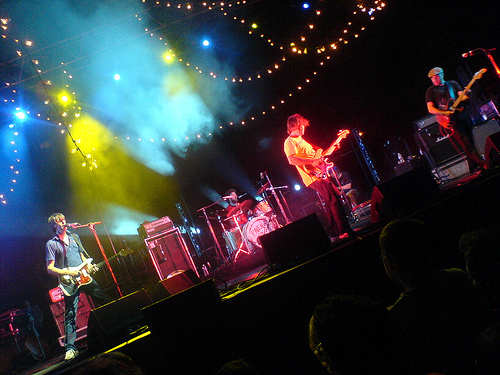 8. Natureboy – "I'll Keep It With Mine" – May 15, 2010 Piano's. This show was a special day for us, as we celebrated the third anniversary of the site with some of our favorite bands. Natureboy drew a strong crowd as our first act of that evening, and they made our night by performing, our request, their cover of this Dylan-via-Nico classic.
Audio clip: Adobe Flash Player (version 9 or above) is required to play this audio clip. Download the latest version here. You also need to have JavaScript enabled in your browser.
9. Fucked Up – "Son the Father" – February 18, 2010 Maxwell's. I had the pleasure of seeing Fucked Up three times this year, and each show was awe-inspiring. Damian "Pink Eyes" Abraham is a punk rock showman without parallel: on the mic, he is extremely hardcore; in between songs, he chats up the crowd like each person is his best bud. "Son the Father" is one of the band's best songs, and it was at about this point during the Maxwell's show that (as has to be the case at every Fucked Up show) all hell broke loose.
Audio clip: Adobe Flash Player (version 9 or above) is required to play this audio clip. Download the latest version here. You also need to have JavaScript enabled in your browser.
10. The Black Keys – "Same Old Thing" – July 28, 2010 Terminal 5. There was a huge response to our post of The Black Keys' show at Terminal 5, and for good reason – it is an excellent recording of a band that is rapidly ingratiating itself with the mainstream. This song is a four-piece version of this song, with Leon Michaels on keyboards and Nick Movshon on bass.
Audio clip: Adobe Flash Player (version 9 or above) is required to play this audio clip. Download the latest version here. You also need to have JavaScript enabled in your browser.
11. Panda Bear – "Song For Ariel (Guys Eyes)" – September 11, 2010 Governor's Island. On the same day as the epic Dirty Projectors show back in Manhattan, Panda Bear was giving a magical performance on Governor's Island that blew our minds both for the incredible quality of the sound (which did not always receive such good reviews for other shows) and the clarity and focus of the performance. This guitar-heavy and reworked version of this song was one of many highlights of an amazing show that also featured some new songs.
Audio clip: Adobe Flash Player (version 9 or above) is required to play this audio clip. Download the latest version here. You also need to have JavaScript enabled in your browser.
12. Soft Black – "I'm Not Afraid of You" – August 7, 2010 A Backyard in Bushwick. This whole show was a testament to the power of the local music community and the DIY spirit of the moment. Soft Black were supposed to be playing on a rooftop elsewhere in the 'hood as part of a benefit show for the people of the Gaza Strip. That show was shut down by the cops three acts in, while it was still light outside. But instead of giving up and calling it a night, the fans and bands rallied to move the show to one of the musicians' backyard. Soft Black dedicated this haunting song, with its defiant refrain, to a kid who got arrested when the police shut down the rooftop show. The song itself is quite dark, but the moment was joyful, and powerful, in a way that I will never forget.
Audio clip: Adobe Flash Player (version 9 or above) is required to play this audio clip. Download the latest version here. You also need to have JavaScript enabled in your browser.
13. Real Estate – "Reservoir" – June 25, 2010 Music Hall of Williamsburg. Real Estate is another band that has wowed us both with their consistent playing as well as their respect for their fans. We had seen them open for labelmates Woods a number of times, but this time, they found themselves as the headliner of the Woodsist showcase at the Northside Festival. This showcase was one of the best experiences of the entire Northside Festival, but Real Estate's set in particular stood out, as the more mature band showed off some new songs, including the excellent "Reservoir." Download the entire set [HERE].
14. Maps & Atlases – "Solid Ground" – August 12, 2010 Mercury Lounge. I caught Maps & Atlases back in 2009 touring behind their previous record, the EP You, Me and the Mountain. I liked what I saw – the unusual combination of freak folk and math rock, vocalist Dave Davison's vocals, the dual percussionists – but they didn't seem quite there yet. For one, while I liked their sound, I wasn't completely blown away by the songs. That all changed with the release of this year's Perch Patchwork, which was one of my favorite records of the year, and a massive leap forward artistically. For this show, the band was greeted by a spirited crowd literally screaming for more, and in particular, this song (you can hear a drunk dude yelling "Solid Ground!" in between every other song on the set before they finally play it). When the band finally played the song, the payoff was huge, and the jam at the end clinches it. After an outstanding set, Maps broke down their gear and put some chairs and drums in the center of the floor and played an acoustic set for those willing to wait. The performance was not only the most improved of any band that I saw this year, but also one of the flat-out best. It didn't hurt any that the recording came out flawlessly, too. Download the entire set [HERE].
Audio clip: Adobe Flash Player (version 9 or above) is required to play this audio clip. Download the latest version here. You also need to have JavaScript enabled in your browser.
15. Holly Miranda – "I'd Rather Go Blind [Etta James]" – May 26, 2010 Bowery Ballroom. A Bowery Ballroom headlining gig has become a barometer of a band's success these days – for a New York band on their way up, there is your time on the scene before Bowery, and your time after, and after, things are never the same. This show represented Holly Miranda's Bowery breakout, and she treated the event with the reverence due it as she ripped off a lengthy set representing her latest record The Magician's Private Library, and played two covers, including this jaw-dropping rendition of an Etta James classic.
Audio clip: Adobe Flash Player (version 9 or above) is required to play this audio clip. Download the latest version here. You also need to have JavaScript enabled in your browser.
16. Wilco – "Thank You, Friends" – April 2, 2010 Wellmont Theatre. The challenging acoustics of this venue did not deter Wilco from delivering one of the most epic sets we have seen of theirs (well over three hours long). This Big Star cover played tribute to their singular frontman, singer and songwriter Alex Chilton, who sadly passed away this March. Alex and his many contributions to rock music will be dearly missed.
Audio clip: Adobe Flash Player (version 9 or above) is required to play this audio clip. Download the latest version here. You also need to have JavaScript enabled in your browser.
17. Sharon Van Etten – "One Day" – October 8, 2010 Rock Shop. It is no secret that this site has been a huge booster for Sharon Van Etten, and we are thrilled to see her career taking off in a big way (you can hear one of her songs, "I Fold" in the closing sequence in a recent episode of the Showtime series The Big C). In the two shows she played at Rock Shop this year, Sharon's maturity and outstanding songwriting made us fall in love with her music all over again.
Audio clip: Adobe Flash Player (version 9 or above) is required to play this audio clip. Download the latest version here. You also need to have JavaScript enabled in your browser.
18. Woods – "Bend Beyond" – May 13, 2010 Abrons Arts Center. In a music scene that is strong but fragmented, Woods have emerged as bi-coastal scene godfathers of sorts, in the way that Sonic Youth have been for a generation. The Woodsist label, for which the band is the anchor, has produced a roster of like-minded acts from the East and West Coasts that share a common affinity for the psychedelic, folk-influenced sound the label is known for. While they have been building a formidable presence with the label, Woods themselves have evolved far beyond the "freak folk" tag into a full-blown indie rock jam band of sorts, turning four-minute album tracks into epics that showcase their virtuosity on their instruments. This show, featuring the band backed by the Joshua Light Show, was especially sprawling, and never moreso than on this nearly twenty minute "Bend Beyond." This show proved that this was a very different band than the act I saw opening for Dungen in 2009 – that band was a great "freak folk" act, if you will. This band is legendary.
Audio clip: Adobe Flash Player (version 9 or above) is required to play this audio clip. Download the latest version here. You also need to have JavaScript enabled in your browser.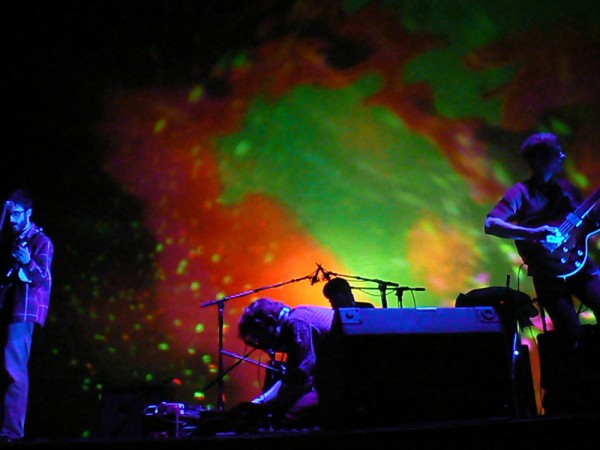 19. Spoon – "Car Radio" – September 13, 2010 Cake Shop. After we caught their set opening for Arcade Fire at Madison Square Garden, we weren't sure we would have another chance to record Spoon this year. But then along came this secret show at Cake Shop, a live video recording for "Nobody Gets Me But You," that proved to be one of the most exciting and intimate performances we saw all year. These guys remember where they came from (Austin) and we trust that they will never stop being one of the most consistent, most fan-friendly acts in the country. Download the entire set [HERE].
20. The Loom – "The First Freeze" – October 10, 2010 Backyard Brunch Sessions. We enjoyed many of the Backyard Brunch Sessions sets we saw this summer and fall, but perhaps none more than this performance by our friends The Loom, who proved that great musicians do not need extra amplification or trickery to make powerful music. Set up in a humble backyard in Bushwick, rocking a homemade bass made out of a washtub, they wowed us with their modern, folk-influenced sound. This song was my favorite of all, not least of which because of the added humor of some rowdy neighbors making noise in the background (who cannot be heard on the recording) – making a bunch of noise right before this (the quietest song of the set) song began. Once it got going, it was the most mesmerizing vocal performance of the day.
Audio clip: Adobe Flash Player (version 9 or above) is required to play this audio clip. Download the latest version here. You also need to have JavaScript enabled in your browser.
21. Yo La Tengo – "Little Eyes" – December 7, 2010 Maxwell's. If you have read this site once in December, you know that Yo La Tengo's 2010 Hanukkah shows have been our main focus this month. These eight nights of unique setlists, special guests, and fan camaraderie at one of our favorite venues in the city, Maxwell's, are some of the best nights of the year every time that YLT decides to do them. This song, from the Summer Sun album, is an expanded version augmented by the guitar wizardry of the legendary Nels Cline, who joined the band for most of this night's set. Although we loved the December 5 show featuring Mission of Burma, this show on the 7th turned out to be our favorite of them all – a perfect balance of the band's harder and softer dynamics that showcased them at the height of their powers.
Audio clip: Adobe Flash Player (version 9 or above) is required to play this audio clip. Download the latest version here. You also need to have JavaScript enabled in your browser.
22. Bear In Heaven – "Lovesick Teenager" – November 19, 2010 Music Hall of Williamsburg. Bear In Heaven was another band that stepped up in a big way in 2010. A year's worth of touring took what had been a great album act but somewhat uneven live band and turned them into the juggernaut that we witnessed at Music Hall of Williamsburg. Whereas previous shows had always faced technical limitations (primarily with respect to sound), everything was perfectly dialed in for this show, with the Music Hall sound system delivering crystal clear sound and a light show that dazzled the sold-out crowd. Not but twelve months ago this band was playing the cozy Zebulon down the street. This show was obviously this band's "Bowery moment."
Audio clip: Adobe Flash Player (version 9 or above) is required to play this audio clip. Download the latest version here. You also need to have JavaScript enabled in your browser.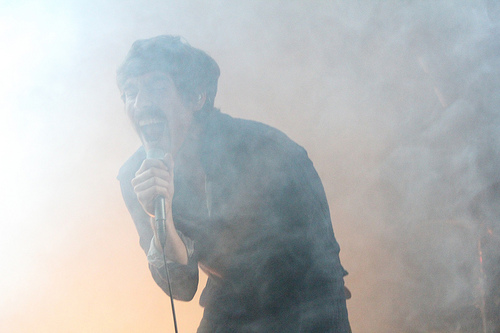 23. The Joy Formidable – "Austere" – January 12, 2010 Pianos. Whereas a Bowery Ballroom show tends to cement a band's status in the scene, Pianos is Manhattan's best incubator. Shows there tend to capture the nervous energy of bands trying to make their break who know that this could be it. We are pleased to say that since this show, The Joy Formidable did make it in a big way (including their own Bowery moment), playing tons of NY-area shows (almost all of which we saw) and bringing their music to new fans each time. Their massively loud sound is probably better suited a bigger venue, but we loved this Pianos show best of them all (and our recording sounded great).
Audio clip: Adobe Flash Player (version 9 or above) is required to play this audio clip. Download the latest version here. You also need to have JavaScript enabled in your browser.
24. The National – "Terrible Love" – December 8, 2010 Maxwell's. Though it borders on heresy (and is not an opinion shared by all who work on this site), I was not an instant convert to The National's critically acclaimed High Violet. I didn't hate the album, but after a three year break from recording, I was not sure what I should expect from the band. High Violet didn't grab me in the way that earlier records like Alligator did, and it didn't help that I first saw the songs live in the sonically deficient Terminal 5, where the sound was so poor that even The National's sound engineer commiserated with us about the venue's challenges. Luckily, I was given a second chance at this rare set opening in the (relatively) tiny Maxwell's for Yo La Tengo on the final night of their Hanukkah shows. This time, in this intimate setting, the subtle beauty of the High Violet songs shone through, especially on the set's closer, this fantastic rendition of "Terrible Love."
Audio clip: Adobe Flash Player (version 9 or above) is required to play this audio clip. Download the latest version here. You also need to have JavaScript enabled in your browser.
25. We Were Promised Jetpacks – "It's Thunder and It's Lightning" – February 15, 2010 Knitting Factory. I went to this show on a lark, having never heard this Scottish trio before. Apparently I had missed the memo, as the Knitting Factory was so packed I was literally crushed against the soundboard. In the best of ways, We Were Promised Jetpacks are what I like to call Scotland's answer to U2 – their songs rely on anthemic riffs and vocalist Adam Thompson's throaty choruses. The band worked this crowd into a froth, the energy seething through the room, as Thompson belted out song after song in a way that could have melted the ice outside. In a show full of them, this song was a particularly stirring anthem.
Audio clip: Adobe Flash Player (version 9 or above) is required to play this audio clip. Download the latest version here. You also need to have JavaScript enabled in your browser.
Special thanks to all of the artists, management, labels, photographers and other music sites that have supported NYCTaper this year. And of course, a huge thank you to our readers, who we hope to continue to provide with high-quality, artist-sanctioned recordings, reviews and photos throughout 2011. Happy New Year!