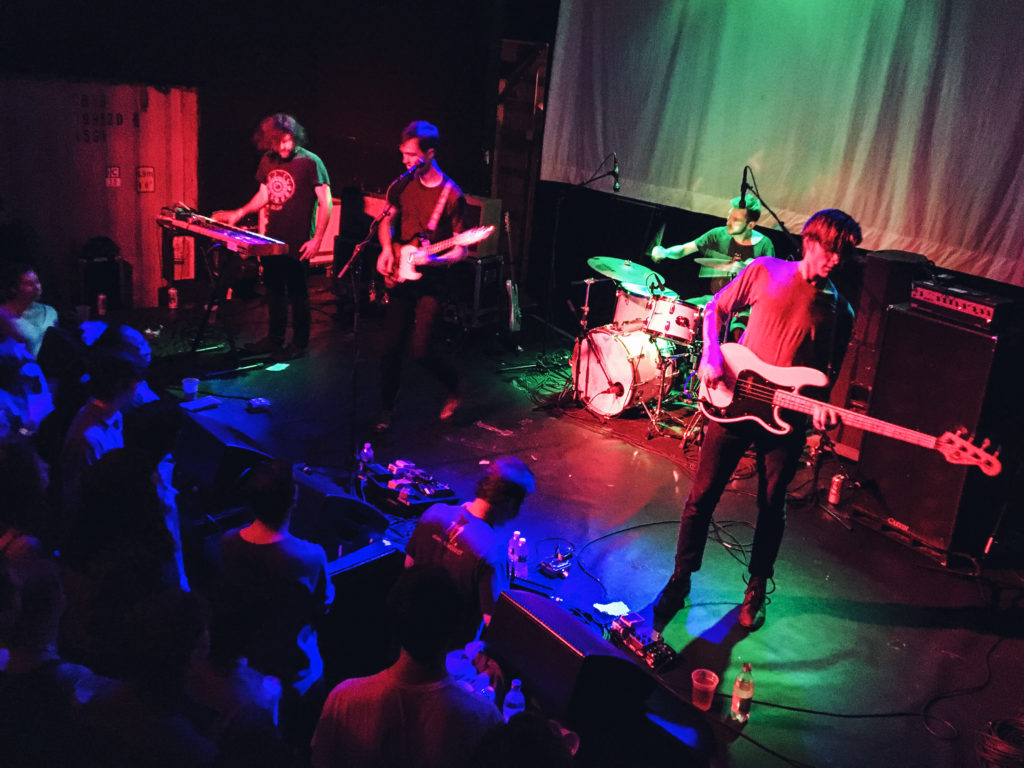 [photos by Jill Harrison]
Today, more than any other day. It's effective as a song, even more effective as a mantra. The Montreal band Ought seem to be living by it well, unafraid to release precocious, ambitious music into the wild without precondition or posturing. Their new album, Sun Coming Down, starts off with a nearly eight-minute song, and that should tell you something about where this band's collective head is at in terms of what their priorities are. Proudly off-kilter in some respects, but never veering from straight-up playing a good song, Ought are that band you wish your geek friend had managed to actually achieve — something smart, interesting, and also engaging. When singer-guitarist Tim Darcy makes his voice warble in that oh so strange way that he does on "The Combo" and elsewhere, it's as if he's making the joke you're in on. People much older than him might look askance at acting a little silly, but he's all-in. If you don't like it, you're welcome to leave, but there's no reason for that, really.
This set at Rough Trade focused on Sun Coming Down, and if that album lacks a bit of the exuberance of the debut, it makes up for it with even more ambition. The band's years on the road have further tightened up the sound of an act that was once a lark among roommates; like many of their hometown brethren, Ought sound like they give a fuck, and whether or not the word "punk" falls into your label for them says a lot about what you think that word means. Darcy's sing-speak, likened at times to Mark E. Smith, is neither spontaneous nor lazy, calculated to deliver the maximum impact of what he has to say. This Sunday night crowd knew it, too, and the band delivered. By the time their first album's title track rolled around as the first encore, even the people who had to go to work the next day knew they'd made the right decision. In the end, there's only today, and you might as well make the most of it.
I recorded this set with Schoeps MK5 cardiod microphones in our optimal spot in the venue, together with a soundboard feed from veteran engineer Kevin Mazzrelli. The sound quality is outstanding. Enjoy!
Download the complete show: [MP3/FLAC]
Stream the complete show:

Ought
2016-05-08
Rough Trade NYC
Brooklyn, NY USA
Exclusive download hosted at nyctaper.com
Recorded and produced by acidjack
Schoeps MK5c (at SBD, DFC)>KCY>Z-PFA>Aeta PSP-3 + Soundboard (engineer: Kevin Mazzarelli)>Zoom F8 (2x24bit/49kHz WAV)>Adobe Audition CS 5.5
(align, mix down, light compression)>Izotope Ozone 5 (EQ, effects, imaging)>Audacity 2.0.3 (track, amplify, balance, downsample, dither)>FLAC ( level 8 )
Tracks [Total Time 1:08:57]
01 Sun's Coming Down
02 The Combo
03 Passionate Turn
04 Men For Miles
05 Beautiful Blue Sky
06 The Weather Song
07 On the Line
08 Habit
09 Never Better
10 [encore break]
11 Today, More Than Any Other Day
12 Pill
Support Ought: bandcamp | Constellation Records | facebook