Tweet #TwitterStories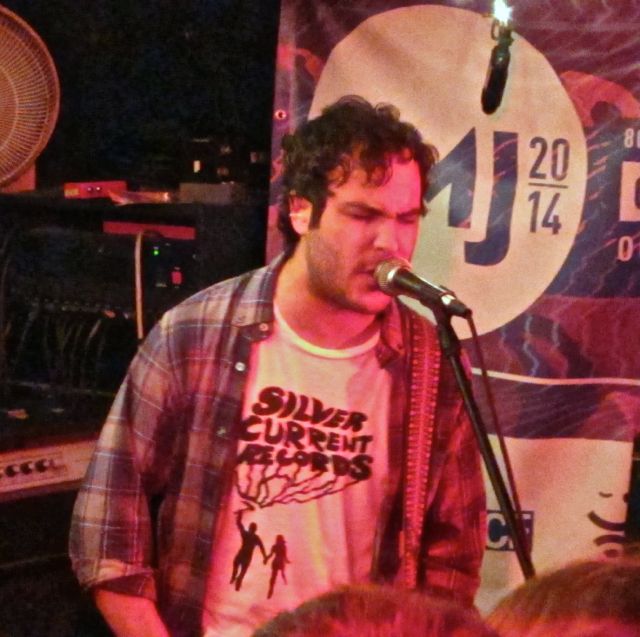 [photos by acidjack]
Purling Hiss, the scuzz-rock project of Philadelphia-based guitarist/songwriter Mike Polizze, has emerged from his early records' soup of fuzz with the band's best-recorded, best album of righteously weird rock n' roll, appropriately titled Weirdon. We couldn't have been happier as longtime fans to feature this band as the headliner of our annual unofficial CMJ day show at Cake Shop, where the Hiss gave us thirty minutes of the most badass shredding we saw all weekend. Appropriately enough, we first caught the band opening for fellow Philadelphian Kurt Vile, another artist who has cultivated his early sound into something still-vital but more accessible to the masses.
A set like this shows you another thing, which is that while Weirdon is certainly Polizze's most complete song cycle yet, it's as much a triumph of production as evolved songwriting. When you hear a Hiss classic like "Run From the City" next to some of the best new numbers like "Forcefield of Solitude" and "Learning Slowly", you realize just how much the aesthetics of a recording actually do matter, even in the earbud age. Despite a CMJ-typical truncated set time, Polizze and the band put everything into what they had, with Polizze on his knees bent over his guitar at several points in front of a crowd that, in the best Cake Shop tradition, was practically on top of him. Closing out with the very early PH song "Almost Washed My Hair", Polizze drew a straight line from then to now. To hear the live version below is to realize that, if you weren't, you should have been on this bandwagon from day one.
I recorded this set with Schoeps MK4V microphones mounted just in front of the band on the ceiling, plus Clint's excellent soundboard feed of the house mix. The sound quality makes this likely our best Purling Hiss recording. Enjoy!
Purling Hiss plays more New York dates, including this Wednesday at Death By Audio, and Friday night at 338 Moffat.
Download the complete show: [MP3] | [FLAC]
Stream the complete show (you can also download the MP3s from the Soundcloud page):

Purling Hiss
2014-10-23
NYCTaper CMJ Day Party
Cake Shop
New York, NY USA
Exclusive download hosted at nyctaper.com
Recorded and produced by acidjack
Schoeps MK4V (stage lip)>KC5>CMC6 + Soundboard (engineer: Clint)>>Edirol R-44 [OCM]>2x24bit/48kHz WAV>Adobe Audition CS 5.5 (align, mix down, compression, fades)>Izotope Ozone 5 (light EQ, exciter)>Audacity 2.0.5 (tracking, amplify, balance, downsample, dither)>FLAC ( level 8 )
Tracks [Total Time 30:26]
01 Mercury Retrograde
02 Forcefield of Solitude
03 Rat Race
04 Airwaves
05 Learning Slowly
06 Run From the City
07 Where's Sweetboy
08 Almost Washed My Hair
If you enjoyed this recording, PLEASE SUPPORT Purling Hiss, like them on Facebook, and buy Weirdon directly from Drag City.