[Photos by acidjack – sorry they aren't very good]
Seeing Acid Mothers Temple has become a bit of a yearly tradition for me, and it's one worth keeping. No two shows by the legendary Japanese psych-rock band are alike, and this one at the Mercury Lounge on Friday night was extra-special due to the introduction of two as-yet-untitled songs from the band's forthcoming album. The rest of the set was the usual dazzling display of the band's improvisational talent, with this tour's version of "Pink Lady Lemonade" jamming into "Om Riff" and back into "Pink Lady Lemonade" anchoring the middle of the set, plus a killer rendition of "Cometary Orbital Drive". As with the Knitting Factory show I captured last year, the band ended this 90-minute set with "Chinese Flying Saucer", sending the exhausted late-night crowd home happy. Until next year, enjoy this dose of Acid Mothers Temple!
I recorded this set with Schoeps MK41 supercardiod microphones in our usual spot in the venue, plus a soundboard feed from a longtime Mercury house engineer. The sound is excellent. Enjoy!
This NYCTaper recording is being hosted on the Live Music Archive.  You can stream the entire show by clicking the song titles below.
Direct Download: [MP3] or [FLAC]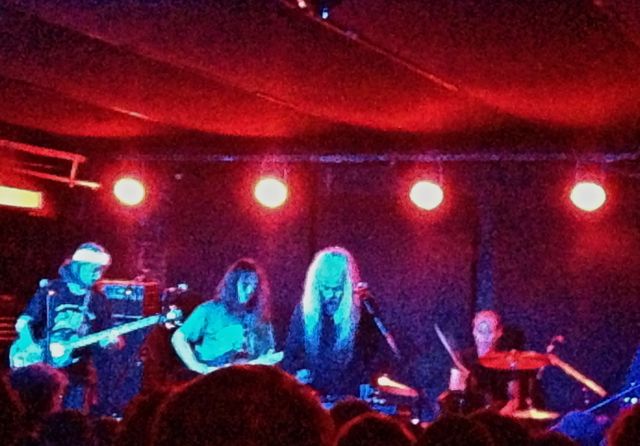 Acid Mothers Temple
2013-04-19
Mercury Lounge
New York, NY USA
Recorded and produced by acidjack
Schoeps MK41 (PAS, slightly ROC)>KCY>Z-PFA>Sound Devices USBPre2 + Soundboard)>>Edirol R-44 [OCM]>Adobe Audition CS 5.5 (adjust levels, mix down)>Izotope Ozone 5 (effects, EQ)>Audacity 3.0 (tracking, fades, amplify, balance, downsample)>FLAC ( level 8 )
Tracks [Total Time: 1:30:55] (Thanks to the band for the corrected song titles)
01 [new song 1] Space Speed Suicide
02 [banter1]
03 Dark Stars In the Dazzling Sky In Search of Lost Divine Ark
04 [banter2]
05 Pink Lady Lemonade>
06 Om Riff>
07 Pink Lady Lemonade
08 Cometary Orbital Drive
09 [encore break]
10 Chinese Flying Saucer
If you enjoyed this recording, please support Acid Mothers Temple, visit their website, and buy their records from your favorite retailer.