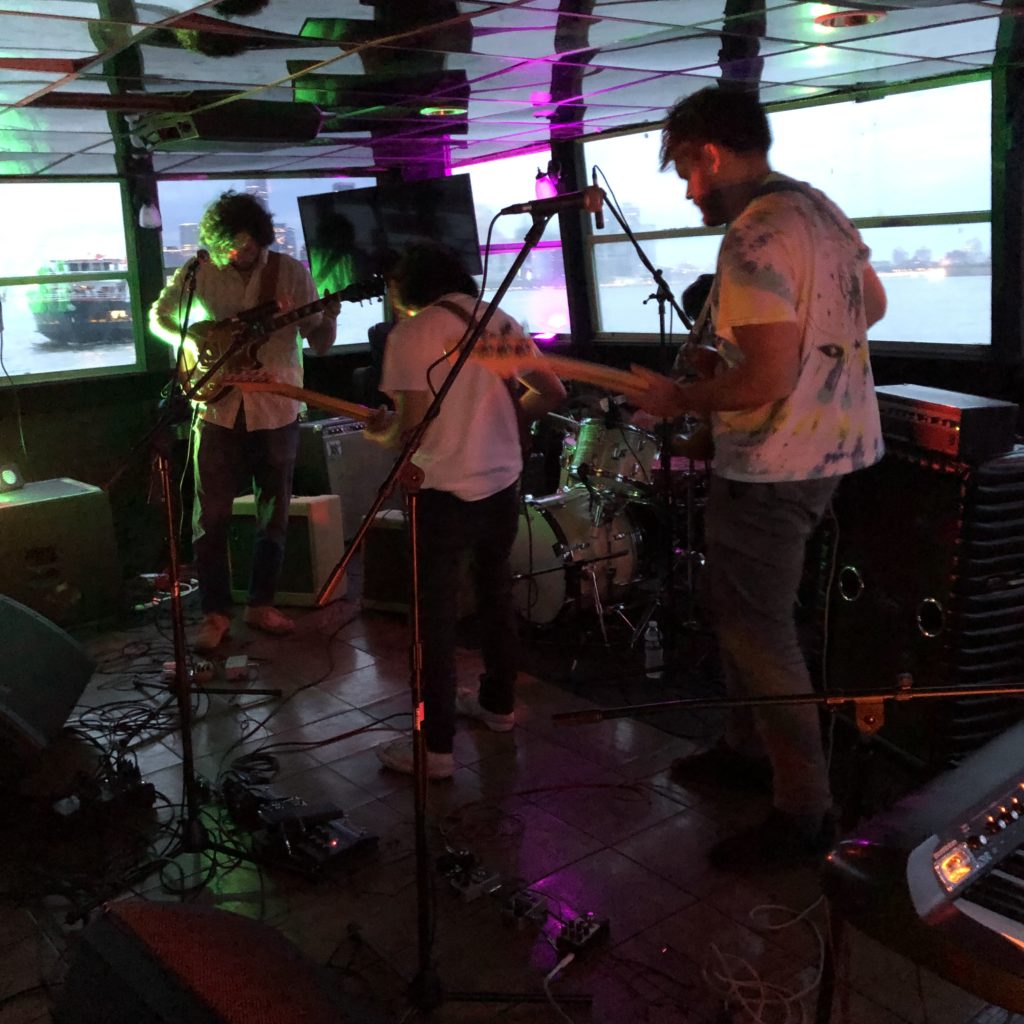 Many bands struggle to display excellent musicianship when they're standing on solid ground. An even smaller percentage can pull it off when they're literally rocking and rolling on the second floor of the stern of a tourist boat. Garcia Peoples hopped aboard the Lucille, temporarily purposed for a Rocks Off Concert Cruise, and showed why they continue to be one of the most compelling live bands in New York today — even when they can hardly stand up straight.
You might think it hard for a band to compete with the obligatory water view of the Statue of Liberty and some unexpected fireworks over the East River, but Garcia Peoples know their audience. Hearing a jammer of a "Total Yang" (from their current release, Natural Facts) transition into the new "Hourglass" as the Manhattan skyline coasts by was a special treat, as was the brand-new song "Hotwire," played for the very first time live on this boat. Sure you could stand outside and count the number of high-rise foreign money laundering residential towers going up all over the city's central isle, but you'd have been a fool to miss any of the action indoors, made all the more special by the stand-in of our bud Hans Chew for the band's often-keyboardist Patrick Gubler aka P.G. Six.
There were times during this set where things seemed sure to come unglued, through no fault of the band's own — boat wakes can make for some rough water. But that was ultimately the one-of-a-kind thrill of this set — the added physical challenge of playing in this environment (even the audience did a lot of swaying and grabbing solid objects) makes you even more impressed with what these guys can accomplish.
I recorded this set with Schoeps MK5 cardiod microphones and a limited soundboard feed. A boat isn't the best place to jam from a standing-up-straight or sound quality perspective, but it's still a good quality listen. Enjoy!
Thanks to Beyond Beyond Is Beyond and Garcia Peoples for making this happen!
Download the complete set from its Live Music Archive page
Garcia Peoples
2019-06-15
Rocks Off Concert Cruise
The Lucille
New York, NY USA
Recorded and produced by acidjack for nyctaper.com
Schoeps MK5c (at SBD, ROC, PAS)>KC5>CMC6 + Soundboard>>Sound Devices MixPre 6>24/48 polyWAV>Adobe Audition CC>Izotope Ozone 5>Audacity 2.3.0>FLAC ( level 8 )
Tracks [Total Time 1:08:16]
01 bon voyage jam>
02 High Noon Violence
03 Feel So Great>
04 Break Me Down
05 [banter]
06 Hotwire
07 The Spiraling
08 Total Yang
09 Hourglass
10 Show Your Troubles Out
w/ Hans Chew on keyboards