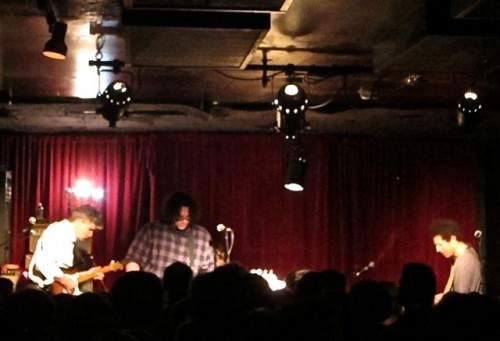 [photo by acidjack]
The Yo La Tengo Hanukkah shows at Maxwell's have always been an eight-day embarrassment of riches — we'll readily admit to being spoiled over the years with the openers, the guests, and the many special moments that we've been fortunate to witness and to capture. Last year, despite a serious health scare Ira played all eight shows, sometimes confined to a chair on stage. This year the obvious concern is the massive storm damage to Hoboken itself — the charity for Night 1 was the Rebuild Hoboken Relief Fund. Sometimes we forget that the centerpiece of it all, the band themselves, are really the greatest gift of all. On this first night, their set was a subdued affair but that's not to say its wasn't special. The opener of a fifteen-minute tribute to the city "Night Falls on Hoboken" was both poignant and intense. Yo La Tengo is releasing a new album in January, Fade on January 15, and we also saw a couple of the new songs, one a live premiere. Of course this wouldn't be Hanukkah without at least one guest appearance and on this night it was the opener Raybeats guitarist Jody Harris who played on both the Richard Hell cover and an intense "Pass The Hatchet" that we're streaming below. This performance of Hatchet rivals any of previous years and offered a glimpse of what can expect over the next week. Happy Hanukkah indeed!
We recorded this show in the usual manner, with microphones mounted in the front corner of the soundboard and mixed with an outstanding feed provided by longtime YLT FOH Mark and Maxwell's house sound tech Carson. This is the first year that we're using the new Sennheiser Cards in this room and I'm quite pleased with its handling of this small room. The results are superb. Enjoy!
We are asking that if you download this recording, that you visit the Rebuild Hoboken Relief Fund website and contribute to this worthy cause. Many parts of the metro area were hit hard by the Storm, but Hoboken was one of the hardest hit. While a contribution is not a strict requirement for download, please just do it. Hoboken needs it.
Stream "Pass The Hatchet, I Think I'm Goodkind":

Download the Complete show [MP3] / [FLAC]
Note: All of the material on this site is offered with artist permission, free to fans, at our expense. The only thing we ask is that you download the material directly from this site, rather than re-posting the direct links or the files on other sites without our permission. Please respect our request.
Yo La Tengo
2012-12-08
Hanukkah Night 1
Maxwell's
Hoboken, NJ USA
Digital Master Recording
Soundboard + Audience Matrix
Soundboard + Sennheiser MKH 8040s > Edirol R-44 (Oade Concert Mod) > 2 x 24bit 48kHz wav files > Soundforge (level adjustments, set fades, downsample) > CDWave 1.95 (tracking) > TLH > flac (320 MP3 and Tagging via Foobar)
Recorded and Produced
by nyctaper
2012-12-09
Setlist:
[Total Time 1:23:59]
01 Night Falls on Hoboken
02 Eight Day Weekend
03 The Evil That Men Do
04 [banter – tech]
05 Stockholm Syndrome
06 [banter – soft roll out]
07 Paddle Forward
08 Before We Run
09 Beanbag Chair
10 [banter – thanks]
11 Big Day Coming (for Jesse)
12 Satellite
13 Tom Courtenay
14 Artificial Heart
15 The Kid With the Replaceable Head [Richard Hell]
16 Pass the Hatchet I Think I'm Goodkind
17 [encore break]
18 Drug Test
19 Take A Giant Step
(Thanks Jesse for the setlist)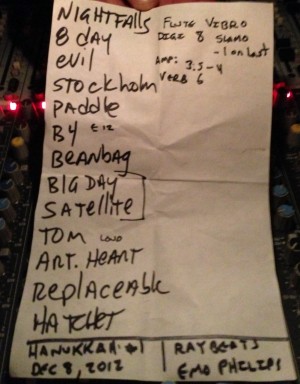 If you download this recording from NYCTaper, we expect that you will PLEASE SUPPORT Yo La Tengo, visit their website, and pre-order the new album Fade from Matador Records [HERE].