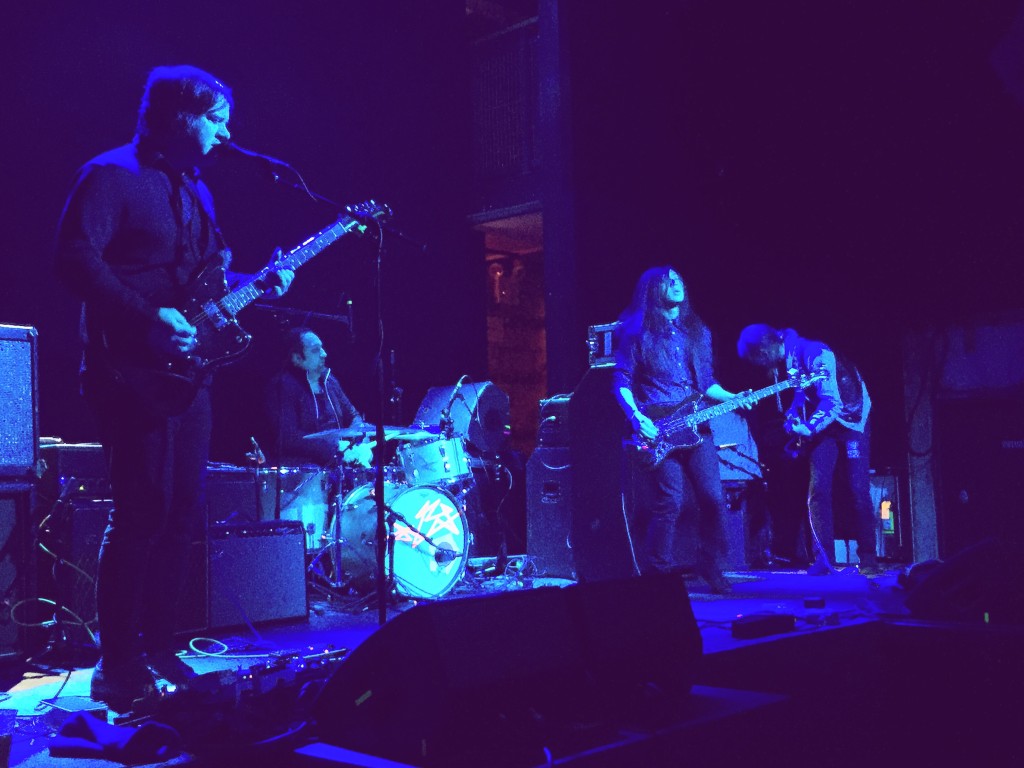 [photos courtesy of Jill Harrison and For the Love of Brooklyn]
It's hard to believe it's been a year since we last saw Heaven at Mercury Lounge; the dreamy reverb of 2013's Telepathic Love LP frequently finds its way on to my turntable as a welcome old friend. On Monday night, the band took to the Rough Trade stage for a snowstorm-rescheduled set, opening for fellow NYC-band Dreamers and Oklahoma-based headliner Broncho.
Between Mikey Jones' touring gig with Swervedriver and semi-regular shows in the New York area, Heaven has been hard at work in the studio over the last year writing and recording a new album of material they expect to release in the first half of this year. Though the show on Monday included a handful of highlights from Telepathic Love ("Mountains Move," "Colors in the Whites of Your Eyes"), the band also played several new, as-yet-unknown songs from the forthcoming album. For the sample track we've chosen their closing jam, Darken Fields, a slow burner and one we can't wait to hear on wax.
I recorded Heaven using a pairs of Schoeps MK41 hypercardioids mixed with an excellent soundboard feed graciously provided house engineer, Nic. We hope you enjoy!
Download the complete show: [MP3] | [FLAC]
Note: All of the material on this site is offered with artist permission, free to fans, at our expense. The only thing we ask is that you download the material directly from this site, rather than re-posting the direct links or the files on other sites without our permission. Please respect our request.
Heaven
Rough Trade
Brooklyn, New York
2015-02-02
Exclusive download hosted at nyctaper.com
Recorded and Produced by hi and lo
Source: Soundboard (Engineer: Nic) + Schoeps MK41/CMC6 > Sonosax SX-M2 >> Sound Devices 744T @ 24 bit / 48 kHz
01. Telepathic Love
02. In Your Ruin
03. Mountains Move
04. (Unknown #1)
05. (Unknown #2)
06. Colors in the Whites of Your Eyes
07. Darken Fields
Running Time: 37:39
If you enjoyed this recording, PLEASE SUPPORT Heaven by visiting their Bandcamp page and purchasing a copy of Telepathic Love on CD or 12″ Vinyl from their online store [HERE].