Follow @acidjacknyc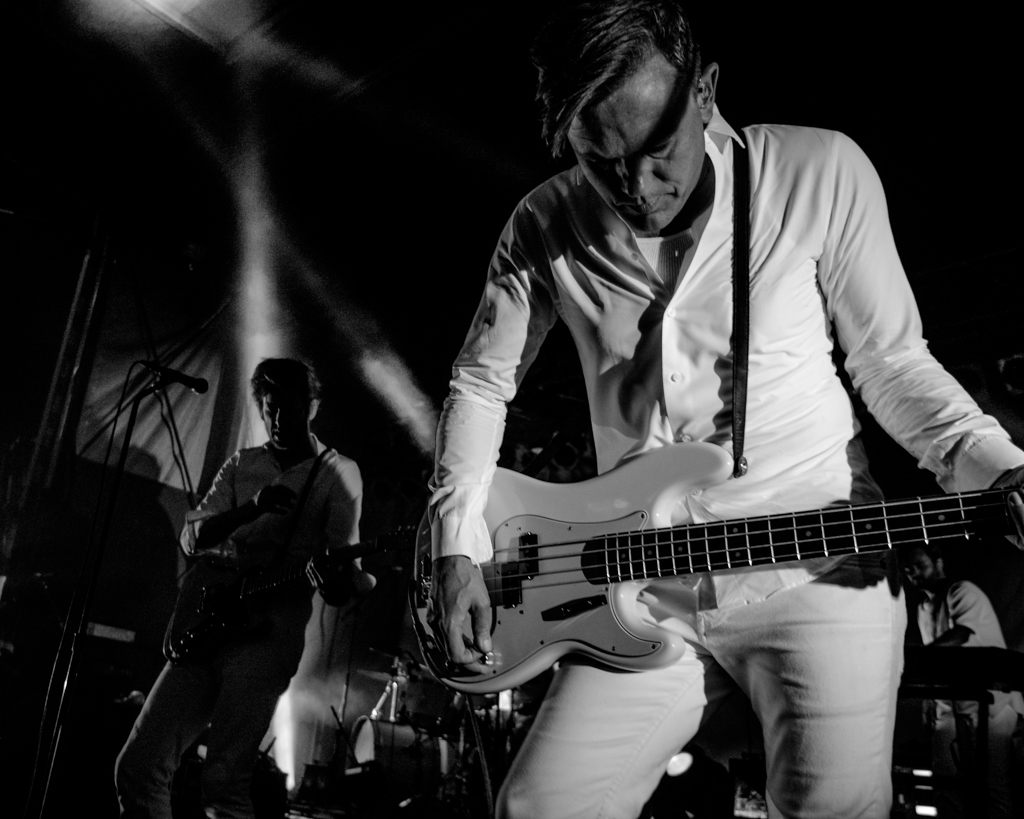 [Photo courtesy of Rodney Boles]
Even before they were popular and therefore backlash-ready, Spoon caught flack for not being "interesting" enough. Their music has a consistency to it that I find oddly divisive. Most bands would be lucky to have one sequence of tunes as good as their high watermark, Gimme Fiction, while Spoon has come close to that feat on almost every record. Maybe this year's They Want My Soul will be applauded as the stylistic tweak that convinces the doubters, but who's to say for sure. If you wanted experimental music, Hopscotch Music Festival offered lots of excellent examples. But if you're an organizer trying to pack in your festival's public stage on a Friday night, the right move is a band so dialed in at their craft that they're a sure thing that's nevertheless a thrill. Spoon aren't a flashy band, or a gimmicky one. They're in that rare category of music's winners, whose success is hard-earned and whose work still deserves the love. If consistency is a sin, then let's let more bands sin the way they do.
Spoon packed Raleigh, North Carolina's City Plaza on the festival's penultimate night more than any other band would or did. It's safe to guess that most of this crowd had not heard the new material live, so they gave it to us right away with "Knock Knock Knock" and "Rent I Pay" before dishing up the last-decade classic "Don't You Evah". The band's cadence never wavered, and the crowd showed as much love to each of the new songs as to Gimme Fiction mainstays like "The Beast and the Dragon Adored" and "I Turn My Camera On". The former song gives the band a new North Carolina connection, as Hiss Golden Messenger recently covered the track, with Raleigh-area mainstay and touring member Matt Douglas on keys.
One had to grin at "Outlier", from They Want My Soul, a key-driven song that's the most stylistically au courant of the new material, and one that might be interpreted as a question mark to rock fans themselves. It also drops the album's best line, which gives Spoon's own view about bland "indie" tropes: "And I remember when you walked out of Garden State / 'cause you had taste, you had taste / you had no time to waste". When they followed that with "The Underdog", warning its subject that having no fear of the underdog is a mistake, you had to think this was the part of the set that frontman Britt Daniel had reserved to talk about his own band. The band's brief encore consisted of with "Inside Out" from the new record, "The Way We Get By" and the closer, "You Got Yr. Cherry Bomb", sending the festivalgoers into a night of music that was just getting started.
It's worth noting that Spoon owe a good bit of their success to one of North Carolina's finest institutions, the Durham, NC-based Merge Records, a little label whose cultural reach makes you sometimes forget how small and independent they really are. It was on Merge that Spoon hit their groove and found their broadest audience. Being here in Raleigh, on the fifth anniversary of a festival that serves as the entire state's musical ambassador, felt necessary and right.
I recorded this set with Schoeps MK4V cardiod microphones just in front of the board dead center. While you can hear some people chattering at points on headphones, the sound quality is overall excellent. Enjoy!
Download the set from the Live Music Archive: [MP3] | [FLAC]
Stream the full show from the Live Music Archive: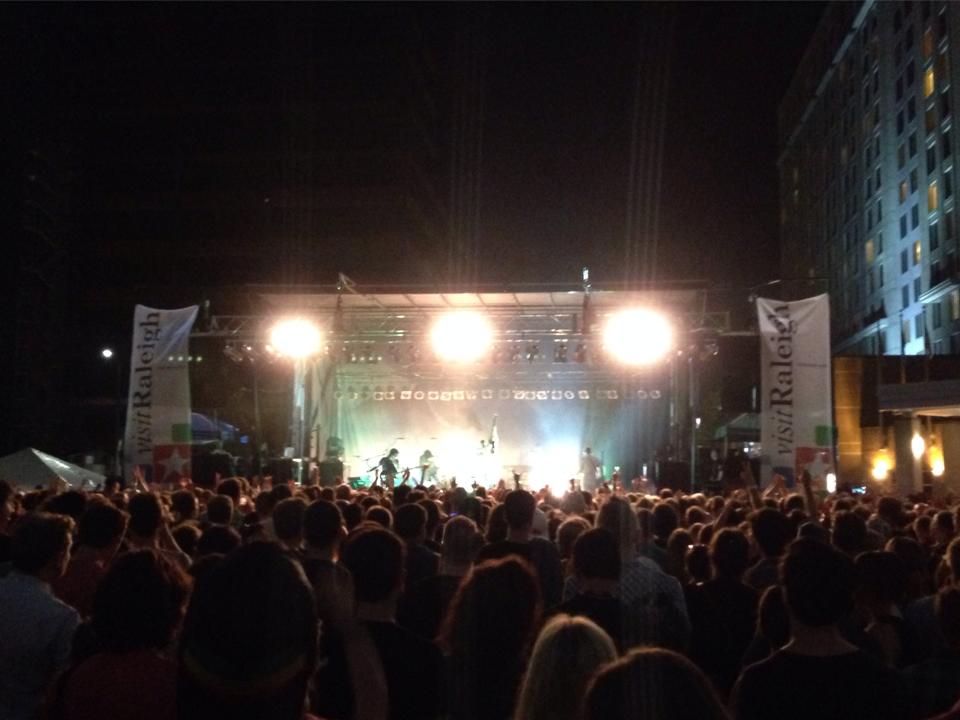 [crowd shot by acidjack]
Spoon
2014-09-05
Hopscotch Music Festival
City Plaza
Raleigh, NC USA
Hosted at nyctaper.com
recorded and produced by acidjack
Schoeps MK4V (FOB/DFC)>KC5>CMC6>Roland R-26>24bit/48kHz WAV>Izotope Ozone 5 (EQ, effects)>Audacity 2.0.3 (fades, tracking, amplify, balance, downsample, dither)>FLAC ( level 8 )
Tracks [Total Time 1:10:57]
01 [intro music]
02 Knock Knock Knock>
03 Rent I Pay
04 Don't You Evah
05 Small Stakes
06 Who Makes Your Money
07 Don't Make Me a Target
08 Do You
09 The Beast and Dragon, Adored
10 I Turn My Camera On
11 I Summon You
12 Outlier
13 The Underdog
14 Got Nuffin
15 Black Like Me
16 [encore break]
17 Inside Out
18 The Way We Get By
19 You Got Yr. Cherry Bomb
If you enjoyed this recording, PLEASE SUPPORT Spoon, visit their website, and buy their records in their store and at Merge Records.