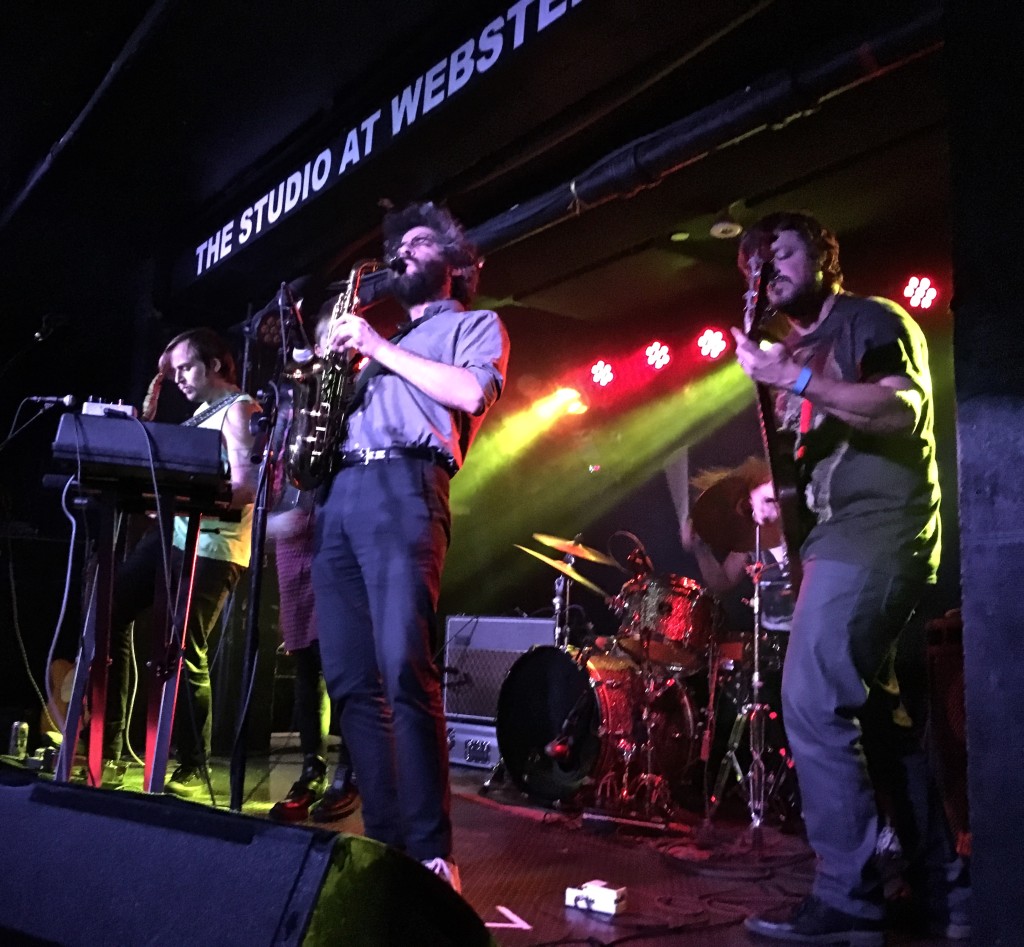 Sunwatchers' self-titled debut record was unleashed on unsuspecting turntables everywhere last week, via Castle Face Records. In celebration, the band embarked on a short tour bookended by two hometown shows: March 6th at Palisades for a late night vegan chili- and alcohol-fueled set, then March 11th opening for Yonatan Gat at the Studio at Webster Hall. We caught up with Sunwatchers for both.
The Palisades recording captures the band playing to an audience of friends and family who know what to expect from their jazz-psych excursions. Most of the record's cuts are represented here, with a couple non-album additions: "There Are Weapons You Can Take to School" and "New Dad Blues." For the raucous denouement of "Ape Phases" and "Moonchanges," Sunwatchers are joined by Sam Kulik on trombone and Jesse DeRosa on trumpet to round out the brass section.
Meanwhile, their Studio at Webster Hall set finds the band among an audience who may not know Sunwatchers yet; but opening for Yonatan Gat, the open-minded had their minds opened indeed. For the shorter opening slot, Sunwatchers pared down to the essentials with album-opener "Heard of Creeps," "For Sonny," and "Moonchanges," plus newcomer to their repertoire, "New Dad Blues."
I recorded the Palisades set from the stage lip, combined with a board feed from Palisades FOH, Ariel, while Acidjack recording the Studio at Webster Hall set from our usual location at the soundboard with a board feed from the Studio's FOH, John. The recordings each sound fantastic, presenting different shades of Sunwatchers—I highly recommend both.
Sunwatchers will be back in Brooklyn on March 22, at The Living Gallery. More info here.
Download the Palisades show at the Live Music Archive

Download the Studio at Webster Hall show at the Live Music Archive

Stream the Palisades show:

Stream the Studio at Webster Hall show: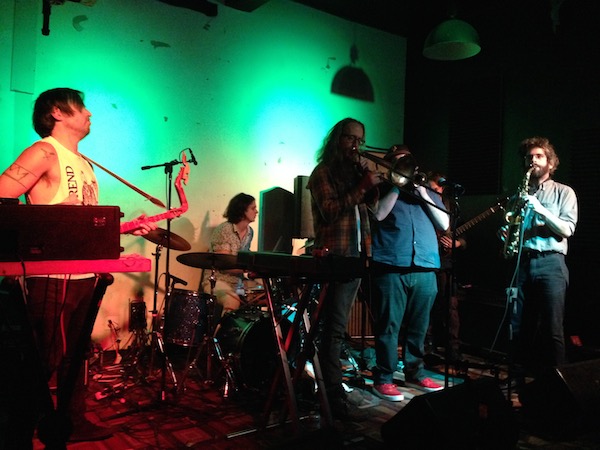 Sunwatchers
2016-03-06
Palisades
Brooklyn, NY
Exclusive download hosted at nyctaper.com
Recorded and produced by Eric PH
Soundboard (engineer: Ariel) + AKG C480B/CK61 (stage lip) > Roland R-26 > 2xWAV (24/48) > Adobe Audition CC (align, mixdown, balance, compression, normalize, fades) > Izotope Ozone 5 (EQ, exciter) > Audacity 2.0.5 (downsample, dither, tracking, tagging) > FLAC (16/44.1, level 8)
Tracks [59:17]
01. [Intro]
02. Herd of Creeps
03. [banter]
04. For Sonny
05. [banter]
06. There Are Weapons You Can Bring to School
07. [tech break]
08. New Dad Blues
09. [banter]
10. White Woman
11. [banter]
12. Ape Phases
13. [banter]
14. Moonchanges
---
Sunwatchers
2016-03-11
Studio at Webster Hall
New York, NY  USA
Exclusive download hosted at nyctaper.com
Recorded and produced by acidjack
Schoeps MK41V (at SBD, DFC, PAS) + Soundboard (engineer: John)>>Zoom F8>2x24bit/48kHz WAV>Adobe Audition CS 5.5 (align, mix down, adjust balance of SBD, adjust levels)>Izotope Ozone 5 (effects, EQ)>Audacity 2.0.5 (track, amplify, balance, downsample, dither)>FLAC ( level 8 )
Tracks
01 Herd of Creeps
02 For Sonny
03 [banter]
04 New Dad Blues
05 Moonchanges
Support Sunwatchers: Facebook | Bandcamp | Buy Sunwatchers via Castle Face