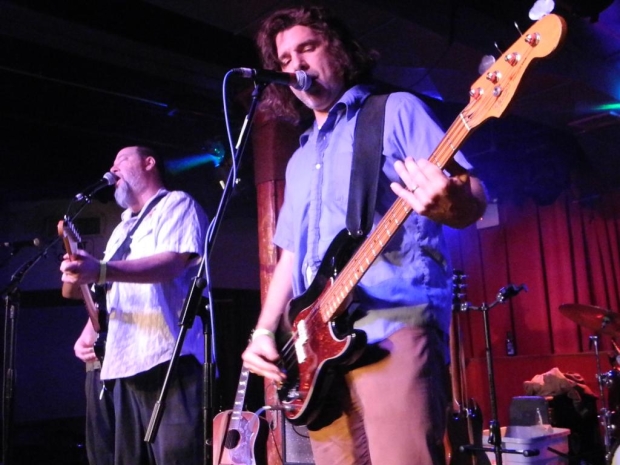 [Photos courtesy of Cassandra Mullinix at Bucket Of Rock]
Having been playing together for the better part of two decades, The Gourds have drawn favorable comparisons to The Band and Los Lobos.  After my first exposure to them, they also remind me at times of The Radiators crossed with the looniness of their Austin, Texas brethren Butthole Surfers.  Anyway you want to call it, it's evident that they bring great songcraft, spot-on vocalizing and tightly meshed musicianship to a brilliant combination of blues, country, bluegrass and shake-yer-ass rock 'n' roll.  And with two frontmen in the mix, it's a really nice contrast to have Kevin Russel sounding a bit like a smoother version of John Hiatt and counterpoint Jimmy Smith bringing the grit.  A very dedicated crowd showed up this night at Sullivan Hall and the boys brought their chops and humor for a wonderful, non-stop 90+ minutes of music.  Playing nearly all the tracks off the excellent new album, 'Old Mad Joy', they also dug out a handful of choice nuggets from their older discs.  Since a lot of people know this group best through their popular cover of Snoop Dogg's "Gin and Juice", I can't help but say that they're selling themselves and the band short.  With such an extensive catalog and marvelous live show, The Gourds have so much more to offer.
Thanks to Sullivan Hall's great P.A. and the efforts of The Gourd's excellent sound engineer, Mark, we were able to grab a superb capture with a soundboard feed and our microphones.  The only glitch is a 5-second dropout we had during "Haunted" that has been spliced to make for minimal distraction.  Other than that, the resultant recording is excellent.  Enjoy!
Special thanks to The Gourds, Nick Loss-Eaton, Lucy Sabini at Vanguard Records, and Steve at The Gourds News for the setlist.
Stream "Peppermint City":
Audio clip: Adobe Flash Player (version 9 or above) is required to play this audio clip. Download the latest version here. You also need to have JavaScript enabled in your browser.
Stream "Pickles":
Audio clip: Adobe Flash Player (version 9 or above) is required to play this audio clip. Download the latest version here. You also need to have JavaScript enabled in your browser.
Download the FLAC/MP3 files and stream this entire show on the Live Music Archive [HERE]
Note: All of the material on this site is offered with artist permission, free to fans, at our expense.  The only thing we ask is that you download the material directly from this site, rather than re-posting the direct links or the files on other sites without our permission.  Please respect our request.
The Gourds
Saturday, October 1, 2011
Sullivan Hall
New York, NY, USA
Source: SBD + AKG C 414 B-XLS's > Edirol R-44 (WAV @ 24-bit/48kHz)
Lineage: R-44 > USB > PC > Adobe Audition (mixdown, adjust levels, downsample, dither, tracking) > WAV (16-bit/44.1kHz) > Trader's Little Helper (check/fix SBE's, FLAC conversion) > FLAC (level 8 )
The Gourd's sound engineer: Mark
Recorded and produced by: Johnny Fried Chicken Boy
SETLIST:
[Total time: 1:40:48]
01. intro
02. You Must Not Know
03. Peppermint City
04. Marginalized
05. Haunted
06. banter
07. Web Before You Walk into It
08. banter
09. Hellhounds
10. banter
11. Melchert
12. Ink and Grief
13. Two Sparrows
14. Your Benefit
15. banter / Pickles false start
16. Pickles
17. banter
18. Meteorite  [The Tinys]
19. banter / Louisiana 1927 tease  [Randy Newman]
20. Blankets
21. Burn the Honeysuckle
22. Drop the Charges
23. All the Labor
24. I Want It So Bad
25. Lower 48
26. Drop What I'm Doing
If you download this recording, we expect that you will PLEASE SUPPORT The Gourds, visit their website, visit their Facebook and MySpace pages, and purchase their official releases (including new release, 'Old Mad Joy') and merchandise [HERE].