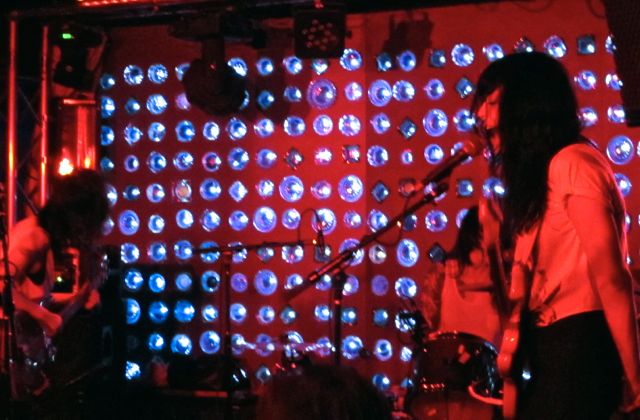 [photos by acidjack. they're not very good, but the recording is]
The Atlanta all-female punk threesome The Coathangers go for the jugular, but they go for it with a smile. Since their last record, 2011's Larceny and Old Lace, they no longer have a keyboard player (Candice Jones aka Bebe Coathanger), but stripping down has served them well. The raw ferocity of the remaining members — Minnie Coathanger (Meredith Franco), Crook Kid Coathanger (Julia Kugel) and Rusty Coathanger (Julia Luke) — is more than enough to fill a stage and dominate a forty-five minute set.
This show at Baby's All Right gave us a look at the material from their 2014 release, Suck My Shirt, and if these songs are any indication, they're more than fine without the keyboards. The ladies in this band share vocal duties producing an enticing mix of babydoll sweetness and punk snarl. The band's other most notable component is their shared sense of humor, which can run to dark places, starting with the band name (a reference to the bad old days of abortion).
Throughout the set, the band offered ample doses of self-effacing humor to go with their reckless, infectious songs. When we last saw them, Larceny and Old Lace had just hit the shelves, and they gave new life to several of those now-keyboardless songs like the burner of a set opener, "Johnny" and melodic, somewhat slower-paced "Trailer Park Boneyard", which was one of my favorites. The new Suck My Shirt material really shone, from the blistering "Adderall" and "Springfield Cannonball" to the rough and raucous "Smother". The night's closer, "Don't Touch My Shit", was perhaps the perfect example of how punk can grow up without getting lame. The band brought the eight-year old daughter of a friend of the band a young girl who is (one of the band members' relatives/daughter? If you know… feel free to let me know in the comments) in on guest vocals. We were warned that she'd be saying some bad words, and she did. Best to get them started off early if you want 'em to turn out right!
This recording is a digital multitrack recording and the sound quality is outstanding. Enjoy!
Stream the entire set and download individual tracks (full set downloads below):

Download the complete show: [MP3]  | [FLAC]

Note: All of the material on this site is offered with artist permission, free to fans, at our expense. The only thing we ask is that you download the material directly from this site, rather than re-posting the direct links or the files on other sites without our permission. Please respect our request.
The Coathangers
2014-04-17
Baby's All Right
Brooklyn, NY USA
Exclusive download hosted at nyctaper.com
Recorded by Devin Foley and acidjack
Produced by acidjack
Multichannel digital multitrack 24bit/48kHz files>Adobe Audition CS 5.5 (compression, alignment, mixdown, fades)>Izotope Ozone 5.5 (effects, EQ)>Audacity 2.0.3 (tracking, amplify, balance, downsample, dither)>FLAC ( level 8 )
Tracks [Total Time: 44:14]
01 [intro]
02 Johnny
03 Smother
04 Follow Me
05 Trailer Park Boneyard
06 Sicker
07 Springfield Cannonball
08 Call To Nothing
09 Arthritis Sux
10 Adderall
11 Hurricane
12 Derek's Song
13 Sex Beat [The Gun Club]
14 Shut Up
15 Cheap
16 [banter]
17 Don't Touch My Shit
If you enjoyed this recording, please support The Coathangers, visit their website and buy their records from Suicide Squeeze Records.