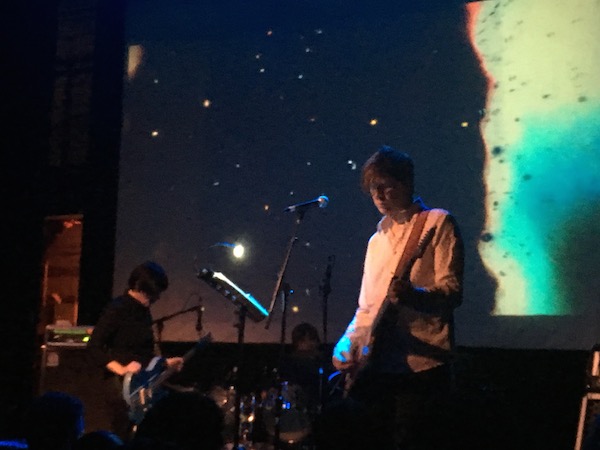 Thurston Moore's post-2011 career has cycled through a few different styles and band names, from the solo-credited, introspective Demolished Thoughts to the punk-rock Chelsea Light Moving, then solo again with The Best Day for which the band toured as Thurston Moore Band, now the Thurston Moore Group. At least that's how they were billed for last week's stop off at Rough Trade NYC. But despite the fluidity of the band's name, the lineup still includes Steve Shelley on drums, James Sedwards on guitar, and Debbie Googe on bass. Their followup to The Best Day is due out this year, making this Thurston's longest-running post-Sonic Youth lineup. And it's surely a good thing that this band has found their groove, as the material is also some of Thurston's strongest.
Initially an intimate warmup for the band's appearance at the Levitation Festival—scheduled for this past weekend but unfortunately canceled due to bad weather—this instead became a one-off gig that found the band relaxed enough to try out some material new and old. From The Best Day, they play  "Speak to the Wild" and "Germs Burn" (dedicated to Darby Crash). New songs from the forthcoming Rock and Roll Consciousness include a few we saw last year: "Cease Fire," "Turn On," "Aphrodite," plus the newest, the twelve-minute highlight "Exalted." Returning to the stage for four encores, the band digs back to Psychic Hearts for a few classics we haven't heard in a while: "Psychic Hearts," "Ono Soul," "Staring Statues," and "Pretty Bad." "Ono Soul" gets stretched into a longer noise tribute, similar to the epic, sidelong Caught on Tape version recently released on Three Lobed's Parallelogram set.
Late breaking news: the Thurston Moore Group will play an extra special set tonight (May 1st) at Baby's All Right, with Lee Ranaldo opening. Tickets are only 15 bucks and are on sale now!
I recorded this set from our usual location in the venue with a board feed from Thurston's FOH, Jack. The sound quality is absolutely outstanding. Enjoy!
Download the complete show: [MP3/FLAC]
Stream the complete show:

Thurston Moore Group
2016-04-28
Rough Trade NYC
Brooklyn, NY
Exclusive download hosted at nyctaper.com
Recorded and produced by Eric PH
Soundboard (engineer: Jack) + AKG C480B/CK61 > Roland R-26 > 2xWAV (24/48) > Adobe Audition CC (align, compression, mixdown, normalize, fades) + Izotope Ozone 5 (EQ) > Audacity 2.0.5 (downsample, dither, tracking, tagging) > FLAC (16/44.1, level 8)
Tracks [1:29:46]
01. Speak to the Wild
02. Cease Fire
03. Turn On
04. Germs Burn
05. Aphrodite
06. Psychic Hearts
07. [encore break]
08. Exalted
09. [encore break]
10. Ono Soul
11. [encore break]
12. Staring Statues
13. [encore break]
14. Pretty Bad
Support Thurston Moore: Website | Buy The Best Day from Matador | Preorder the lastest Sonic Youth archival release, Spinhead Sessions, via Midheaven.