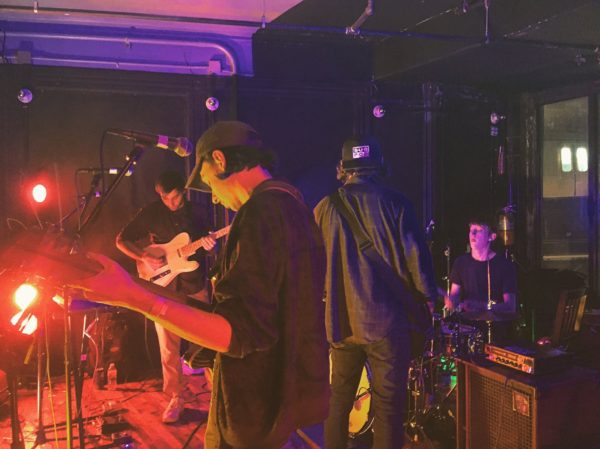 [photo courtesy of Rob from House Of Nod]
On Friday LVL UP released their new album Return To Love, their first for legendary record label Sub Pop. The album is a superb collection of songs from the band's three songwriters that indicate a large mix of influences but ultimately seems utterly original. The day after the band released the album, LVL UP celebrated with a sold-out show at Market Hotel that was as joyous as it was well-deserved.
LVL UP are four friends who've played music together since college, put together a record label for their own releases and for the release of their friends, moved to NYC and played a lot of shows. And at Market, it was clear just how many friends they've made — between the advanced ticket sales, the packed crowd, and the idea that most of these fans seemed to know each other (the band's parents were even there). LVL UP responded with a set that was both high on energy and also showed that the guys were moved by the outpouring of support. But this was a record release show after all and LVL UP did not disappoint. They played "side one" of the album straight through to start the show and then played a few older numbers. LVL UP then finished the set with "side two" of the album before being called back for a couple of encores.
LVL UP will tour across the US throughout the months of September and October and through to the middle of November, including a date opening for Bear Vs Shark at Bowery Ballroom on Thursday. All dates are here.
I recorded this set with the installed AT Mics mixed with Jason Kelly's excellent feed. The sound is superb. Enjoy!
Download the Complete Show [MP3] / [FLAC]
Stream the Complete Show:

LVL UP
2016-09-24
Market Hotel
Brooklyn NY
Digital Master Recording
Soundboard + Upfront Audience
Soundboard [Engineer: Jason Kelly] + Audio Technica 4051 > Sound Devices 744t > 2 x 24bit 48kHz wav files > Soundforge (post-production) > CDWave 1.95 (tracking) > TLH > flac (320 MP3 and tagging via Foobar)
Recorded and Produced
by nyctaper
Setlist:
[Total Time 59:12]
01 Hidden Driver
02 Blur
03 She Sustains Us
04 Spirit Was
05 Pain
06 Annie's A Witch
07 Angel From Space
08 I Feel OK
09 [banter – thanks]
10 The Closing Door
11 Five Men on the Ridge
12 Cut from the Vine
13 I
14 Naked in the River with the Creator
15 [encore break]
16 I Feel Extra-Natural
17 Bro Chillers
SUPPORT LVL UP: Tumblr | Bandcamp | Purchase Return to Love from Sub Pop