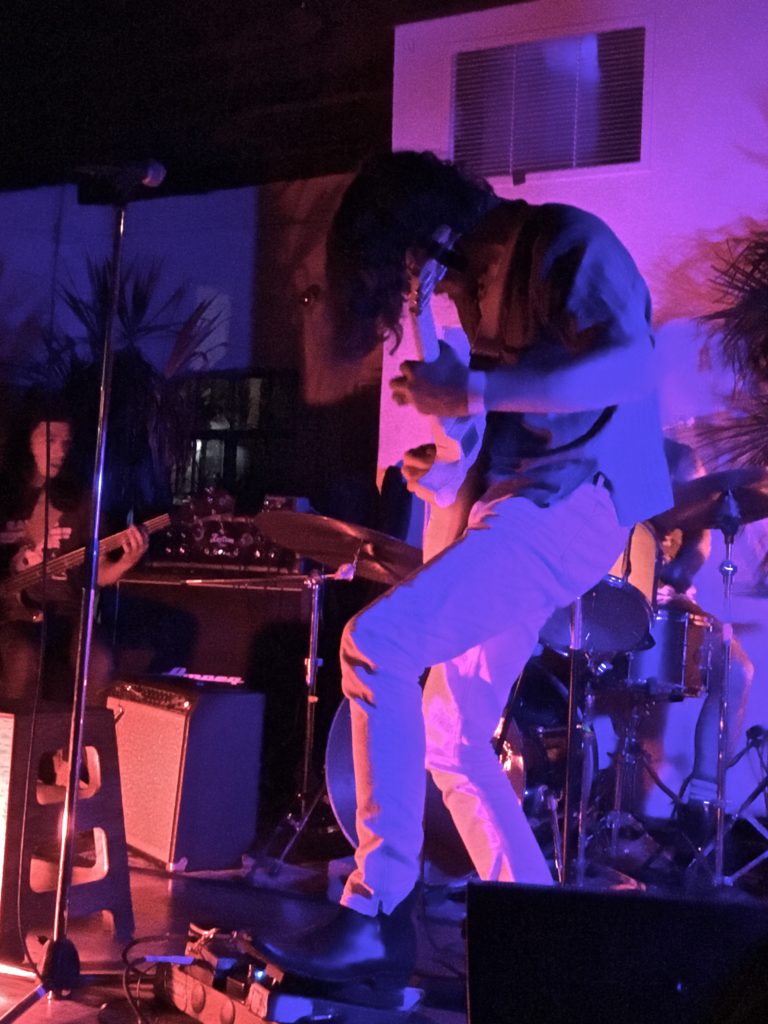 The beautiful thing about seeing a Tom Carter-related project is you never quite know what you're going to get, but you know it will be transportive. It could be anything from his trio set with Chris Corsano and Carter Thornton late last year, to his ambient/drone work with Barry Weisblat, to one of his haunting solo guitar sets — whatever you see, you will be glad you did. On this night, we saw one of Carter's best-loved projects, Eleven Twenty Nine, originally a collaboration with fellow guitarist Marc Orleans which has yielded an impressive album on Northern Spy Records and a followup on Drawing Room Records.
For this special performance at Trans-Pecos, Carter and Orleans were joined by Jimy SeiTang on bass and Rob Smith on drums, both of whom have seen time in our favorites Rhyton. The set consisted of three distinct improvisational pieces, each a rich, engaging tapestry of sound that blended the aesthetics of rock, free jazz and ambient music in the way for which these players have become known. What is an undulating, complex beast of a song, composed improvisationally out of many disciplines becomes a transcendent whole. Witness, for example, the climactic guitar at the end of the first piece, or the subtle, searching quality to the beginning of the last. You can certainly enjoy hearing it happen on a recording, but seeing these guys do their thing live is without parallel.
I recorded this set with Schoeps MK22 microphones up front, Naiant X-X microphones onstage, and a soundboard feed. The sound quality is outstanding. Enjoy!
Download the complete show: [MP3/FLAC/ALAC]
Stream the complete show

Eleven Twenty-Nine
2016-07-23
Trans-Pecos
Queens, NY
Exclusive download hosted at nyctaper.com
Recorded and produced by acidjack
Schoeps MK22 (FOB, ROC)>KCY>Z-PFA + Soundboard + Naiant X-X (3' split, onstage)>>Zoom F8>3x24bit/48kHz WAV>Adobe Audition CS 5.5 (align, mix down, fades, compression)>Izotope Ozone 5 (image, EQ, exciter)>Audacity 2.0.3 (track, amplify, balance, downsample, dither)>FLAC ( level 8 )
Track
01 Improvisation 1
02 Improvisation 2
03 Improvisation 3
Musicians
Tom Carter – Guitar
Marc Orleans – Guitar
Jimy SeiTang – Bass
Rob Smith – Drums
Support Eleven Twenty Nine: Facebook | Northern Spy | Drawing Room