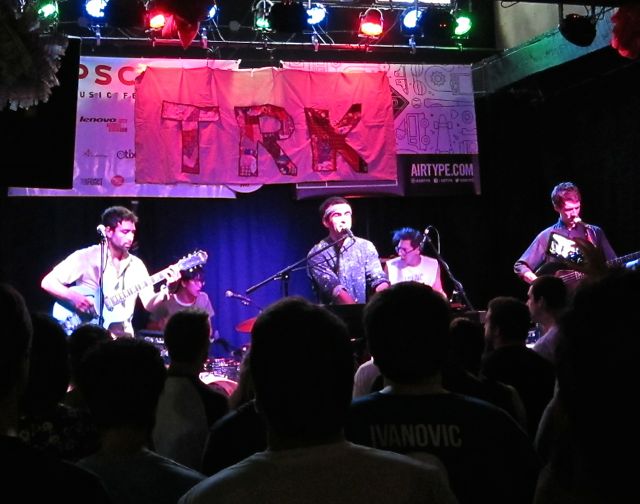 [photos by acidjack]
Brooklyn's Landlady is a really good live band, and they're good in a way that flatters their musical skill as well as drawing a crowd. Where most music has to make a choice between being interesting or mass-appealing, they seem able to do both, to hang in a narrow band that includes acts like Vampire Weekend, TV On the Radio, and The Dirty Projectors. That I pulled those references from the prior decade isn't unintentional; Landlady feels like the pleasing synthesis of a few different strands of late-aughts rock, created and executed by Adam Schatz and his bandmates since 2010. Schatz has called Landlady's songs his "big songs", and the veteran brings a certain big-tent gusto to the songs that makes them distinct from other projects in which he has been involved, like Man Man or Father Figures. It's as if Schatz — a multi-instrumentalist himself, including saxophone — distilled some of his other project's textural complexity and general weirdness into something still-complex but more ready and willing to be liked.
That was all in evidence on the final day of the Hopscotch Music Festival, as Raleigh's Pour House packed in for the Hometapes / Trekky Records day show. Landlady were representing the former, an outfit recently moved to Durham, North Carolina, and made their label proud. It'd be easy not to care about a day show crowd on a festival's last day, just near the end of a month-long tour. The band had played Hopscotch Thursday, traveled to Richmond, VA on Friday, then back to Raleigh on Saturday because, as Schatz put it, "we like you". The band treated us like a special crowd, too, giving us a brisk but powerful set that awakened even the most jaded and hungover festivalgoers. Landlady's music has an at-times tribal quality to it, abetted in part by the use of two drummers, and that gives the music a festive air. Songs rarely stand still, shifting textures and ideas more often in the space of a single number than many bands achieve in entire albums. True to Schatz's reputation as a showman, the band saved probably the two biggest standout tracks — "Maria" and "Above My Ground" for the end, though "The Globe" would come in a close third. That final number "Above My Ground" gave Schatz a chance to give a mini-speech mid-song in which he ruminated on the impermanence of things before exhorting the audience to sing the song's one-word refrain — "always". As Schatz said, the song is about having lost something, and you got the sense that Landlady would genuinely miss us. They are, after all, a band that stands out the most when they have a packed crowd to watch.
I recorded this set with Schoeps MK41 microphones and a soundboard feed from the Pour House engineer Jack. The sound quality is excellent. Enjoy!
Download the full set: [MP3] | [FLAC]
Stream the full set: 

Note: All of the material on this site is offered with artist permission, free to fans, at our expense. The only thing we ask is that you download the material directly from this site, rather than re-posting the direct links or the files on other sites without our permission. Please respect our request. Feel free to re-post the Soundcloud links.
Landlady
2014-9-06
Hometapes / Trekky Records Day Show
Hopscotch Music Festival
Pour House
Raleigh, NC USA
Hosted at nyctaper.com
Recorded and produced by acidjack
Schoeps MK41>KCY>Z-PFA + Soundboard (engineer: Jack)>>Roland R-26>x24bit/48kHz WAV> Adobe Audition CS 5.5 (align, mix down, compression)>Izotope Ozone 5 (effects, EQ)>Audacity 2.0.3 (track, amplify, balance, downsample, dither)>FLAC ( level 8 )
01 Under the Yard
02 Girl
03 Washington State is Important
04 [banter]
05 Dying Day
06 The Globe
07 [banter2]
08 Maria>
09 Above My Ground (extended version)
If you enjoyed this recording, PLEASE SUPPORT Landlady, like them on Facebook, and buy Upright Behavior from Hometapes.