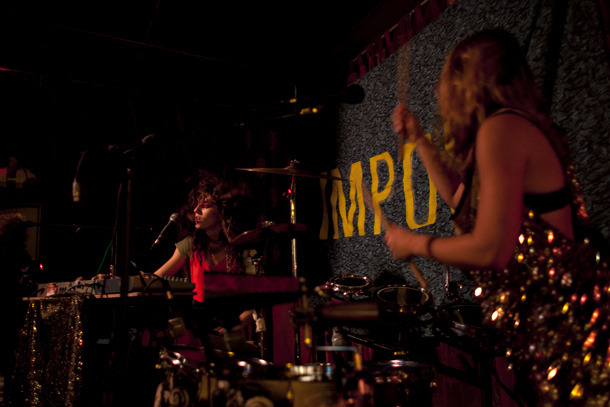 [photo by Mary Kang – courtesy of Impose Magazine]
Our night-time regular haunt during this year's SXSW Festival was the series of shows presented by Impose Magazine. The "Austin Imposition" took place this year at Longbranch Inn, a cozy East side venue that had the perfect atmosphere for Impose's steady stream of outstanding bands.
On Saturday night, the highlight of the final evening of SXSW was the performance by Prince Rama. I had seen Prince Rama a couple of years ago at Glasslands when they were a trio, but the band now consists a duo of sisters Taraka and Nimai Larson and their performance was a revelation. The sisters combined stand-up drums with keyboards and effects to create a hypnotic set that entranced the crowd. One spectator exclaimed "that was a religious experience" at the close of the set. Prince Rama played two songs from their most recent record, Trust Now (Paw Tracks), and three newer numbers. We are streaming "Rest in Peace", the opening track from Trust Now which was nearly seven minutes of bliss at the Longbranch Inn that night.
I recorded this set with the Sennheiser MKH-8040 cardioid microphones mounted on a stand at the front of the stage and combined the mics with a soundboard feed. The sound quality is superb. Enjoy!
Stream "Rest in Peace":
Audio clip: Adobe Flash Player (version 9 or above) is required to play this audio clip. Download the latest version here. You also need to have JavaScript enabled in your browser.
Direct download of complete show in MP3 files (HERE)
Download the Complete show in FLAC [HERE].
Note: All of the material on this site is offered with artist permission, free to fans, at our expense. The only thing we ask is that you download the material directly from this site, rather than re-posting the direct links or the files on other sites without our permission. Please respect our request.
Prince Rama
2012-03-17
Long Branch Inn – SXSW
Austin, TX USA
Digital Master Recording
Soundboard + Audience Matrix
Soundboard + Sennheiser MKH-8040 Cardioids > Edirol R-44 (Oade Concert Mod) > 2 x 24bit 48kHz wav files &gt Soundforge (level adjustments, mixdown, set fades) > CDWave 1.95 (tracking) > TLH > flac (320 MP3 and tagging via Foobar)
Recorded and Produced
by nyctaper 2012-03-25
Setlist:
[Total Time 24:37]
01 Golden Silence
02 Radha Madhava
03 Rest in Peace
04 Receive
05 We Will Fall in Love Again
If you download this recording, we expect that you will PLEASE SUPPORT Prince Rama, visit their website, and purchase their official releases from their website and Trust Now from the Paw Tracks Records store [HERE].