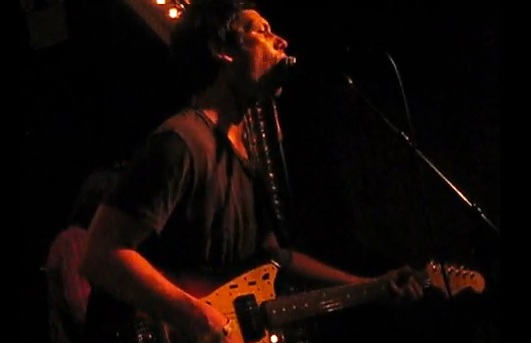 [still from this video]
Chicago's Disappears have been together only since 2009, but they've accomplished a lot in that time, releasing their debut album Lux in 2010, followed this year with the stellar Guider EP, and bringing on Steve Shelley of Sonic Youth as a new member after founding drummer Graeme Gibson left to continue his work with the Fruit Bats. The band has a new record in the works, and they showed off a solid chunk of it here at Union Pool, in a set that was mostly new and unreleased material. Union Pool has been killing it all summer with great lineups of bands, but this night – with Disappears headlining and Brooklyn's own The Psychic Paramount opening – stood out as one of the absolute best. Disappears' new songs expand the scope of their songs just a bit, though their reverb-soaked, krautrock-meets-Velvet Underground (with a dash of the Fall) sound is still intact. But although only three of the songs (as far as I could tell) were previously released ("Halo," "Magics" and "Marigold") Disappears held the crowd rapt with their thick squall of guitar, with lead singer/guitarist Brian Case (also of the Ponys) singing with the echo on overdrive beneath. Expect big things from a band that, despite members' other commitments, is hardly looking like a side project.
Stream "Replicate [new]":
Audio clip: Adobe Flash Player (version 9 or above) is required to play this audio clip. Download the latest version here. You also need to have JavaScript enabled in your browser.
Stream "Magics":
Audio clip: Adobe Flash Player (version 9 or above) is required to play this audio clip. Download the latest version here. You also need to have JavaScript enabled in your browser.
Direct download of MP3 files [HERE]
Download the Complete show in FLAC [HERE].
Follow acidjack on twitter
Disappears
2011-07-26
Union Pool
Brooklyn, NY USA
An acidjack master recording
Recorded and produced by acidjack for nyctaper.com
Equipment: DPA 4021>Oade M248 + Soundboard >> Edirol R-44 [Oade Concert Mod] (24/48)
Position: Balcony, DFC, ORTF
Mastering: 2x24bit/48kHz WAV>Audition (compression and additional effects on SBD, EQ, mix down, downsample)>Audacity (tracking, set fades, amplify and balance)>FLAC ( level 8 )
Tracks
01 Halo
02 Magics
03 [unknown]
04 [unknown]
05 Marigold
06 Love [new]
07 [unknown]
08 Replicate [new]
09 [unknown]
10 [unknown]
11 [unknown]
12 [unknown]
13 [unknown]
If you download this recording, PLEASE SUPPORT Disappears, visit their website, and purchase their records, including Guider, from Kranky [HERE]