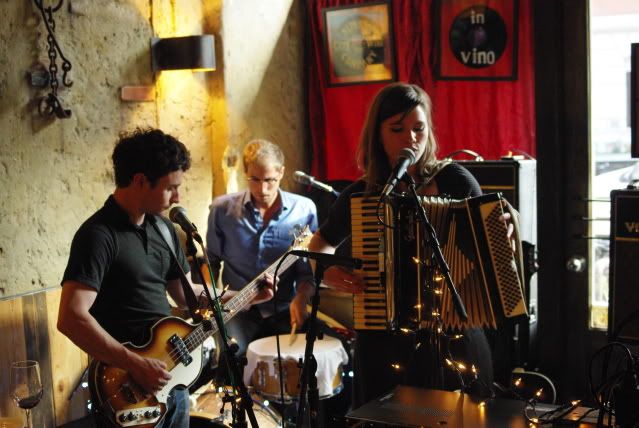 [photo by Rob Cohen]
The latest installment of the outstanding music and wine concert series Vivo In Vino featured the music of Savoir Adore. Two Sundays ago, the Brooklyn-based dream/indie pop band performed a tight hour-long set featuring songs from their excellent debut album In The Wooded Forest and several new songs. The sumptuous harmonies of lead guitarist Paul Hammer and guitarist/accordionist Deidre Muro were perfectly fit for the intimate In Vino surroundings. Highlights included the high energy encore of "Bodies", new song "Loveliest Creature", and non-album track "Sparrow" (streaming below). From our vantage point at the front of the stage, Savoir Adore was a pleasure to behold — expect to see much more of them on nyctaper.
I recorded this set with the DPA microphones at the front of the stage and directed at the rhythm section (right channel) and lead guitar (right channel). The microphone recording is mixed with a feed from the soundboard (vocals and accordion) and all four channels were balanced in post-production. The result is a superb capture of this intimate show. Enjoy!
Stream "Sparrow":
Audio clip: Adobe Flash Player (version 9 or above) is required to play this audio clip. Download the latest version here. You also need to have JavaScript enabled in your browser.
Direct download of complete show in MP3 files (HERE)
Download the Complete show in FLAC [HERE].
Savoir Adore
2011-06-26
Vino In Vino
New York, NY USA
Digital Master Recording
Soundboard + Audience Matrix
Soundboard + DPA 4021s > Edirol R-44 (Oade Concert Mod) > 2x 24bit 48kHz wav files > Soundforge (level adjustments, mixdown, set fades) > CDWave 1.95 (tracking) > Flac Frontend (level 7, align sector boundaries) > flac
Recorded and Produced by nyctaper
2011-07-10
Setlist:
[Total Time 53:05]
01 We Talk Like Machines
02 Sparrow
03 [banter]
04 Early Bird
05 MERP
06 Honestly
07 Sarah's Secret
08 Hollywood
09 Wild Davey
10 Anywhere You Go
11 [thanks – banter]
12 Loveliest Creature
13 The Garden
14 [encore break – happy bday]
15 Bodies
If you email nyctaper for access to this recording, we expect that you will PLEASE SUPPORT Savoir Adore, visit their website, follow them on Facebook, and purchase In The Wooded Forest from their the Cantora Records website [HERE].